The Oscar nominations are out and to no one's surprise–but to understandable dismay–there's a very noticeable lack of diversity once again.
Mexican director Alejandro G. Iñárritu's second year in a row nabbing a Best Directing nomination certainly shouldn't be overlooked–but what about who we see on camera?
It was only last year that the Academy of Motion Picture Arts and Sciences was roasted in the court of public opinion for its lack of nominees of color, spurring the #OscarsSoWhite movement. Director Ava DuVernay's Selma, a moving retelling of Dr. Martin Luther King Jr.'s historic voting rights march from Selma to Montgomery, Alabama, was nominated for Best Picture, but David Oyelowo who played Dr. King and Carmen Ejogo as Coretta Scott King were shunned from the acting categories.
Of course, no one is asking for a sympathy nomination–it wouldn't do anyone any favors to nominate a film or an actor who doesn't uphold the artist or performative merits worthy of Oscar gold. However, what can be said of films and actors who do meet those standards of cinematic excellence and still get the shaft? Last year, it was Selma. This year, it can be argued, it's Straight Outta Compton, Concussion, Creed, and Beasts of No Nation.
Academy, this has to be your last white Oscars.
This past November, Academy president Cheryl Boone Isaacs announced the A2020 initiative aimed at increasing diversity in Hollywood across age, gender, and race over the next five years. It's too early to glean any progress, but how can you ignore the progress right in your face? For example, the release of Straight Outta Compton immediately sparked talks of Oscar nominations.
Director F. Gary Gray's portrayal of hip-hop group N.W.A.'s rise to prominence was expertly layered with the drama and deceit of the music industry and the ever-pertinent issue of police brutality.The acting was raw and heartfelt. The movie as a whole was brilliantly crafted. It's safe to say buzz was abound, as The Hollywood Reporter's Scott Feinberg reported:
Almost all major motion pictures are invited to screen for Oscar voters at the Academy's 1012-seat Samuel Goldwyn Theatre in Beverly Hills, but many play to a largely empty room, especially prior to the fall. Compton, however, drew a massive crowd, according to several Academy members with whom I spoke. "It was one of the bigger screenings I've seen in a long time," said one, "maybe 80 to 85 percent full." The week before, he said, a screening drew perhaps 200 people; this one, according to a Universal rep who was monitoring attendance, drew "well over 700." (One caveat: Prior to the fall, members are invited to bring with them up to three guests, so not everyone in the room was an Academy member — but even so, it was an impressive showing.)
But somehow Straight Outta Compton, only garnering a nomination for Best Original Screenplay, lost steam on the road to the Academy Awards, as well as other films starring black actors. But why? Was Straight Outta Compton too much of a "black" movie for you, Academy? Well, what about something more racially diluted like Concussion starring Will Smith or Creed starring Michael B. Jordan? Too commercial, you say? Fine. What about a gritty war drama like Beasts of No Nation starring Idris Elba? Still no?
What is it that you want, Academy?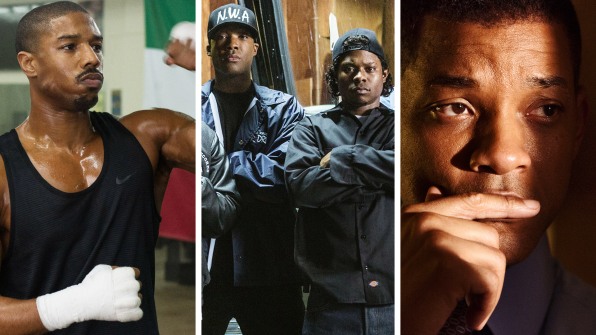 It appears the oft oft-cited issue of people of color, specifically black people in this case, only getting recognition for playing maids, butlers, and slaves is still achingly true. It's exhausting to exhume this excuse but it's even more exhausting that we're still dealing with it.
You have to do better, Academy.
This A2020 initiative sounds great in theory, but don't let it be just that–a theory. That's not to suggest that this year's nominees or nominees from year's past aren't deserving of their recognition, it's just that the scope through which you (as stated on the official Oscar site) "recognize and uphold excellence in the motion picture arts and sciences, inspire imagination, and connect the world through the medium of motion pictures" has got to widen.