Many people in the U.S. have heard of Habitat for Humanity, the grassroots Christian nonprofit that builds homes for the poor. But one thing that's vexed the organization since it was founded in 1976: No one really gets what it does.
Habitat for Humanity–which was started by a young, self-made millionaire and his wife, who sold their possessions and dedicated their lives to service–has had rapid growth in the last decade, from serving 125,000 individuals in 2005 to an estimated 1.8 million in 2015. And its 1,400 U.S. affiliates and 70 national organizations around the world took in a total of $1.6 billion in donations this year, making it among the top 15 charities in the United States.
Yet its messaging has been a mess that is stymying an even bigger potential impact: "Our elevator speech is a little more like a roller coaster ride," says Chris Clarke, Habitat for Humanity's senior vice president for marketing. "While we are very, very well known in the U.S., we are not well understood."
Here's how a massive, sprawling grassroots organization is beginning to reign in its brand: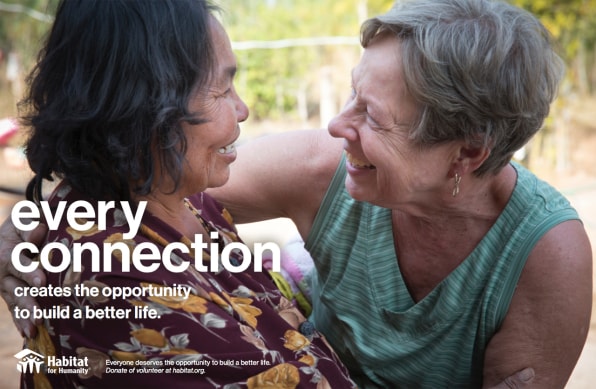 Working with branding agency Little to conduct a survey of 2,000 adults, Habitat for Humanity learned what people don't get about the organization. These ranged from the misconception that it's only local or in the U.S. to the idea that Jimmy Carter is in charge (he just popularized it in the 1970s).
Perhaps more damaging, most people surveyed thought that recipients get new homes for free. That perception, they realized, could be a big turnoff to potential donors or volunteers who for some reason wouldn't just want to give someone a free house, but instead insist on "helping people who help themselves." (Neither perception is true: Families who receive a new house–or a refurbished one–must dedicate hundreds of hours to its construction, pay back an affordable mortgage, and learn budgeting skills.)
A last problem was that, according to Joe Cecere, Little's chief creative officer, "[Habitat] was great at telling what they do, and not so great at telling why they do it." The firm learned people weren't necessarily interested in housing as a cause–but they were interested in health and poverty–things that are not possible to solve without affordable housing. According a recent study by the National Low-Income Housing Coalition, full-time minimum wage workers can't afford a one-bedroom apartment in most cities in the U.S.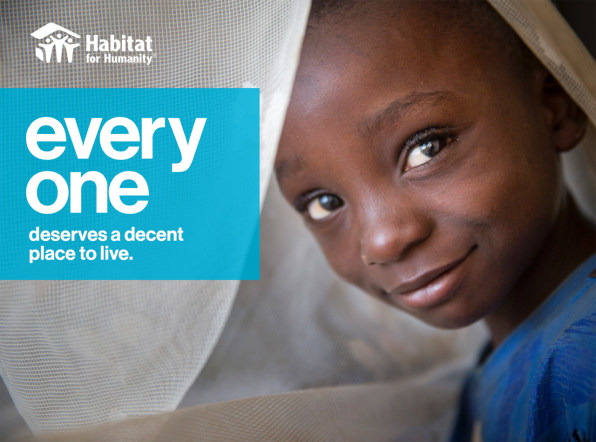 "Our goal was to complete a new brand framework that started to move them up and away from just building houses," says Little's Jaye Peterson, "and move to what a house represents."
They looked for "ownable territory"–Habitat didn't want to be confused for a Red Cross or UNICEF, which might, say, help rebuild housing after a disaster–and they focused on the sweet spot between a "Sally Struthers big-eyed kid looking into the camera," happy people building homes, and the daunting statistics (1.6 billion families around the world lack adequate shelter). "You do need to show need. And you have to feel like you can make a difference. It's kind of in between those two."
Three U.S. focus groups helped hone their ideas and visual images, which eventually focused on the concept of providing "strength, stability, and self-reliance though shelter." "We can help people who have always had the comfort of home understand what it's like for those families who don't. That feels more like 'teaching someone to fish,'" says Clarke.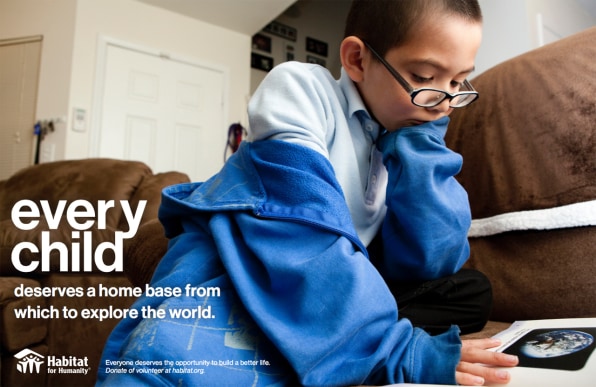 Habitat for Humanity will have to be strategic about how it rolls out the new communications messages. Last time the international umbrella organization made a major change–a new, uniform logo–it created a small uproar among independent local affiliates, which range from groups with their own large staff to a bunch of volunteers in a church basement.
"We're trying to make choices around what people with few resources can benefit from and what people with more resources can leverage–a lot of the content is plug-and-play–where a local affiliate can drop in their name," says Clarke. With Little's blueprint, they are also creating sample products, messaging guidelines, and photo usage guidelines, along with a redesigned website this year.
The measures of their success will be multi-fold. One will be how deeply they penetrate their own organization and "start to speak with one voice." But more broadly success will be measured based on whether they can change perceptions and create a deeper, more emotional connection with audiences.
Says Clarke: "There's not only more competition for resources in terms of financial support but there's competition for people's attention. If we're fortunate enough to get someone's attention, that's a precious opportunity and we need to use it to the greatest advantage of our mission."