Raise your hand if you think a quick scan of Facebook or the news is the most common source of distraction at work. Turns out, social media and web surfing still don't hold a candle to chitchat or a coffee break as the biggest time sucks in the workplace.
According to recent analysis of an online survey taken by 1,005 U.S.-based full-time workers conducted by BambooHR, traditional workplace distractions trump digital pursuits when employees are on the clock.
The most common ways workers reported spending time at work not working, in order of which activity takes up the most time:
Taking breaks to visit the office kitchen/water cooler/break room (other than for lunch)

Going to the bathroom

Participating in small talk/gossip with coworkers

Corresponding (phone, email, text, social media) with family members

Surfing the web/online personal errands (e.g., paying bills online, online shopping, etc.)

Corresponding (phone, email, text, social media) with non-work-related friends

Using social media for non-work-related reasons

Watching TV (including mobile and computer)
The research team acknowledge that there has been plenty of ink spilled on time wasted at work at the expense of productivity. But they posit that if we take a closer look at exactly how employees are spending their time not working at work, it can reveal distractions' role in workplace efficiency and work-life balance.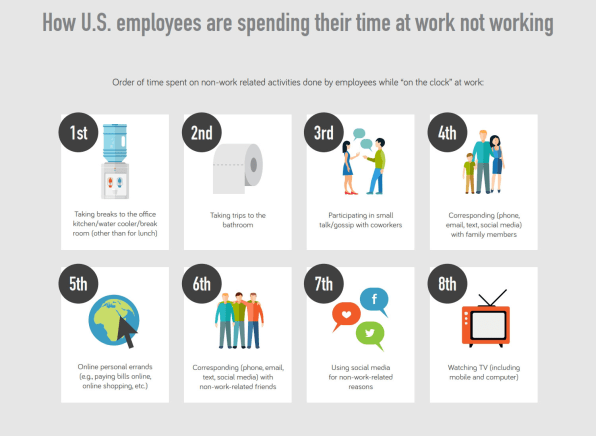 For example, a little over half (53%) of employees take lunch every day, and one in four take lunch two days a week or less. Among those who skip the midday meal, 36% say they have too much work to do, while one in five say it's because they've traded the time for other breaks they've taken during the day.
What's more, nearly a quarter of workers think these breaks enhance productivity. Two-thirds (68%) of employees feel using social media for personal, non-work-related reasons each day as a break/distraction from work tasks is appropriate. The men surveyed favor this distraction and consider using social media for personal use to be more important to workplace productivity than women. Female survey respondents reported office small talk/gossip to be more important to workplace productivity than men. Music was also listed as a performance enhancer, while social media and talking to family via phone or text were both productivity busters. Sorry, Mom.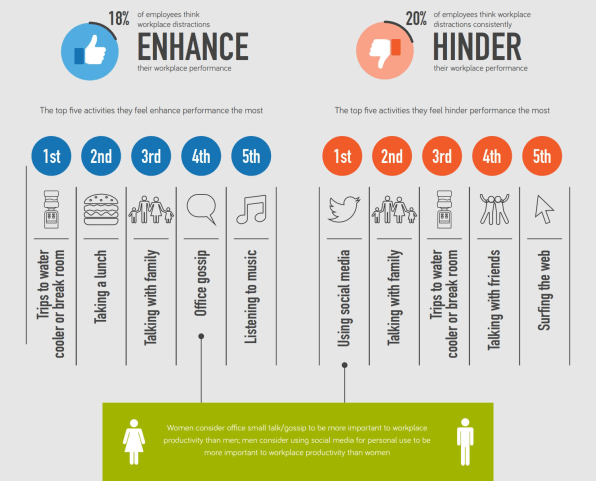 Other research has found that taking breaks can actually enhance work. A recent study from Baylor University found that when the employees stopped working on the task at hand and refocused on a preferred activity such as lunch, coffee, catching up on personal email, or socializing with coworkers, they experienced greater recovery.
Studies have also indicated that socializing at work leads to friendships that can increase our happiness as much as earning $100,000 more per year and talking about personal topics makes employees more collaborative, productive and accountable.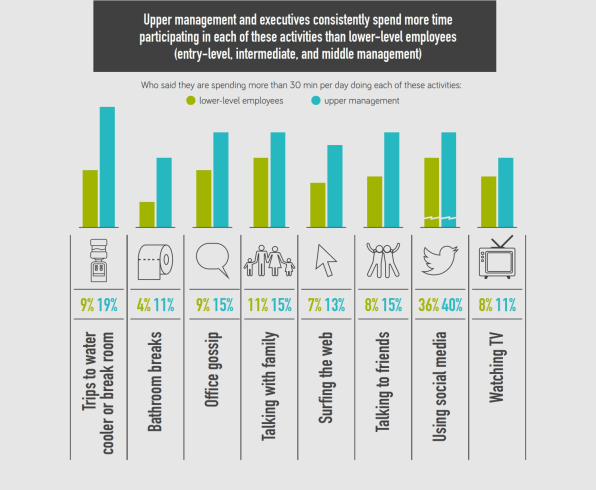 Another notion BambooHR's survey debunked is that the rank and file weren't the biggest offenders of taking breaks at work. "Across the board, senior leadership indulges more," the survey authors write, than workers in entry level, intermediate, and middle management positions.
This may be due in part to the increase in responsibilities for upper level management. The heavier the workload, the more necessary it becomes to take solace in a quiet bathroom stall. But the pressure to perform has caused the work-life balance to shift. The BambooHR survey found more than half (56%) of employees say they try to make up for time spent on personal, non-work-related activities by working at home or in the office after standard work hours.
This squares with the findings of EY's latest survey of nearly 9,700 global full-time workers, which indicated that an estimated 50% of managers said they work more than 40 hours per week, and four in 10 say the hours they put on the clock have increased in the last five years.
BambooHR's researchers conclude that longer hours are becoming more acceptable as some employees are now spending more time at work on personal issues and activities. "Executives are leading the way as they embrace the power of allowing a certain level of distractions–and not only allowing it, but even encouraging it," they write.
Compensating like this comes at the expense of separating work and life. The most recent Workplace Flexibility Survey revealed that the majority of workers—65% of employees—say that their manager expects them to be reachable outside the office. That squares with the 64% of employers who expect staff to be on call when they are officially off the clock.
Still, BambooHR's researcher maintain that while workplace distractions may hinder productivity for some, "Overall, companies should ensure a healthy level [of breaks] are taking place to maintain employee satisfaction and retention."