A startup called Guardant Health just raised almost $100 million for its ambitious new approach to cancer treatment.
The funding comes from health investors OrbiMed Advisors, along with a slew of Silicon Valley venture capital firms including Lightspeed Venture Partners, Khosla Ventures, and Sequoia Capital. This latest financing round brings the company's total capital to just shy of $200 million.
Guardant plans to use the funding to invest in the development of its tumor-sequencing test, called Guardant360, which takes a radically new approach by using blood–rather than biopsies–to analyze the genomics of a cancer.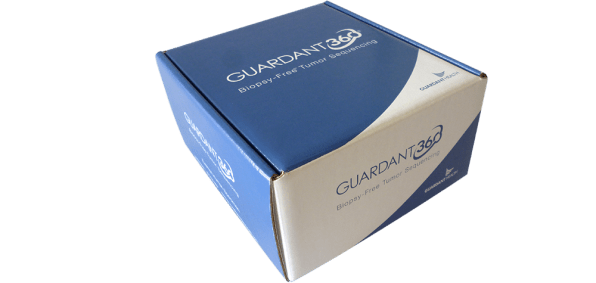 Biopsies are notoriously expensive, risky, and invasive. Many cancer patients only receive one or two during the course of their treatment, typically only when it's medically necessary. That makes it challenging for oncologists to understand how an individual patient's cancer is progressing, and treat it accordingly.
"For people with advanced cancers, avoiding an unnecessary and painful surgical procedure is something to celebrate," Guardant Health CEO Helmy Eltoukhy told Fast Company.
Guardant's approach builds on several decades of biomedical research. Scientists have known since the 1990s that a cancer patient's blood carries genetic fragments from dying cells of tumors. But the challenge has been to separate the fragments of the tumor, which are in very low concentrations (around one part in 200).
In recent years, research labs and companies have taken great strides in developing technology that can take a high-resolution snapshot of these tumor fragments. Guardant is among the first to bring its technology, otherwise known as a "liquid biopsy," to hospitals. The company says Guardant360 is currently being used by 20,000 patients with cancer per year.
But health experts stress that liquid biopsies are still in their early days.
"It remains to be seen whether the genome alternations found in the blood mirror those in the tumor biopsy," says Jonathan Hirsch, the founder of a cancer genomics company called Syapse. "The blood test might pick up things that are not in the biopsy, and can reveal new treatment options."
Guardant may be an early mover, but it still faces competition from established players. These potential rivals will also be looking for ways to bring down the cost of the test to ensure that the health system can afford for cancer patients to get screened on a regular basis. Guardant's test is currently available for $5,400 a pop.
To get an edge on its competitors, the company is partnering with some notable research institutions and companies, including New York-based startup Flatiron Health, which analyzes data on cancer treatments and sells software based on those insights.
Scientists remain optimistic that liquid biopsies will thrive in the coming years. "This technology is going to get really good," said Hirsch. "It's only a matter of time before this testing becomes routine."