How many times a day do you find yourself trying to text or message a friend to share some content but you're forced to switch apps in order to add a link to that great article or to share a funny video?
A small New York-based company called Slash is addressing that perennial problem in a novel way–by building lots of search and content sharing functionality into a third-party keyboard that works pretty much anywhere on the phone.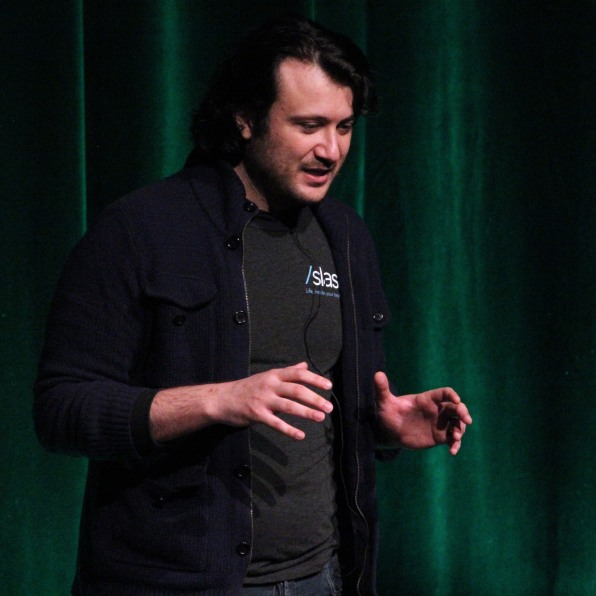 So, for example, users can grab and share GIFs from Giphy, song links from Spotify, or videos from YouTube from the keyboard, without ever having to leave the app or site they're using. They can grab content from Foursquare or weather apps to provide contextual information. (Foursquare founder Dennis Crowley is one of Slash's advisors.)
"It's a Trojan horse where you can share anything from music to files to contacts to whatever," says Slash founder Cem Kozinoglu.
The app also contains personal assistant features. For instance, if the user types "coffee," the app might suggest coffee shops in the area.
So why build all this functionality into a keyboard? Most third-party mobile keyboards we've seen focus on making typing easier and providing shortcuts.
"Your mobile keyboard is the only layer that sits perfectly between the OS and every app," Kozinoglu said. "Everyday we use our keyboard multiple times to express our intentions; it's simply the best place to build a search engine."
The Slash Keyboard iOS app is approaching 200,000 downloads, Kozinoglu says, and an Android version of the app will appear in early February.
Visually, the keyboard isn't that different from the regular iPhone keyboard, so using it seems intuitive. Users switch to the keyboard by pressing and holding down the emoji key.
Mobile messaging is so popular (if you've spent any time around teenagers lately you understand this) that it's considered a "must win" space by big players like Facebook and Google. These large companies are furiously building new functionality and artificial intelligence technology into their messaging apps.
Facebook's intelligent virtual assistant–called "M"–will provide a Siri-like service within Messenger to give users search results and recommendations. Integrations with other apps will allow users to call an Uber car or make movie reservations.
And Google is working on a new messaging product that's far smarter than its existing Hangouts and Messenger apps, reports the Wall Street Journal. The app is reportedly using something called "chatbot" functionality, which suggests integrations with other apps and services.
This all makes Slash an especially interesting outlier in the nascent messenger wars. The young company may have some integration and search tricks that could make it a target for a buyout by one of the larger players. (Kozinoglu said he'd can't speak publicly about this).
Or it's possibile that larger platform companies might simply recreate the Slash magic in their own products.
"They will at some point," Kozinoglu says, but he believes his product will continue to be useful because it works with lots of apps and platforms.
"These big companies are trying to lock everyone down into their platforms," Kozinoglu says.
"We are going at it from the other side," he says. "We want to decentralize the platform so that users have this unified experience from wherever they are."
Slash, which employs fewer than 20 people, got its start just over a year ago. It recently raised $1.3 million in venture capital and is reportedly in the market for more funding. The company has said it's focused on improving its product and growing its user base.
In the end, Slash wants to become a search company, Kozinoglu says, not just a keyboard app or even a messaging app. And its ambitions go beyond mobile. Development is already underway on a Slash search extension for the Chrome desktop browser.