It would be a logical guess to believe that financial giant Citigroup owns New York City's bike sharing system. It is, after all, called "Citi Bike," and every Citigroup-blue bike is plastered with the bank's branding.
But the company—which has a $111.5 million sponsorship commitment to the program—does not own it. Navigate to the Citi Bike website, and you'll see that "Citi Bike is operated by NYC Bike Share LLC, a wholly owned subsidiary of Motivate," and that "Motivate is a unique company focused solely on operating large-scale bike-share systems."
This might look like an answer. But NYC Bike Share LLC is actually just the first in a nesting doll of nomenclature that—intentionally or not—obscures a brilliant business move by one of the country's largest real estate investors.
In October 2014, Citi Bike's parent company, Motivate, then called Alta Bicycle Systems, announced that it had changed ownership. Its new owner, the press release explained, was "Bikeshare Holdings LLC," which is a holding company created by the CEO of Related Companies, one of the largest real estate firms in New York City; the CEO of Equinox, a chain of luxury gyms that Related Companies owns; and Jonathan Schulhof, a founding partner of a New York- and India-based investment firm whom the Wall Street Journal once described as "a mystery to many." While the three principals were exploring the investment, they had created a temporary placeholder company called REQX Ventures, a combination of the names "Related" and "Equinox."
The group of investors had become interested in bike sharing at a time when its future looked bleak. By January 2014, when REQX incorporated in Delaware, the Canadian company that supplied Citi Bike with equipment, PBSC, had been struggling financially, and the auditor general of Montreal had commented that he seriously doubted the company could continue operations. Meanwhile, Alta Bicycle Share (today called Motivate), which operated Citi Bike along with bike sharing programs in San Francisco, Boston, Washington, D.C., and six other cities, wasn't faring much better. It had, the month before, failed a New York City audit that uncovered shoddy maintenance and equipment.
As REQX began negotiations to buy Alta, it also attempted to buy PBSC, a major supplier of its equipment. In April 2014, the investment company put in a bid for the by-then bankrupt company, but failed to acquire it.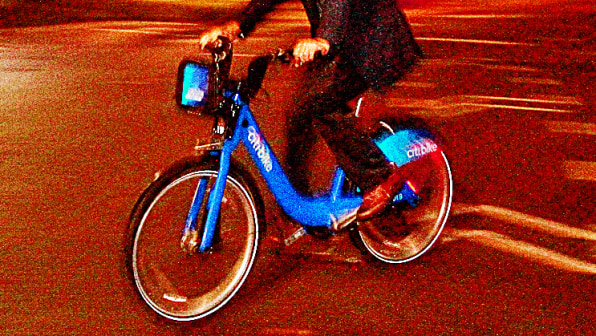 By May, the Wall Street Journal reported that "an affiliate of a major real estate developer" was negotiating an acquisition of Alta. And in October, Bikeshare Holdings (originally named REQX Bikeshare Holdings) announced that it had, indeed, purchased the bike sharing company. To cut out the layers of legal entities and put in practical terms, three investors–two with ties to real estate firm Related Companies–now owned the company that operated bike sharing programs in nine major cities, including New York (today it operates programs in 11 cities).
But why?
Bike sharing systems carry with them the promise of more sustainable, accessible cities and healthier city residents. But perhaps more compelling to the CEO of a real estate company is the possibility that they will raise property values. These aren't necessarily competing motives. "As cities do well," Related CEO Jeff Blau told Fast Company, "we do well."
A study published in the journal Transport Policy last year found that home values in central Montreal increased on average 2.7%–$8,650 on average—after the city launched its bike sharing system. "We expect studies on other cities will also find a positive impact on house sales," the study's lead author, Ahmed El-Geneidy, told Science Daily.
Jeff Gardner, a real estate broker at Corcoran, says he's used Citi Bike as a selling point for a listing in Bed Stuy, a Brooklyn neighborhood that is underserved by the subway. "In the vernacular of selling Brooklyn to Manhattanites," he says, "I have to explain how they can get places quickly, because they're very hesitant. When Citi Bike came in, I was thrilled, because it's one block away and then you're at the train in three minutes." On pamphlets he hands out to interested buyers, he includes a map of Citi Bike stations.
Proximity to public transit boosts property values. Real estate companies also often invest in attractions near their properties in order to make the area more compelling. Related, for instance, owns the gym chain Equinox. It also has a partnership stake in Danny Meyer's catering and events spinoff Union Square Events. "We look forward to fully integrating their experiential concepts into Hudson Yards," Related founder Stephen Ross said in a statement, referring to the company's largest real estate development, an entire neighborhood on the west side of Manhattan.
Citi Bike and bike sharing programs like it, then, are a double win—both public transit and an attractive neighborhood amenity. The promotional website for Hudson Yards lists biking as an attraction. Jay Walder, the former CEO of the MTA and Motivate's current CEO, recently explained how biking also shapes public transportation. "The patterns where we're living and working have become completely different than what was imagined 100 years ago when the subway was created," he told me in November. "Bike sharing is creating effectively the frame that allows everybody to use it in a way that is one system, but it is being personalized to their needs."
Related can't, through Motivate, just locate Citi Bike stations near its buildings at will. Bike sharing companies typically operate in partnership with cities, which permit them to use public land for stations. "We conduct extensive outreach and planning when siting bike share stations for all community boards," a spokesperson for the New York City Department of Transportation told Fast Company. "This outreach includes workshops and meetings with community boards and other local stakeholders. DOT [Department of Transportation] greatly values community board and stakeholder input and relies on it to guide the general emphasis for bike share station siting in different neighborhoods and prioritize potential sites."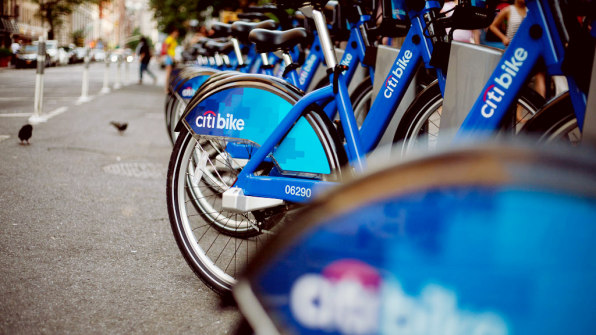 But Related certainly has an interest in making sure that the planned Citi Bike expansion, which will double the program's size, actually happens. It owns at least eight properties in the Upper East and Upper West sides of Manhattan, where Citi Bike expanded last summer. Though the lion's share of properties Related lists on its website are located in Manhattan, where Citi Bike is already well established, recently, the company has acquired a string of buildings in New York's other boroughs, where there are few subway stops but many plans for new Citi Bike stations. The company's portfolio of real estate assets is valued at more than $15 billion.
Bike sharing's promise of increased sustainability, accessibility, and health in cities, then, may be fulfilled at least partially by its promise for real estate.
Paul Steely White, the executive director of a biking, walking, and public transit advocacy organization called Transportation Alternatives, says he thinks Related's private interest in bike sharing has only been beneficial to the public. "It has meant an infusion of much-needed expertise and capital," he says. "We're watchdogs, and if we saw any developments that were going to harm the integrity of the system or create less than an inclusive system, we would sound the alarm."