At the consumer tech industry's yearly shindig in Las Vegas, the Consumer Electronics Show, Samsung rolled out a bunch of new gear, but the most interesting new device announced was a smart refrigerator that lets users shop for groceries from the kitchen.
The new appliance, called the Family Hub Refrigerator, has a 21.5-inch touch screen on its front, from which family members can shop for products at various grocery stores and have them delivered to the home.
The refrigerator has cameras on the inside that take a photo every time the door is closed. This, Samsung says, lets users know what items need to be reordered.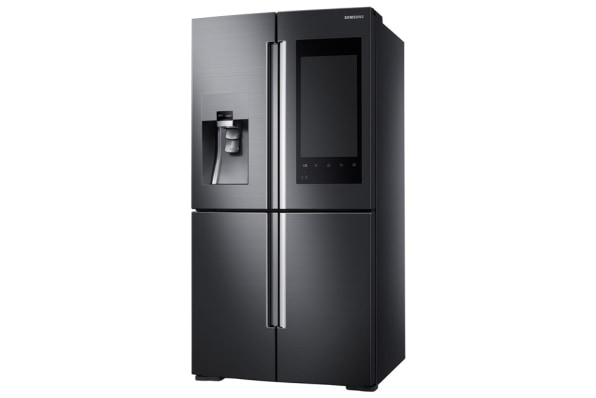 Users can also see that view from an app on their mobile device, and pre-order food items needed for a meal they'll prepare later when they get home.
Samsung partnered with MasterCard to form the payment and delivery link with the grocery stores. A MasterCard shopping app running on the refrigerator's touch screen links to the FreshDirect and ShopRite online grocery shopping services. MasterCard says it plans to partner with many more such services. That's good because the two initial partners have limited service areas.
Of course the app allows users to pay with their MasterCard, but it supports other credit card payments, too. Another version of the app can be used on smartphones, MasterCard said.
From the touch screen, Samsung says, users can also play music around the home using their favorite music streaming service. They can post photos, keep a family calendar, and leave notes. They can also turn off lights and lock doors around the house, via an interface with Samsung's SmartThings home automation platform.
The new refrigerators will be available this spring, Samsung said. No prices were given.
The demo of the new fridge looked good on stage today, but it may be a few more CES's before we see Internet of Things appliances that truly reinvent the way we buy goods for the home.
Samsung rolled out its 2016 line of smart TVs, called the SUHD TV. The new curved screen TVs are bezel-less: that is, the front of the TV is all screen and no edge.
The TVs have a new user interface that puts content streamed from the web (like Netflix) together with linear (cable) TV content. This, Samsung says, makes it easy to surf your streaming shows right alongside your favorite cable shows.
Samsung's new TVs also contain technology that allows them to recognize and control various peripheral devices connected to them, like set-top boxes or gaming consoles. Samsung executives demonstrated how the TVs identify the connected devices and automatically format the remote control to operate them. If this works, the days of five remote controls on the coffee table may be coming to an end.
Samsung will begin selling a new UltraHD DVD player in March. Samsung says Hollywood is already pumping out thousands of movie titles in UltraHD.
Samsung made a splash at last year's CES by introducing a washing machine called "ActiveWash" with a sink built into the top (for pre-treating clothing before wash).
This year the company trotted out a line of new washing machines called "AddWash" that–you guessed it–allow users to easily add stray socks or shirts to a wash cycle that's already underway. A special button stops the washer, and the user throws the extra washing in through a panel in the front.
You can watch a replay of the full Samsung CES press content here.