Rohit Nadhani, the founder of CloudMagic, figures he has about 18 months to break even.
For two years, CloudMagic has offered a slick set of email apps for iOS and Android devices. And for just as long, the company has been burning through cash. Aside from a brief flirtation with premium subscriptions earlier this year, CloudMagic hasn't even tried to make money for much of its existence.
Given the recent history of third-party email clients, the 3 million people who've tried CloudMagic might have cause for concern. Last month, Dropbox announced that it was shuttering Mailbox, two years after buying the email app amid a wave of industry buzz. Google finally shut down Sparrow, an email app it acquired in 2012 and hadn't been developing since. Microsoft, which bought Acompli in December 2014, has let the app live on under the Outlook brand name, but users could reasonably be suspicious about whether the product might change to suit broader corporate goals.
In other words, there's not much proof that alternatives to the built-in iOS and Android mail apps can thrive, at least without selling out. But Nadhani and CloudMagic are going to try. Today's launch of a $20 Mac app is just the beginning of CloudMagic's effort to build a sustainable email app on its own terms.
CloudMagic, like Mailbox and Sparrow before it, is not an email provider. It's merely a conduit to existing email services such as Gmail, Outlook, Yahoo Mail, and IMAP accounts, just like the default Mail apps on iOS and Android.
The difference lies in the design and features that CloudMagic and other email clients add to the core experience. With CloudMagic, users can remind themselves to respond to an email later, save messages to other productivity apps such as Evernote and Todoist, and easily share contacts with other team members. CloudMagic also indexes emails on its own servers, so it's blazingly fast at pushing notifications, fetching new messages, and searching.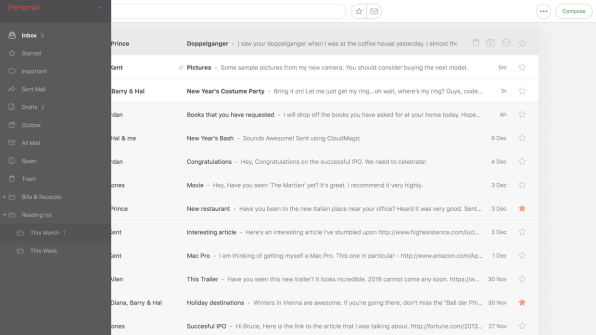 But no matter how good the alternatives are, users always have a free solution available, which means they're reluctant to pay or tolerate advertising in a third-party email app. "It's very hard to monetize something that's a commodity, which is email apps, which is calendar apps," Nadhani says.
CloudMagic learned this lesson while trying to sell "Pro" subscriptions in early 2015. For $5 per month, users could get synced account settings, background attachment downloads, and the ability to add six or more email accounts. But within a few months, CloudMagic scrapped the paid tier and made those features free.
"We were losing some users, because we had to put some of the core features inside a paywall, and those core features people were expecting to be part of a free email app," Nadhani says. "We were getting negative user comments and negative press without significant revenues."
Now, CloudMagic has come up with a new plan. In the short term, Nadhani is hoping loyal CloudMagic users will pay for a Mac client. The company may also release a Windows app later in the year.
"Productivity apps don't make money on mobile, but they do make money on desktop," Nadhani says.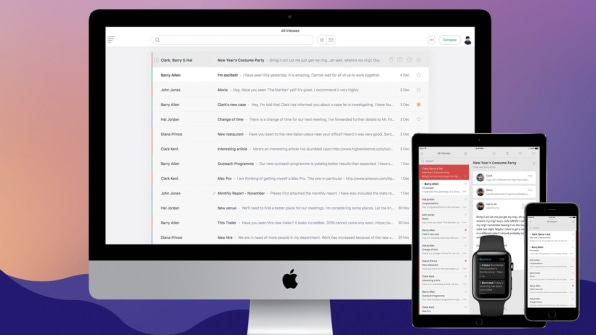 Paid desktop apps aren't a magic bullet, though, which is why Nadhani has other money-making plans for CloudMagic's mobile apps. One example: As a paid service, users could create read receipts directly within the CloudMagic app, to verify that recipients opened their messages. While some hacked-up solutions already exist for mobile mail tracking, CloudMagic's version would be integrated with the mail app itself. Nadhani hopes the simplified process might appeal to both business users and consumers who want to make sure an important message gets seen.
"Right now salespeople use it, but I believe that every person is a salesperson at the end of the day," he says.
Beyond email tracking, Nadhani envisions a selection of business-class extensions that work directly within CloudMagic, such as templates and CRM integration. Again, these are concepts that already exist on the desktop, but aren't built into the average mobile email app.
"Our idea is to be on platforms as free, and take the top five use cases of all these extensions, and then charge subscriptions on that," Nadhani says.
Despite all those ideas, Nadhani is managing his expectations. He knows that a larger company like Google or Microsoft could offer similar business features and blow up CloudMagic's business model.
He also acknowledges that CloudMagic can't chase profitability forever. While the company isn't under pressure from outside investors, paying 35 employees and maintaining servers isn't cheap, especially as the user base grows. (So far, Nadhani has been funding CloudMagic with the profits from his previous company, Webyog, which sells database management tools.)
Hence the 18-month window, beyond which CloudMagic will "seriously evaluate other options," Nadhani says. While the opportunity to get bought by a major tech player seems to have passed, Nadhani points to telecoms, small business hosting companies, and phone makers as potential acquirers.
"The top three–Microsoft, Apple, Google–are obviously off the list, and then there is this entire middle tier of potential acquirers. If I had to sell the company I would start from there," Nadhani says.
It's safe to assume those types of acquisitions would be the worst case scenario for CloudMagic's current users, which may explain why Nadhani hasn't gone down that path yet. The flip side is there's not much precedent for third-party email clients that become viable businesses on their own. It will be remarkable if CloudMagic can pull it off.
"The table stakes for a commodity email app is so high," Nadhani says. "People kind of get lost in that gap, so hopefully we'll be able to cross it."