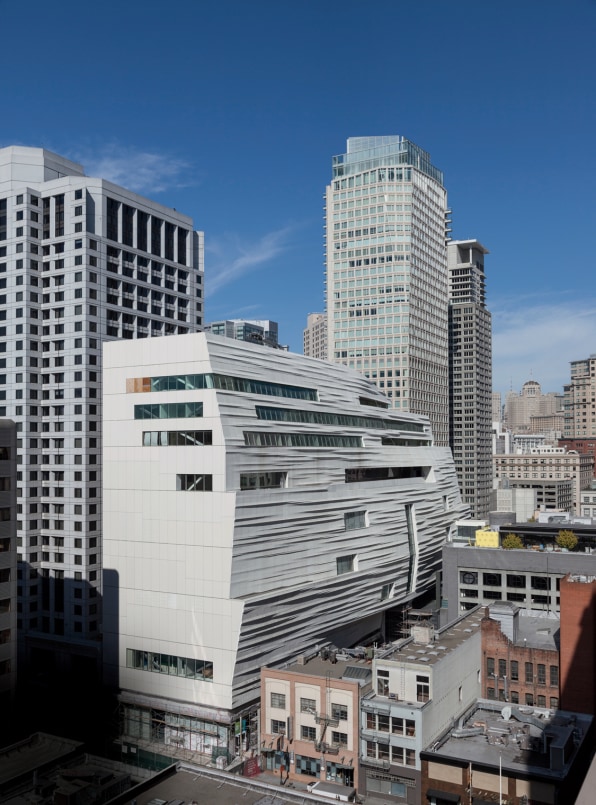 Snøhetta's first project was the 1989 reconceptualization of the Library of Alexandria, a lost wonder of the world. Nearly three decades later, the Norwegian architecture firm is still updating iconic cultural centers: Along with a highly publicized Times Square makeover, it's also designing a 235,000-square-foot expansion of the San Francisco Museum of Modern Art, which reopens in May after a three-year closure. "Alexandria [involved] tons of international stakeholders," says Claire Fellman, a director at the firm. "We developed a skill shepherding a vision through a complex process." This helped the firm during its work on SFMOMA, which sits in the gentrified SoMa district. Rather than cave to commercial pressure to join the skyline-forming fortresses nearby, Snøhetta aims to open up SFMOMA to the neighborhood. The 10-story expansion, located behind the main building, features sunlit public spaces and a fiberglass facade that offers passersby glimpses of the galleries. Upon completion, it will make SFMOMA the largest museum in California—and the largest museum of modern art in the country.
Milestones The firm was recently hired to update the Bay Area's scenic Presidio Parklands.
Challenges Snøhetta's civic maneuvering will be tested in the wake of criticisms toward New York Mayor Bill de Blasio's Times Square, which has become increasingly notorious for nudity.
Buzz ↑
"A building is not just about itself, but the place where it resides."
— Craig Dykers, Founding partner, Snøhetta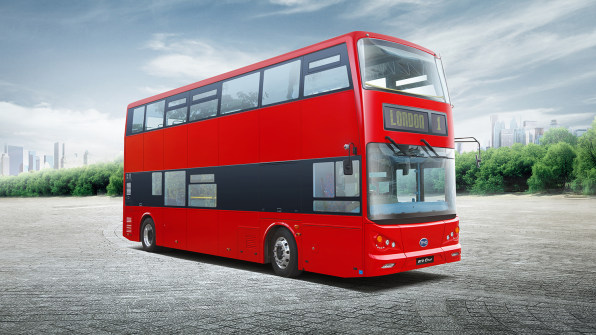 Milestones: The Chinese battery producer and automaker is heading to Europe: Last fall, it inked a 10-year development contract with ADL, the U.K.'s largest bus manufacturer, and later unveiled an electric double-decker that can go 186 miles on a single charge.
Challenges: BYD exec Stella Li has stated that the company is eyeing the U.S. consumer car market, where it faces competition from Tesla and Toyota.
Buzz: ↑
Milestones: Last fall, the mobile-payments company released PayPal.Me, a service that lets users send and accept cash via a URL. And in its first financial report since breaking from eBay, it revealed a 29% spike in profit and a 14% revenue increase.
Challenges: PayPal is under pressure to keep up with several hot payments startups—including the $5 billion Stripe and the recently IPO'd Square—as well as a rumored peer-to-peer service by Apple.
Buzz: ↑
Milestones: The Swiss drug developer recently started a program in Kenya, Ethiopia, and Vietnam that allows NGOs and other public entities to purchase 15 medications for chronic illnesses for $1 per treatment, per month.
Challenges: Novartis's profit dropped by 42%, due in part to a $390 million settlement for allegedly giving kickbacks to pharmacies that pushed its federally covered drugs.
Buzz: ⟷
Milestones: The British grocery giant launched a "Brand Guarantee" initiative, which offers shoppers immediate discounts when they present brand-name items sold more cheaply by rivals.
Challenges: Tesco recently sold its South Korean stores—the most profitable unit among its international holdings—to a group of investors for $6.1 billion. Most of the funds will be used to pay off large amounts of debt.
Buzz: ↓
"Part of being the Un-carrier means telling it like it is."
— John Legere CEO, T-Mobile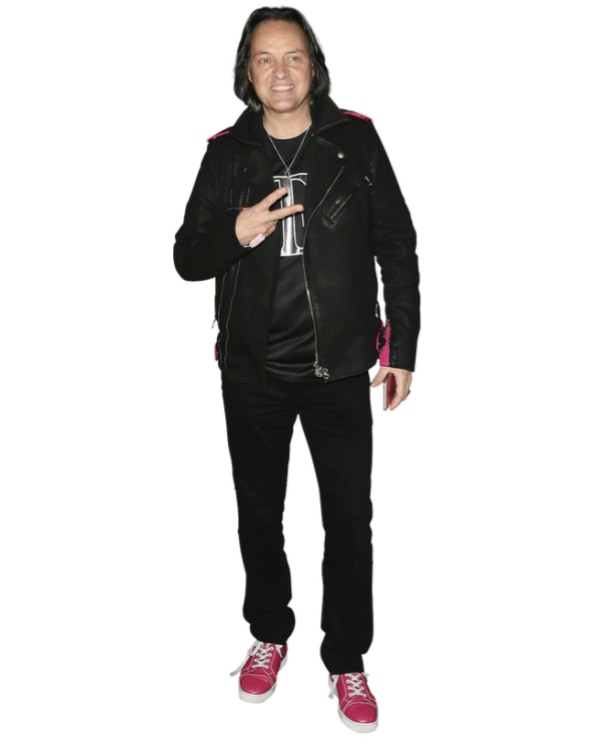 Milestones: As part of its ongoing campaign against competitors, T-Mobile revealed in November it would offer free and unlimited streaming from services such as Netflix and HBO Go.
Challenges: Critics pounced on the data-plan price increase that followed the streaming announcement, which came on the heels of a cyberattack that exposed the personal data of as many as 15 million customers.
Buzz: ⟷
Milestones: In September, the genome-sequencing giant revealed its genetically modified micro-pigs—and its plans to sell them as pets for $1,600 a pop. (The 30-pound animals were originally bred for research.) BGI says buyers can eventually request certain physical features for their mini-swine, setting a precedent for commercial gene editing.
Challenges: Some in the scientific community have raised ethical questions regarding the micro-pigs, calling for greater regulation and expressing concerns over what other animals might be subject to such modifications.
Buzz: ⟷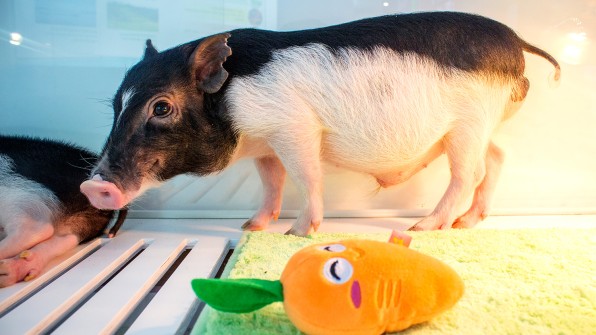 Milestones: Last year, the company formerly known as Glam Media embarked on a massive rebranding, uniting all of its video sites—including Brash, Foodie, and the fashion-focused Glam—as customizable verticals under the umbrella site Mode.com. Viral series such as 100 Years of Fashion in 2 Minutes have also raised the company's profile, and it announced in August that it had reached 1 billion total video views.
Challenges: The 13-year-old company—which scrapped plans to go public in 2013—must fend off YouTube, which recently launched commercial-free paid subscriptions, and new video giants such as Facebook and BuzzFeed.
Buzz: ⟷
"The IPO will bring retail investors back to the airline sector."
— Kapil Kaul CEO, South Asia, Centre for Asia Pacific Aviation
Milestones: Already the largest airline operator in India, IndiGo's parent company, InterGlobe Aviation, launched its IPO in late October to the tune of $459 million—the highest in the country since 2012.
Challenges: Analysts questioned IndiGo's financial model, which relies heavily on buying aircraft and leasing them to companies at higher cost.
Buzz: ↑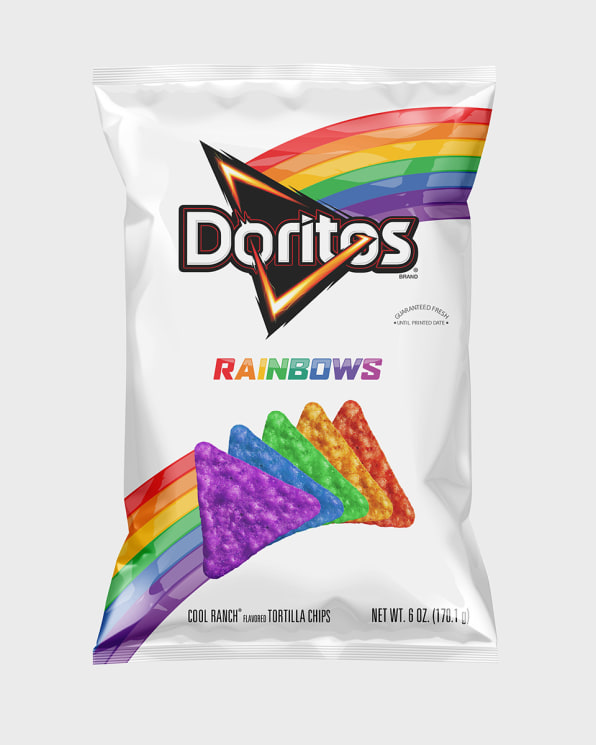 Milestones: Frito-Lay has been on a marketing tear, from its "Do Us a Flavor" contest, which resulted in such Lay's varieties as Southern Biscuits and Gravy, to its rainbow Doritos, which honored the Supreme Court's historic gay marriage ruling (and drew the ire of conservative politician Mike Huckabee). Frito-Lay was just one of two PepsiCo units to post revenue gains in Q3 of 2015.
Challenges: A report by the research firm Mintel revealed that despite snack makers' efforts to offer healthier products, more than 50% of consumers are still concerned about ingredients used by manufacturers—signaling more pressure for PepsiCo CEO Indra Nooyi to diversify its potato-chip empire.
Buzz: ↑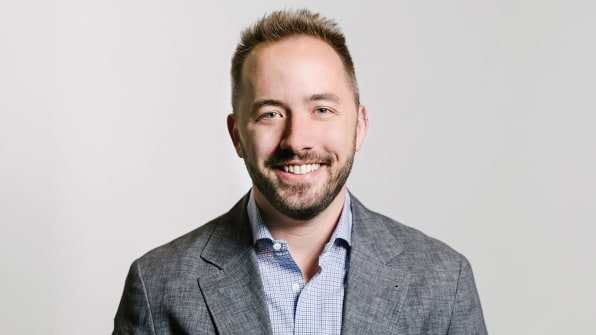 At the end of our April 2015 profile of cloud-storage startup Dropbox, cofounder and CEO Drew Houston mused that he worried more about being eclipsed by a startup than by giants such as Google and Microsoft that had targeted his business. Houston's fears have been borne out, as the messaging tool Slack has emerged as the future-of-work platform that he had hoped Dropbox would become. As a result, Dropbox's rivals now include its institutional investors BlackRock and Fidelity, both of which downgraded their stakes in Dropbox by as much as 24%, fueling skepticism about its $10 billion valuation and making it a symbol of the purported tech bubble. Dropbox is now courting more enterprise-level clients, hiring IT brokers, adding features such as team messaging, and rolling out the Google Docs–esque Paper. But can Dropbox act fast enough? (After all, it bought the startup whose tech powers Paper nearly two years ago.) "Craigslist [was] used for everything," Houston told Fast Company. "Then Match.com takes some, and Airbnb comes along. We're like, 'Maybe this is gonna happen to us.' "
"There've been these misconceptions [that] we're not serious about business."
— Drew HoustonCofounder and CEO, at the Dropbox Open conference in November
Milestones: Last year, Dropbox hit 400 million users and crossed 150,000 business customers.
Challenges: In December, Dropbox announced that by spring it would shutter its once-lauded stand-alone apps Mailbox (for email) and Carousel (for photos) to focus more on "simplifying the way people work together."
Buzz: ↓