"Salt of the Earth is the most moving film I've seen in years. It follows the life of legendary photojournalist Sebastião Salgado as he travels the world telling stories. It had me in tears at several parts."
— Scott Harrison
Founder and CEO, Charity: Water; Fast Company MCP
"Cupcakes are done to death, but Yeh Cakes, made in New York City, are custom works of art."
— Lara Crystal
Cofounder, Minibar
"Coming home on a flight, I found that I couldn't stand up. My left knee was locked. The RolPal, a next-level foam roller, helped me walk again. It's designed to massage trigger points, and it comes in a travel size."
— Patti Pao
Founder and CEO, Restorsea
"My Kaikado canister holds the single-origin coffees I drink. The 140- year-old Kyoto com­pany designs them to get more beautiful with time. I love my iPhone, but in two years it will be toxic waste."
— James Freeman
Founder and CEO, Blue Bottle Coffee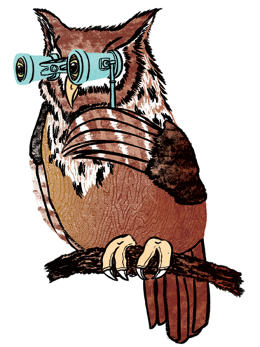 "The touch-screen Plastc Card, now in beta, loads your credit cards and even key fobs onto this device. I don't like to carry a wallet with me, so it simplifies what I keep in my pocket."
— Ben Goorin
President and CEO, Goorin Bros.
"How better to find people to connect with than by using those who already follow you? Audience Owl finds the influencers in our email list and lets us solicit direct feedback."
— Kamal Patel
Director, Examine.com
"Watsi's donations plat­­­­­form helps people who can't afford health care. The stories and donations remind me why we do what we do at Eligible."
— Katelyn Gleason
Founder and CEO, Eligible; Fast Company MCP
"I highly recommend Kiwi Crate to parents who are interested in teaching their children about entrepreneurship. They send monthly kits for building art, science, and engineering projects."
— Chantel Waterbury
Founder and CEO, Chloe + Isabel
"The Traktor Kontrol S4 mixer and software by Native Instruments is the best setup for deejaying."
— Curtis Lee
Founder and CEO, Luxe
"I travel for work and return home to HungryRoot meals, which last 20 days in the fridge and are about 500 calories. They make veggies into delicious pastas and desserts."'
— Soraya Darabi
Cofounder, Zady.com; Fast Company MCP
"My favorite fashion designer at the moment is Stella Jean. I love the multicultural cool vibe of her pieces."
— Grace Choi
Founder, Mink
"Outlier is my go-to brand for basic clothing. It really fits with my mantra of packing light and living with less."
— Sam Rosen
Founder and CEO, MakeSpace
"Cobbler Concierge marries the modernity of the Internet with the skill and traditions of expert cobblers. The service for shoe and handbag repairs is flawless and convenient. You complete a form online and a box arrives for you at home. In a quick turnaround, your precious items are returned looking as good as new."
— Alexandra Wilkis Wilson
Cofounder and CEO, Glamsquad
A version of this article appeared in the February 2016 issue of Fast Company magazine.