Advancements in industrial design are inextricably linked to material science. As designers look for ways to manufacture products that perform better and last longer, materials often offer a solution. But introducing designers to these new materials is more difficult than it sounds.
"There's only one semester of material education happening within the collegiate environment," says Farrell Calabrese, creative manager at the Eastman Innovation Lab, a small team of engineers within the giant Eastman Chemical Company. "It's very little and it's very basic. A lot of the change in the last 60 years has been exponential and it's overwhelming." Calabrese's goal is to help designers apply the latest material research to the critical middle ground between ideation and execution.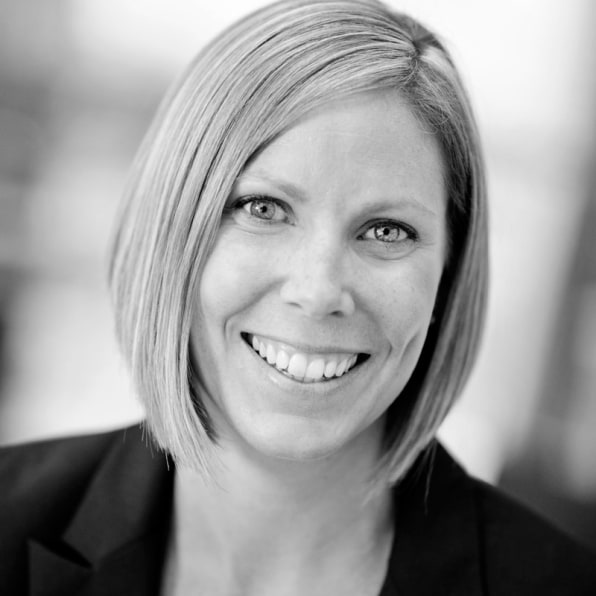 George Eastman—of Eastman Kodak fame—founded the Tennessee Eastman in 1920 after World War I disrupted his supply of materials for Kodak. While its first products were for the photography industry, the chemicals were also an effective synthetic-rubber stabilizer and were used in the second World War. By the 1940s, the company's biggest product was acetate yarn–and it was even tapped to produce explosives and develop the atomic bomb. Polyester became a leading product in the 1970s, and in 1994, Eastman Kodak spun its chemical division off into its own business, The Eastman Chemical Company. While Kodak didn't fare well, Eastman was better off after the shakeup.
This past fall, the lab relaunched with a new approach to showing designers what Eastman's chemical engineers are developing. Led by Calabrese, who has a background in graphic design and brand communication and is a member of the Industrial Designers Society of America, the lab is focusing on telling the fascinating stories behind its most successful collaborations—from pint glasses to packaging for Bluetooth headsets.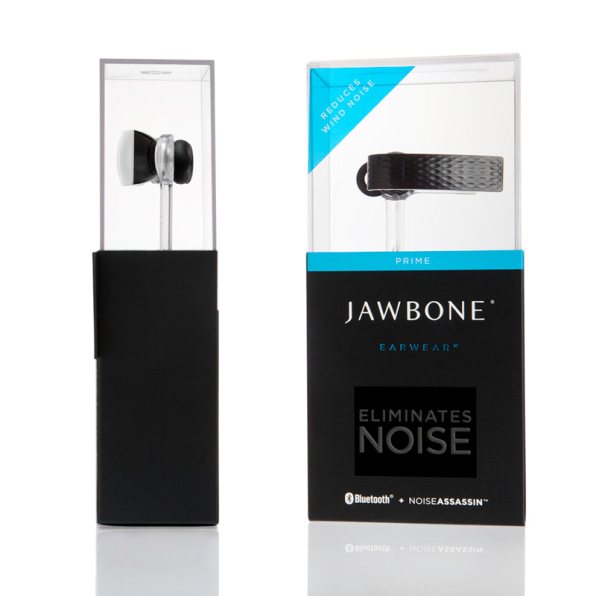 For example, a few years ago Yves Behar came to Eastman with an interesting challenge: He wanted to reduce the amount of packaging for the new Jawbone Icon—without changing the actual packaging design. Eastman's solution was a material called Eastar copolyester, a clear plastic that offers a high strength and durability ratio to the amount of material used. The packaging mimics a museum vitrine, with the Bluetooth headset mounted under a clear case that allows customers to see the product in 360 degrees. By switching to this plastic from polycarbonate—the original material—Behar and his team were able to reduce the amount of plastic used by 68%.
The lab has done the same for a number of other companies, too. It helped to develop an unbreakable pint glass for a British brewery and made the Topo flask with the Portland design studio Ziba using a material called Tritan, a BPA-free copolyester that offers the weight and clarity of glass but without the fragility. It also worked with a disaster-relief company to create vessels that purify water using a type of cellulose, which allows forward osmosis to occur.
But before the website's relaunch, these stories weren't well known. The challenge is getting the word out about specialty materials and how their traits—like Tritan's versatility for use in medical and food-safe products—can lead to better design. Calabrese hopes that by sharing case studies of how the lab problem-solved through material engineering, they might be able to collaborate with more designers and companies that want to change up what they make.
"The design community knew who were are but not from a material resource standpoint," Calabrese says. "We reached out to them to try and understand what do they need from a materials provider. They said, you're not really connecting all the dots for us. Why are some of the materials being chosen? How are those decisions being made? What are some of the benefits? With the redesign, we took a lot of that into account."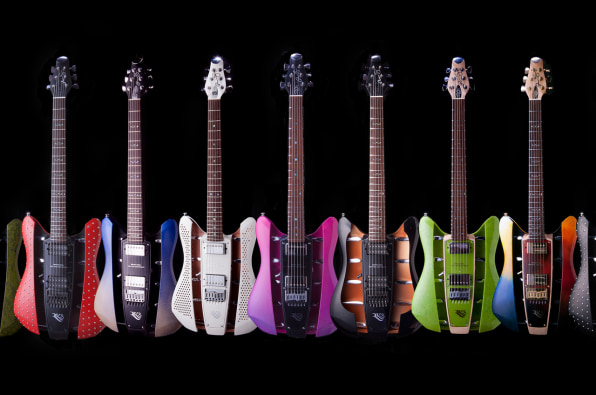 Calabrese also found that while designers knew Eastman for its plastic, they didn't know as much about the other products, like its Tenite cellulose, which is made from renewable woods, is naturally warm to the touch, and can be easily bent.
Tenite turned out to be ideal for the design consultancy RKS Design, which was at work on a new type of guitar made from sustainable materials. Exotic woods, like Brazilian rosewood, are prized for musical instrument construction, but over-foresting has caused them to become endangered. By using Tenite—which has been around for decades—RKS was able to produce a beautiful guitar without tropical hardwood. Calabrese created a database of Eastman's materials that explain what they do, their characteristics, and how they can be used in the manufacturing process.
"The materials library is really the heartbeat of the site," Calabrese says. "You can go there as landing point and see a lot of stories that are associated with the material. We still want the site to be an inspiration to the design community, but we also want to provide a lot more technical solutions without it being your typical material safety data sheet."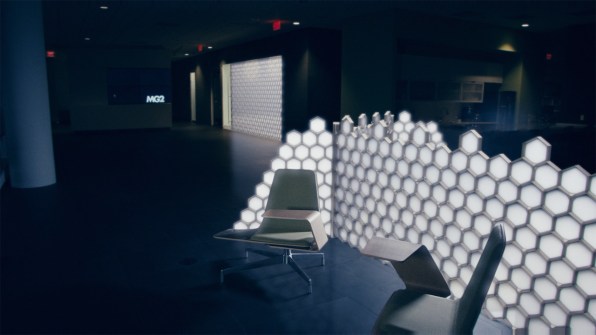 The lab also wants to collaborate on brand-new types of materials–showcasing that it can make new products based on a designer's vision. For example, the team recently collaborated with the Seattle architecture firm MG2 on ideas for the future of the office. One design was a wall system called MIMIC, a digitally-connected, shape-shifting, color-changing wall that provides privacy and acoustic dampening.
The system (which is purely conceptual at this point) is composed of Eastman's Saflex—an intermaterial layer with sound absorbing qualities—and Vanceva—a fade-resistant material that comes in 3,000 colors that allow light to shine through. (Daniel Buren used Vanceva, which is typically sandwiched between two panes of glass, in a prismatic installation in France.) Used in concert, the two materials would let MIMIC open, close, and change colors in reaction to the decibel level of an office, as this video about the project depicts.
"We wanted to do show capabilities of our Saflex product and MG2 was also trying to show different capabilities in thinking about the office of the future," Calabrese says. "While we were in this co-innovation stage, we were hoping to bring something tangible to life and have a true prototype, but where it ended up was a digital prototype. It helped us connect the product in a way we hadn't done before."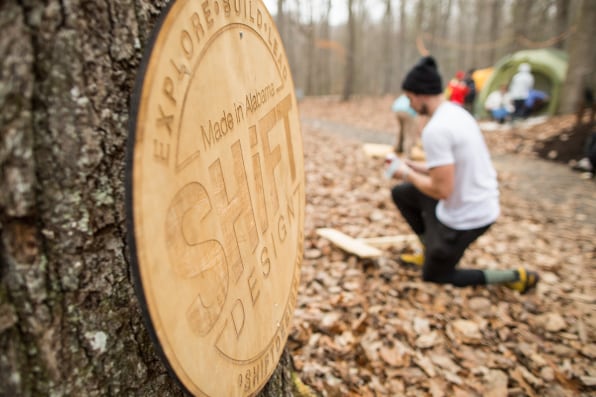 Calabrese points out that material science is often vague for designers. "Eastman makes higher-end, more specialized materials so students are not learning about our materials in their textbooks; they're probably learning about plastics at a very high level or wood or glass," she says. "We just want to be a resource for the community, not necessarily only for use of Eastman products. If you have a material question, Google isn't the place you can go to find answers really easily. The Innovation Lab is trying to be the link [to answers]." The Innovation Lab also hosts student workshops like SHIFT, and provides grants to organizations like the Woods Hole Oceanographic Institution, which is developing a buoy for data collection in remote areas of the ocean.
"One of the things that I feel really passionate about is making sure people are using the right materials for the thing they want to make," Calabrese says. "We hear a lot about frustration—designers come up with this beautiful idea and these functions then they give it to the engineer and the engineer says we can't do that. So for us, it's how do we push the envelope from our own perspective. Get the right material and your design could come to fruition easier in the production process."