"Coloring in" as an activity may be as therapeutic as knitting, or hooking a rug, or even something as mundane as polishing all of your shoes while you binge-watch an entire series of Better Call Saul. Hence the recent popularity of coloring books for adults. You may not end up with a wonky scarf at the end of it, but for something mindless and nominally creative to do with the hands, a coloring book does the trick and is as almost as portable as knitting.
But is it therapeutic? The creators of a new app called Pigment think so. It's coloring books without all the materials you need to tote around. The free app, created by photo app company Pixite, lets you color in shapes on your screen. You can color free-form with your finger, or you can have the app outline shapes like a stencil so you can't go over the line. You can use the popular Apple Pencil accessory for iPads, but you don't have to. To get access to all the coloring books, you'll have to sign up for a $5 per month subscription.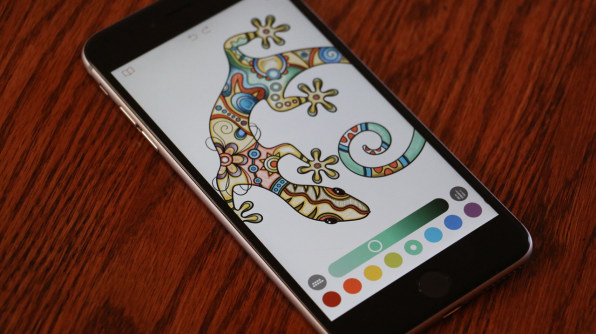 "I don't think it's for everyone," says Pixite's Eugene Kaneko, "but for those who have tried coloring books for adults, I haven't heard one person complain about it. 'Helps me relax,' 'Clears my head,' and 'Lets me be creative,' are what people say. Often, people will be watching TV or having a conversation while coloring."
This aspect of having something mindless to occupy your hands while you do something else can help your focus and concentration. Similar to doodling, coloring may block the brain's self-generated noise that can often send daydreamers into an anxious spin. "Some researchers suspect doodling may help the brain remain active by engaging its 'default networks'—regions that maintain a baseline of activity in the cerebral cortex when outside stimuli are absent," says the Wall Street Journal's Sue Shellenbarger. Coloring could even potentially help cancer patients.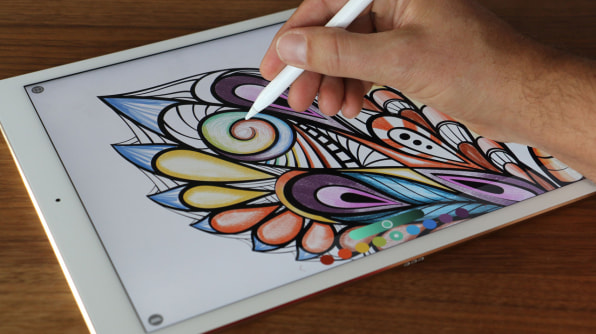 Pixite decided to make Pigment because lead developer Scott Sykora's wife, Jenny, wasn't happy with any of the apps already available. "One of her main complaints about the coloring book apps on the App Store was that they were all 'tap-to-fill,' which diminishes the positive effects of coloring substantially," Kaneko says. "She tried the most popular coloring book app and she immediately disliked it."
But isn't coloring in a waste of energy? Isn't it better to make something from your mindless handwork, even if it is a scarf so uneven you'll never wear it outside? Maybe not. Part of the appeal of coloring books might be the lack of any real creativity.
"Those who judge themselves as bad artists may be more likely to miss out on the benefits of art-based therapies," says Medical Daily's Dana Dovey. "Adult coloring, therefore, presents a creative venture without the need for artistic flair."
Self-professed coloring fan and Atlantic writer Julie Beck says that her relaxation comes from a lack of choice. "Coloring offers that relief and mindfulness without the paralysis that a blank page can cause. It's easier in the way that ordering from a restaurant with a small menu is easier than deciding what you want at Denny's, where you could eat almost anything," she says.
With this in mind, Pigment's stencil feature, which prevents coloring over the lines, might actually be a boon to relaxation. "We just found the ability to select specific shapes to color a much less frustrating and a more enjoyable experience, " says Kaneko. "Especially when you're on your phone with your finger."