The documentary Meru, chronicles the years-long journey of three world-class climbers–Jimmy Chin, Conrad Anker, and Renan Ozturk–as they endure the physical, emotional and psychological punishment, fear and exhilaration of trying to be the first-ever to summit Meru Peak, a 21,000-foot monster of a mountain in the Himalayas of northern India.
Directed by Chin and Elizabeth Chai Vasarhelyi, the film has garnered rave reviews and won the 2015 audience award at Sundance. It's an epic film that, whether it inspires, scares the sh*t out of you, or both, is a testament to the true power of nature, and how humans use it to get a glimpse of their soul. Unofficially, Meru is also a pretty damn good ad for The North Face.
As Chin, Anker, and Ozturk's adventure unfolds, one logo remains constant, and while the brand didn't officially fund the film, it did help back the Meru expeditions as a major sponsor of the climbers. And it's that presence in places like the side of Meru's Shark's Fin peak that have helped it become a ubiquitous presence in less exotic locales, like in coffee shops, on bikes, and walking down the street of Any City, USA.
Back in 2000 when parent company VF Corporation bought The North Face, it was a $200 million brand losing at least $1 million every year. Now it's a $2 billion brand that dominates the outdoor market, and just as popular among people who never set foot on a mountain. President Todd Spaletto says its popularity comes not from pandering to a broad consumer base, but instead doubling down on its ties to the hardcore.
"Some people buy their North Face jacket and backpack to get out in the woods and away from things," says Spaletto. "So when they're in line at the coffee shop and see half the people wearing a North Face jacket, they may question whether this is still a brand that represents their lifestyle. And that's on us to get our message out, showing it through the product that we make, but also the stories we stand for and the good work we do in sustainability and participation. If you make great products and tell inspiring stories, either on our own or through people like Jimmy in Meru, that is a very powerful reinforcement to the brand's foundation."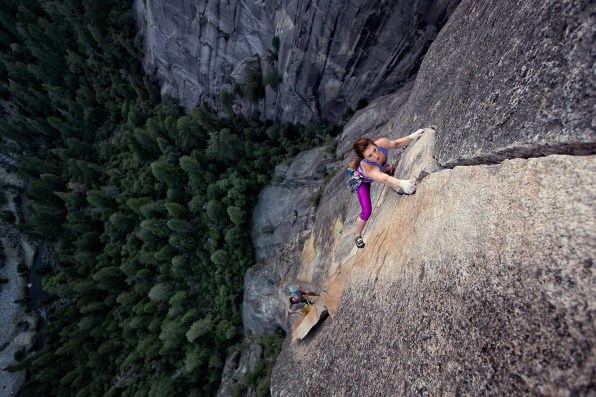 This year The North Face launched its first-ever global ad campaign, as well as its first virtual reality project. And while both focus on the brand's deep connections with the outdoors, it's an altered approach. Spaletto says that over the last decade the brand has done a really good job of talking about the rational reasons why The North Face is the best choice for outdoor adventure–like, say, a tent that weighs less than a laptop and can withstand Category Three hurricane winds–but there was something missing.
"What we realized, looking within and talking to consumers, is there is an incredibly powerful emotional connection to our brand," says Spaletto. "And that emotion is around people seeking to explore progress in themselves and connect themselves to things they love, which are largely found in the outdoors. So while we often define that progress people seek in the physical sense–like being the first to climb to the top of Mount Meru–we realized that people find that inner self and expression through creative means as well."
Sitting in the New York headquarters of the historical Explorer's Club, Spaletto points to the balance someone like Chin brings to the idea of exploration.
"In 2006, Jimmy did a summit of Everest and skied down it," says Spaletto. "But he also filmed the whole thing. When you think of someone who actually had to summit Everest, then physically ski down it, it's amazing, but he was also thinking about capturing it. To have part of your brain also thinking about the creative side of these pursuits, that's exploration as well. And you're going to see that more from us."
Part of that creative side is a bigger embrace of social channels like Instagram to not only showcase the creativity of athletes and artists like Chin, who boasts more than 1.1 million Instagram followers, but also shining a spotlight on the creativity of its consumers.
"In the past, we'd focus a lot of our attention on pointing the camera at people like Jimmy, with the message being, doesn't he inspire you to use this product to go on your own adventures?" says Spaletto. "And it is inspiring. But also, if you look at our Instagram feed, many of our most popular posts are actually from fans, it's from the community and it's content people share through their social channels. That kind of user-generated content really helps reflect and encourage people's connection to the outdoors, and how The North Face is a part of it."
Spaletto sees this kind of user-generated content as just a broader version of positive word of mouth. "Consumers like to see content from brands if it's genuine," he says. "Where marketing goes sideways is when a brand tries to push content that the consumer deems an inauthentic. I also think that consumers are making purchase decisions more based on their community than the brands so it's a great expression of a community sharing and voting on their experiences with a brand."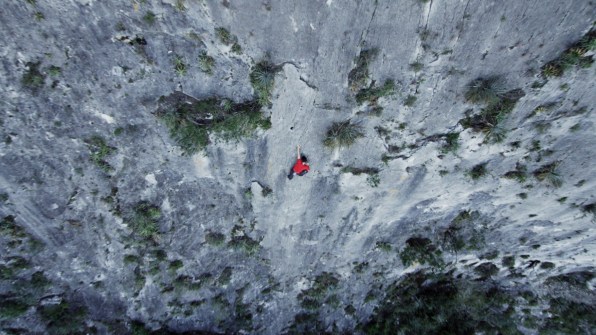 In terms of creating its own compelling content, with athlete ambassadors across a multitude of sports and disciplines, The North Face has a lot of exciting potential. How it decides what to invest in, however, isn't determined in a boardroom or traditional marketing meeting. Each year, it holds its global athlete summit, where all its ambassadors–snowboarders, skiers, ultra marathoners, climbers and more–gather discuss, debate, and decide on the expeditions and adventures for the coming year.
"The brand's been around for 50 years, and we're staying relevant by being cemented in its authentic roots," says Spaletto. "We have 70 global athletes that are doing 15 to 20 expeditions a year. Those athletes come together from around the world to pitch their ideas to everyone else. There are Q&As from the other athletes, and the selection is based on the athlete community. So it all starts from a very authentic place."
The outdoor market is not some guy in zip-off pants and a sun hat staring at a waterfall. Not that there's anything wrong with that. But Spaletto and The North Face have combined very specific consumer research, along with small-scale, niche collaborations with brands like Supreme and Vans, and its partnership with community outdoor fitness initiative The November Project, to stay focused on their ideal modern consumer.
After conducting an in-depth consumer segmentation study of more than 16,000 people around the world, the brand calls its target consumer "the progressive explorer." According to Spaletto, this is someone constantly exploring and seeking progress in life, whether that's through their physical activities, creative hobbies, or social networks.
"These people are competitive, but with themselves," says Spaletto. "We know how many there are, the percent they spend in the category, we know what our marketshare is with them and what kind of content is relevant to them, and that's our focus on how we grow as a brand because that's our authentic audience."
The key is remembering that people like Jimmy Chin are just the 0.1% of the progressive explorer. "But there are many other people excited about exploration that aren't at that level," says Spaletto. "We also recognize that there are people who look at the progressive explorer and adopt their style in an aspirational sense. And if we're part of that, it's our responsibility to make sure people understand what we stand for. It's not a strong business strategy to have people walking around wearing your logo because they think it's cool. We want them to be wearing it because they know where we are, where we come from, and hopefully encouraging them to join these activities and lifestyles."