After six decades and some half-dozen attempts at bringing Arthur C. Clarke's science fiction epic Childhood's End to the screen, it's finally happened—SyFy Channel will air a three-part adaptation of the seminal work from December 14-16.
"I'm amazed that no one hasn't actually just had a go," says scriptwriter Matthew Graham, who spoke to Fast Company alongside director Nick Hurran and star Julian McMahon at last summer's San Diego Comic-Con. "But it's the time frame. The fact that it's very epic, the story outlives many of the characters. And it's more of a set of ideas and philosophies with a few chunks of story. But television is a braver place than a lot of movies. I hope people are challenged by the story and find it a bit controversial."
The tale—as pertinent today as when it came out during the throes of the Cold War in 1953—chronicles a peaceful conquering of Earth by alien overlords, who create a world free of war, sickness, struggle, and want. But their utopia creates a complacency that erodes the curiosity, creativity, and inventiveness that define what it means to be human.
Despite Hollywood's ongoing flirtation with the novel, the stars never aligned for a full union. Director Stanley Kubrick expressed interest in Childhood's End, in the 1960s, only to find it already optioned. (Kubrick instead developed the Clarke short story, The Sentinal, into 2001: A Space Odyssey.) Screenplays by Oscar-nominated director Abraham Polonsky and Howard Koch, one of the Casablanca screenwriters, were never made into films. In the '70s, Universal developed it as a six-hour CBS mini-series, then ABC movie, roping in legendary comic book artist Neal Adams for concept art, but scrapping it when the estimated budget ballooned to $40 million. In 2002, Boys Don't Cry director Kimberly Peirce was attached to direct a film version, which also never happened.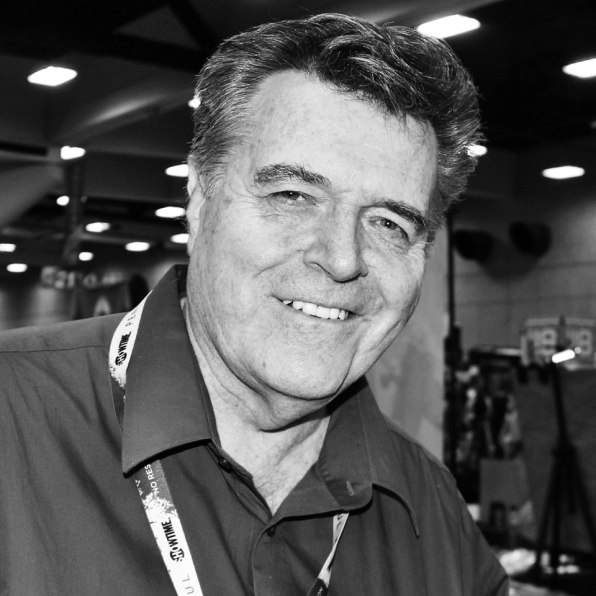 Adams' imagination was partly to blame for the aborted TV projects. "I came up with new ideas that hadn't been done in science fiction before," he says, such as creating a more imposing scale for the spaceship's massive size by placing it above the first cloud layer.
The other was designing alien wings to move in concert with human motion. In the days of CGI infancy, "Nobody had done flying wings before," he says. "So I'm not just designing wings, but wings went up and out when you expanded your arms.
"I put the engineering specs together so that the rods supported the other rods and gave the design to the guys who built the props at Universal," adds Adams. "They looked at them and said, 'This isn't going to work.' I said, 'It'll work if you build it the way I say, using car aerials and rings and some piping.' A week and a half later, I got a note with some Polaroids. They built them to my specs, without believing in them, and they worked. Totally blew them away. But because of my drawings, they pretty much said, 'We can't afford to make anything.' So I was the one that killed it."

Then just over two years ago, SyFy (a division of NBCUniversal) approached executive producer Michael De Luca, an Oscar nominee for Captain Phillips, to take another stab at the book. He brought on Graham, co-creator of the British speculative sci-fi series Life on Mars, who spent several months reworking the material—like expanding a meaty religious theme that earned a brief mention in the book.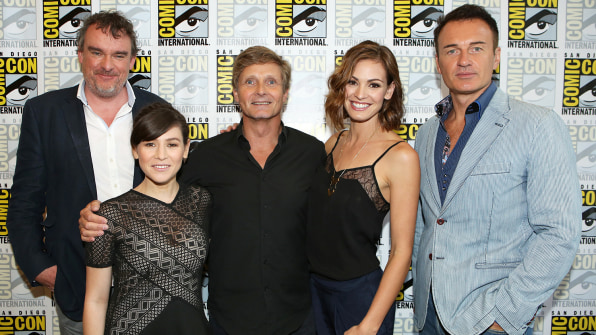 "Originally, we had conceived it as a two-parter, and then Syfy was interested in turning it into three nights," Graham told the Television Critics Association last summer. "It's literally like a paragraph in the book where it says, 'And the Overlords helped us dispense with the notions of religion and we put all those away.' And then the book moves on, and you go, 'Well, actually, that's a novel in its own, persuading an entire planet to give up its religious beliefs.' So that lent itself to becoming the middle act and the moment where we extrapolate from the book."
Once Syfy greenlit the project, Graham suggested a former colleague, Dr. Who director Nick Hurran, fortuitously just off a 2014 Emmy nomination for Sherlock. "I needed someone able to make ambitious television within the confines of television, and push me to go in directions I hadn't thought of," he says.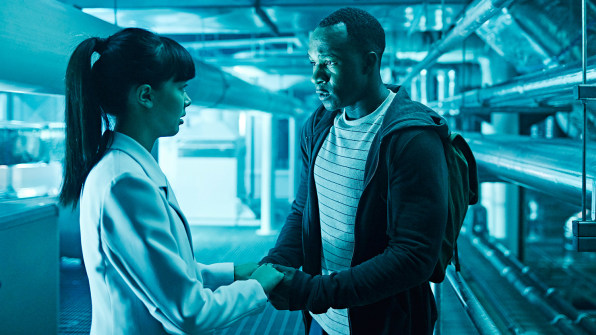 They solved certain creative challenges by condensing the timeframe of the narrative, visualizing rather than explaining concepts, and creating a collaborative environment with a production team that included director of photography Neville Kidd and editor Yan Miles—who'd worked with Hurran on Dr. Who and Sherlock, respectively—Elysium production designer Philip Ivey, and Oscar-winning costumer designer Ngila Dickson, from the Lord of the Rings franchise.
"We took a bold start with the costume design, going for white," says Graham. "That was Nick's idea. He really wanted to make a big statement. It's no good explaining utopia, you just want to see it and be off. So as soon as you see a freeway turned into a golf course, everyone's on bicycles, and dressed in white or beige, it doesn't matter why, it's about an immediate impact that tells you, 'We've gone a little bit bland, a little bit monochrome, but we're peaceful.'"
"If you are given everything you want, what's your idea of utopia, which isn't described officially in the book," says Hurran. "We had conversations of how to visualize that, starting with no traffic jams, and what happens when you're given that, because it might not turn out exactly the way you thought it would. Social media dissolves away, because you don't need the same sense of affirmation. The visual tells you the story straight away—a loss of individuality, expression, color palette—all things that Arthur C. Clarke had spoken about."
As an example of Clarke's take on how advancements could both improve and damage the human condition, says Hurran, "There's a wonderful interview from the '70s where Clarke [predicted] the Internet in a room full of computers the size of a double-decker bus and how it might affect our whole social interaction."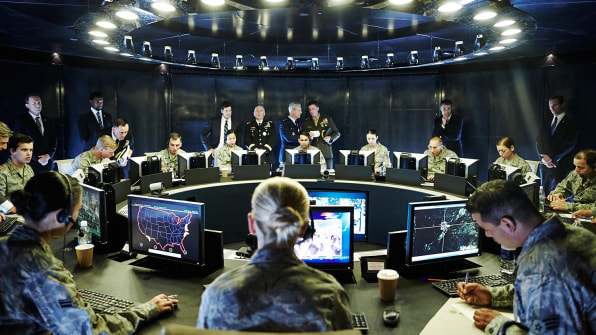 During the 62-day shoot, the brainstorming extended to the cast, which expanded upon any preconceptions Hurran and Graham pictured for their roles. McMahon, the former star of FX's Nip/Tuck, plays renowned space magnate Rupert Boyce, and was a font of daily creative flourishes.
"Julian's take on Boyce was bigger and more effusive than I'd initially imagined," says Graham. "He's a slightly rich, Bransonesque type who wants to hang out with the overlords. I always saw him as a slightly louche and world-weary character. Julian played him as an enthusiast, with this amazing joie de vivre, and just dominates these scenes."
"I wanted to convey was the excitement of someone who's always thinking, learning, and moving," says McMahon. "This is a guy who's achieved a lot. So what do you achieve next? For Rupert Boyce, it's galactic investigation. It helps when you get into an environment where you feel free to express yourself. If you're throwing something out there, you might get to something better than what you began with. It's really a process that doesn't finish until it's up on the screen."