Place Viger in Montreal symbolized an age of glamorous travel and cosmopolitan ambition. Constructed in 1898, the train station was done up like a French chateau. But time wasn't kind to the building and over the decades, it fell into disrepair (thanks, Great Depression). Today it's the site of a $250-million mixed-use redevelopment project that seeks to revive the abandoned structure.
Lightspeed, a point-of-sale software company, is one of the newest tenants and it enlisted local firm ACDF Architecture to overhaul three floors within Place Viger for its global headquarters. The concept mixes punchy graphics, whimsical features, and an historic framework to forge a minimalist office that feels sophisticated, not overwrought.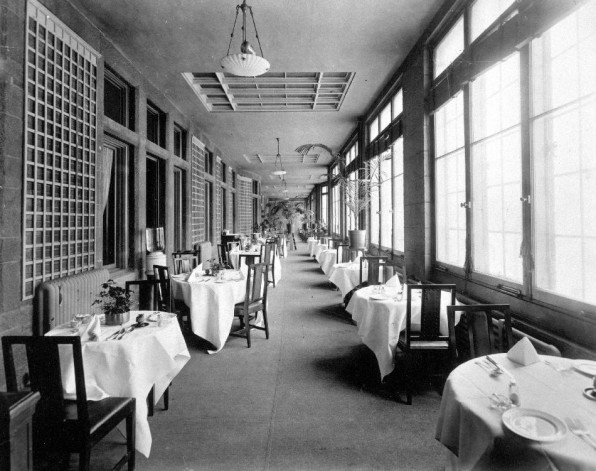 "We were all seduced by the prestigious character of the historical Viger train station and hotel, a monumental building that was about to be revived after a long period of abandonment," architect Maxime-Alexis Frappier says. He and his team took notice of the exposed timber ceiling beams, remnants of a steel girder, brick walls, and terrazzo floor during their first walk through. "We wanted to keep them exposed as much as possible and give the impression that Lightspeed was simply going to camp out in this abandoned building in Montreal."
While retaining vestiges of the past seemed like the most logical treatment for the renovation, it was also the most technically rigorous move. ACDF excised elements from a 1950s renovation, scoured off layers of tar coating the brick, and fireproofed the steel. To keep the ceiling timbers visible, ACDF insulated the structure from the outside, which took a bit of convincing to the city and client since it raised the roof's profile.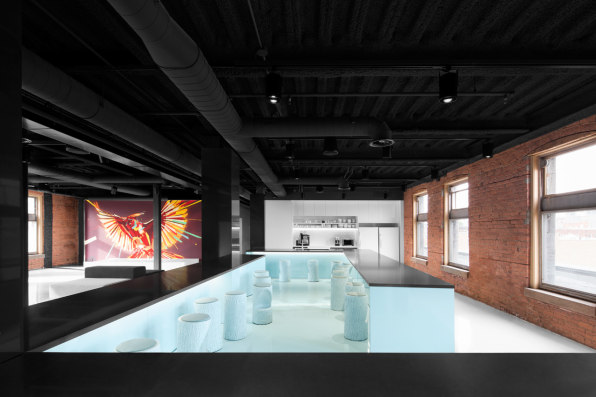 "It gives the space a unique character and allowed us to insert other anecdotal design components without giving the impression that the space is over designed," Frappier says.
The elements to which Frappier refers include the reception area, a striking bit of anamorphic design that features a supergraphic painted over a glossy white desk. As visitors move around the space, Lightspeed's logo comes into view.
In the communal space, ACDF specified stand-alone "cabanas" (which also nod to traditional Canadian ice fishing huts) for semi-private meetings, which feature laminate exteriors and interiors upholstered with cyan, magenta, or yellow fabric. Murals by São Paulo artist Arlin Cristiano and Jason Botkin of Montreal offer visual flourishes elsewhere in the office.
In Lightspeed's previous location, group meetings took place around a backyard pool. ACDF paid homage to that part of the company's history by building the kitchen and cafe around a rectangular gathering area and painting it turquoise.
Not to be outdone by other tech offices, Lightspeed is already planning the next phase of its expansion, which includes a lounge styled like cigar-smoking rooms, an amphitheater for 200-plus people, and a patio kitted out with BBQs and hot tubs—let's hope the latter doesn't become an HR issue down the line.