Two years ago, Amazon revealed its plans for an unmanned drone delivery service called Prime Air. Earlier this year, the company actually embarked on testing at a secret Canadian location. Now, the brand and former Top Gear host Jeremy Clarkson deliver Prime Air's first conventional ad that touts Prime Air as something from the not-so distant future.
The drone looks a lot sturdier and official than the 2013 version, and Clarkson says the company will have an entire fleet of drones, designed differently for a variety of environments to deliver your goodies in 30 minutes or less.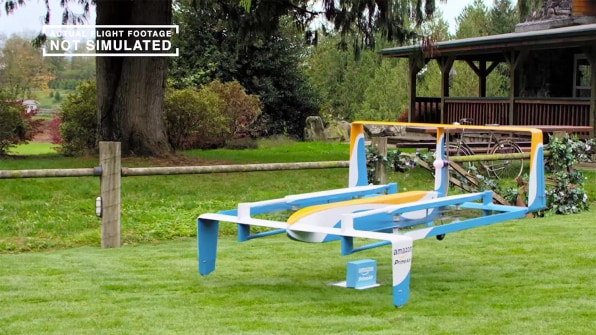 Featuring "actual flight footage, not simulated," the ad makes drone delivery almost feel warm and cozy. Clarkson, who this summer signed a deal with Amazon reportedly worth $46 million to create a new car show with his former Top Gear colleagues, makes 15 miles sound like an impressive distance and says the drones will feature technology to help them avoid other airborne objects. But while the spot uses a hot air balloon as an example, perhaps by the time Prime Air hits the friendly skies a more realistic obstacle will be other delivery drones.