When you hear about a plan to build the first car ever designed and engineered by an artificially intelligent system, it sounds compelling. Especially when the men explaining their vision are named–I kid you not–Mickey and Mouse.
The car, known as the Hack Rod, could well be the first vehicle with a nervous system. The brainchild of the Primordial Research Project, a collaboration between design software giant Autodesk and the balls-to-the-wall media company Bandito Brothers— producers of projects as disparate as a Hollywood military blockbuster starring anonymous real-life Navy SEALs and a world-record jump starring a life-size Hot Wheels–the idea was to let a computer create the perfect car based on innumerable volumes of real-world data.
The ringleaders of this particular project are Autodesk research fellow Mickey McManus and Bandito Brothers CEO and creative director Mouse McCoy. McManus has written a heady tome about the proliferation of trillions of small computing devices–sensors–everywhere in our world today. McCoy is a former professional motorcycle racer and stuntman who has spent thousands of hours with top Hollywood directors.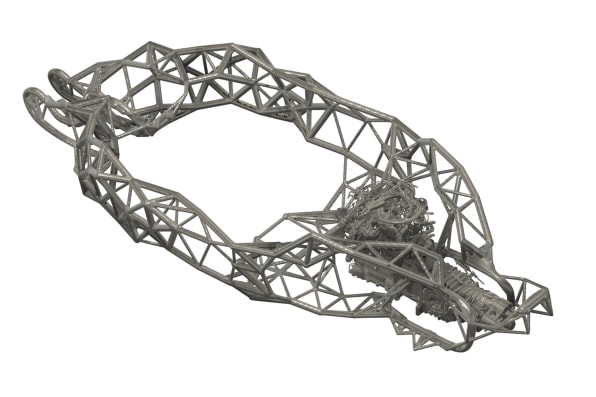 Two years ago, McCoy told Fast Company, he decided to figure out the future of making things. "I knocked on the door of Autodesk," he recalled, and ended up meeting McManus, who soon became inspired to see how his interest in digital fabrication and machine learning could be applied to the trillion-dollar auto industry.
Already, that industry was under attack from upstarts like Tesla and Uber, and new hardware approaches like 3-D printing and new materials were gaining steam, explained McManus.
His idea was to leverage machine learning. After all, the Internet of Things, "all these trillions of computers, are bored. They've got sensors….they're starting to form their own opinions. [And] what's in self-driving cars today are in your shoes tomorrow. That's Moore's Law," explained McManus.
Combining what he called pervasive computing with machine learning was resulting in something altogether new: networked matter. It all was, in short, a primordial soup of technologies, hence the team's moniker. Maybe now the time was ripe for two data-obsessed gearheads from Bandito Brothers and an extreme thinker from Autodesk to do some disrupting.
As McCoy put it, "The digital side was coming together with the new hardware movement. Holy shit, three kids in a garage could start a car company."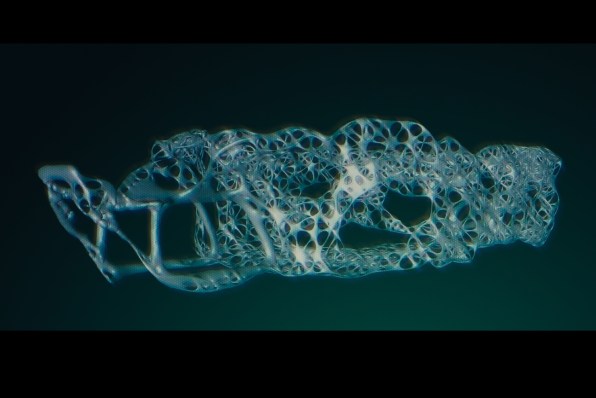 If there is one thing McCoy knows, it's cars. He has spent countless hours over the years racing cars or driving in stunt vehicles. All those hours burning rubber could have produced incredible amounts of data about driving, but it was lost to history. Still, it wasn't too late to start collecting all the new data.
Autodesk had new tools built around the idea of reality capture–harnessing data points through photography, laser scanning, and other methods, that could then be plugged into computer systems and used to build 3-D models of just about any kind of object, from ancient African artifacts to military structures to physical tools.
McCoy saw that reality capture had enormous potential for helping craft an AI-built car.
To start, the team developed a prototype vehicle chassis, complete with hundreds of sensors, and took it out to California's desolate Mojave Desert. The car, resembling a bare-bones Shelby Cobra, has a hacked Ducati engine, and the goal is to get the same power-to-weight ratio as a Ferrari, despite it weighing just 1,000 pounds.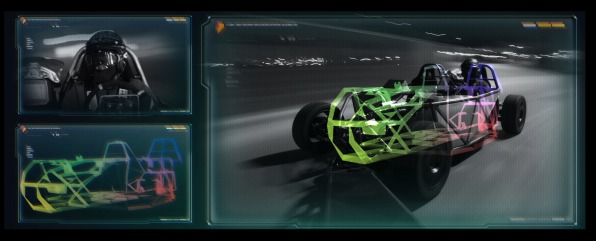 In the desert, the driver turned himself into a data-collection machine by being wired up with an EEG and other sensors, and he put the prototype through its paces, bringing in a volume of data about the forces the chassis was subjected to that could normally only be collected by a well-funded professional racing team.
The plan has been to take all the data from this automotive nervous system and plug it into Autodesk's Dreamcatcher, a generative design software system that takes input of design objectives–including types of materials, functional goals, methods of manufacturing, performance criteria, and even cost limits–and spits out numerous design alternatives to satisfy all those requirements.
For Mickey and Mouse, the result was a new vehicle chassis design based on all the collected data. Intended to maximize driving performance and efficiency, it could never have been designed by humans.
It's too early to tell whether the project is a success. The team had planned on unveiling it in final form in time for this week's Autodesk University–the company's annual training and developers conference in Las Vegas–but they didn't hit that target. Still, Autodesk CEO Carl Bass will highlight the Hack Rod's progress during his AU keynote, and the team will soon return to the Mojave to continue its work.
Perhaps the project will never be finished, and that may well be intentional. The idea, suggested McManus, is that their creations should constantly evolve, thanks to data.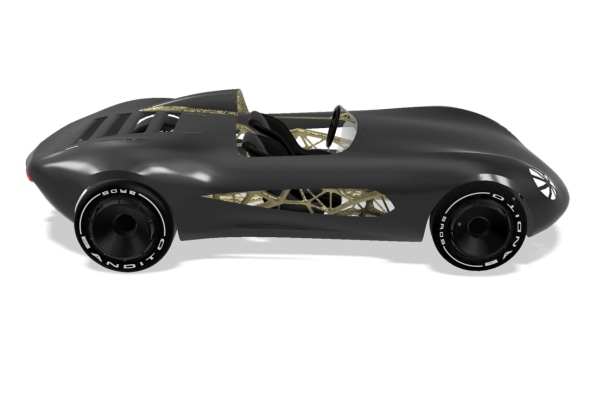 "If a Tesla crashes," he says, "the next morning, every Tesla rides two inches higher."
The Hack Rod's team wants to ride that same wave. Every time the vehicle's rubber hits the road, it brings in more information–literally billions of data points in just hours of driving, and all of that is then plugged into Dreamcatcher. Every session means the car theoretically gets better and better, smarter and smarter.
Ideas are cheap, though, and McCoy resists the technologist's predilection for getting stuck in the research phase at the expense of actually turning out product.
"We're adamant about not being vaporware," McCoy insists. "When we actually build something, we go back to atoms, and it's real."