"Over here we have some mint, romaine lettuce, there's basil in the back there, chives are coming, flat-leaf parsley…"
Jimmy Ng, program director of The Growing Experience, an urban farm in Long Beach, California, is showing me the results of an "aquaponics" system that is helping his crops survive the brutal drought that has persisted here for four years. Not only has there been a lack of precipitation in California, but the weather has been wildly unpredictable. On the day I meet Ng in early October, it's blisteringly hot–the thermometer's pushing well past 90–making a stack of newly picked pumpkins look strangely out of place. The heat also makes it difficult to stand for too long inside the greenhouse where Ng is explaining how a 600-gallon tub filled with tilapia and goldfish, and 175 white, metal towers have miraculously produced the plethora of green produce.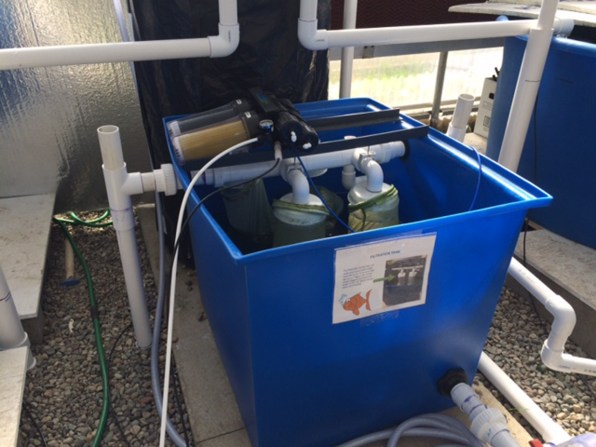 Ng points to a white, plastic pipe that travels from the tank over to the neat rows of towers–they look like CD cases from Ikea–where the plants are growing. He shows me how a water pump sends the water, filled with nutrients from the fish's waste, to the top of the towers and how it then drips down, feeding the plants, which are stacked vertically in each tower. There's no soil; they're planted in a sponge-like material that allows the roots to absorb the moisture. Through a closed-loop system, the water that collects at the bottom of the towers–now cleaned–is sent back to the tank to go through the process again. This means that far less water is used than in a traditional, outdoor farming environment, both because the water is being reused and because less of it is being lost to evaporation. "We're not adding any supplemental water (to the tub) except when it gets low," says Ng.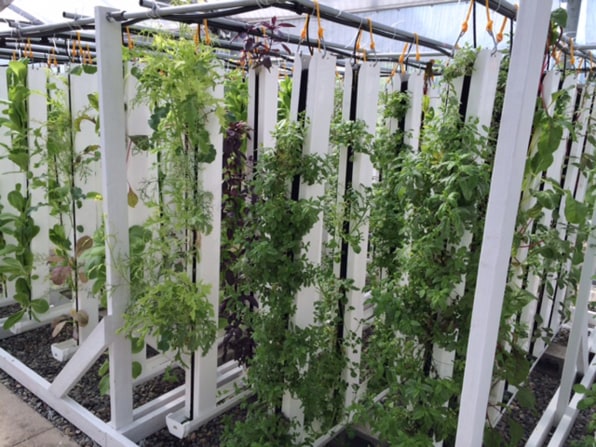 The Growing Experience, which is run by the Housing Authority of the County of Los Angeles, is a CSA, or community supported agriculture program. The farm, which has been in operation since 2009, operates on 7 acres. More than half is a community garden. The rest is taken up by Ng's work, a farm that grows collard greens, kale, tomatoes, pumpkins, along with a 300-tree orchard and an open-air chicken coop that produces eggs. Through a weekly subscription service it supplies boxes of fresh fruit and vegetables to locals as well as to low-income residents–who receive the food at a subsidized cost–who live across the street in a sprawling housing development.
But cutting back on water usage has become an imperative in California. Due to mandatory water use restrictions implemented earlier this year, Ng has had to reduce watering his crops from three to four times a week to just twice. This reality makes the aquaponics Ng is installing more than just an innovative, new technology. It makes it a tool that is allowing the Growing Experience to continue to function. "Every two weeks we might add 50 gallons of water," says Ng. "Fifty gallons of water is almost nothing compared to in the field, where we probably use that in one day."
Ng's aquaponics experiments point to where agriculture at large is headed in the face of global warming. California, after all, is hardly alone in facing new weather patterns that are decimating crops. Ng says that farmers all over the country are experimenting with new, DIY systems like his to help them adapt to changing conditions. One of the aquaponics systems he's set up–in which the plants are grown in a big barrel, not towers–was inspired by a contraption he saw at a conference in Milwaukee.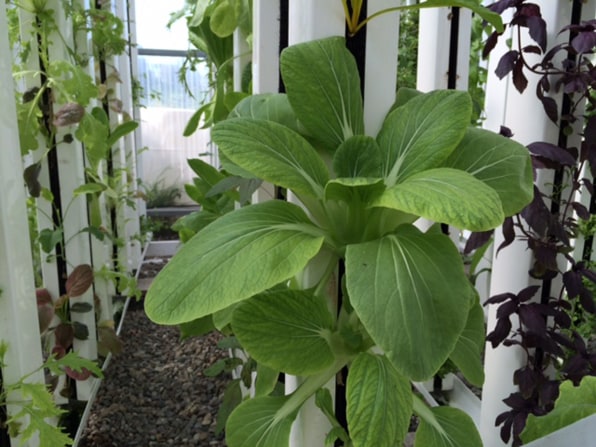 "We think that this is going to be the future of urban agriculture," he says. Aquaponics "was kind of a response to the drought, because we know that the traditional in-ground (method) is not the way to go, knowing that we're going to be in the drought for the long-run. We have to change the way we do farming, especially in urban areas."
Ng built his aquaponics system last April. The towers themselves are a patented product that Ng bought from a company in Wyoming. His innovation was to combine it with the water system. "So we kind of saw some ideas out there that were kind of separate and we combined them into one," he says.
He admits that becoming a futuristic farmer has involved a learning curve.
"When we first started the system, we planted everything and it looked really nice," he says. "The problem was, we planted everything at the same time. So once we harvested, we had way too much produce and then we had nothing for like four weeks. And there was a little bit of spoilage. Now we've devised a way of doing a rotation system where we're kind of playing with different types of crops."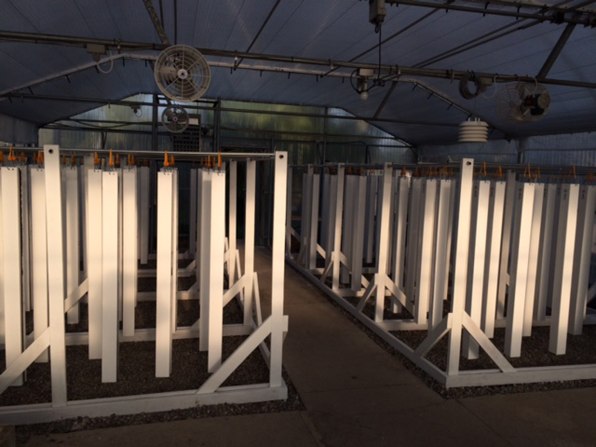 Ng also discovered that even in a greenhouse setting, some vegetables simply won't do well off-season. "Somehow they just know it's not time to grow. We had some kale in here, which is traditionally more of a cooler season crop. Some cabbages, mustard greens. They didn't do well in summer. They just kind of withered away. Now we're going to replaces those crops with crops that do well year-round like romaine lettuce."
Once he works out the kinks, the benefits of his system are considerable. Right now he says he's harvesting about 25 pounds a week. But once all of the towers are up and running (about a third are unplanted now), he estimates that he can produce nearly 200 pounds a week.
Produce grown through aquaponics is also more predictable–due to its controlled nature and the fact that it grows more quickly, so Ng can harvest a crop eight or nine times a year, versus four or five. Then there's the extra volume afforded by the fact that the vertical towers don't take up much space.
"For each square foot of space, we're basically replicating three to four square feet outdoors. We're maximizing vertical space. Even though this is 1,000 square feet, it's almost the equivalent of up to 4,000 square feet in the ground."
Outside the greenhouse is another reminder of why this system is so important. As we walk around the facility–past a chicken coop and clusters of persimmon and pomegranate trees–he points to a trellis covered in dead vines.
"Those grapes?" Ng says. "We had to say goodbye to them. No rain plus we were getting that June gloom. So even though it was dry, they were still getting mildew. We just were never able to get a crop from those."
A damp June was followed by a late summer heat wave that laid more waste.
"The heat wave came and everything got sapped," Ng says. "All the seedlings. So we had to stop our CSA for the month of October. Everything was basically decimated."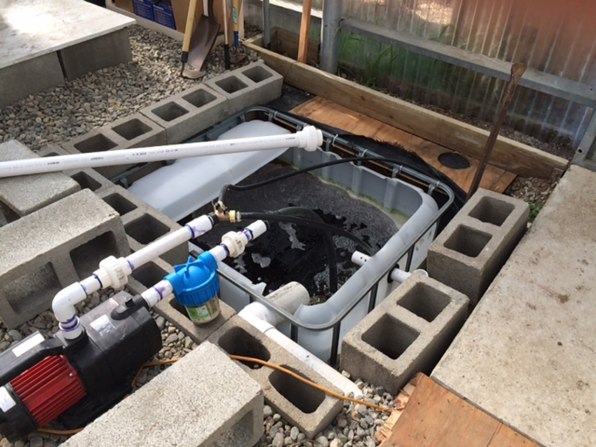 Next on Ng's agenda is building a "community food forest" outdoors, made up of native, drought-tolerant plants that have some edible value. We walk over to a series of cleared, rectangular spaces lined neatly with ornamental rocks (Ng's background is landscape architecture, which he studied at California State Polytechnic University at Pomona). The plan is to plant a combination of trees and shrubs on these plots that can sustain a water-less environment, such as figs, strawberry guavas, oregano, thyme and yarrow. Crops that need more hydration, such as carrots and beets, will be planted at the base of the fruit trees so they'll have some shade.
All of these initiatives have been funded through grants, and Ng hopes that the research he compiles from the aquaponics system and the food forest will prove that he's on to something–and hopefully pave the way for more funding.
He talks about how the Growing Experience is uniting people from various walks of life–there are the local chefs and foodies who subscribe to the farm's CSA, as well as the low-income residents who rely on the service for weekly batches of collard greens and fruit. During the week, kids from the housing development come over to volunteer and learn about urban farming and, now, the science of maintaining a PH-balanced water system and tracking nitrates. They also learn about healthy eating and cuisine. They get apples and celery with peanut butter as a snack, and take field trips to the CSA-supplied restaurants.
"We're really bringing in the community," he says. "We're bringing the public in and saying, 'This is an amenity for you.'"