A walk-in kaleidoscope. An LED jellyfish forest. A cloud room. All to jar you from your daily doldrums—and each with a smell themed to the room. This is scent manufacturer Glade's Museum of Feelings, brought to life by creative firm Radical Media, and open in Financial District's Brookfield Place in Manhattan until December 15th.
Glade products sit in supermarket aisles and the brand's advertising is bright and suburban. The company could have trotted out its new line of scents with a standard gala. But how do you get people to remember a smell? Build memories around it. Build an experience.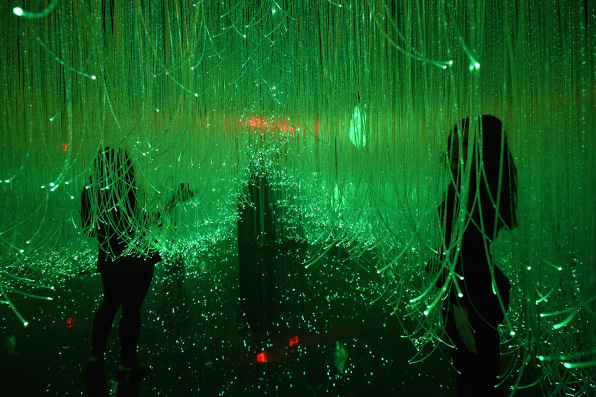 "Memory for us is the path to emotion," says Evan Schechtman, digital creative director and chief technology officer at Radical Media.
Schechtman is the maestro of the Museum of Feelings, planner of its four-sense adventure. Glade came to Radical with five scents representing five emotional states: Optimism, Joy, Invigorated, Exhilarated, Calm. Schechtman's challenge was to pair experiences with those emotions.
Which sounds pretty hippy-dippy, but smell is the strongest sense tied to memory. Schechtman's plan called for successive rooms to evoke each emotion in the abstract through visuals, touch, sound, and smell. He and his team built the Museum of Feelings as a walk-through tour in a 5,300-square-foot portable building behind a posh mall space in Manhattan's financial district.
Walking through the Museum of Feelings doesn't take much time, but like any museum, it's about wallowing in whatever the room is trying to do. The first room, Optimism, is a prismatic spray spinning around the room. The next, Joy, is a forest of green LED vines dangling from above and reflecting from the mirror floor below. Invigorated has light halos at your feet that pulse as you close in on the scent lamp, while Exhilarated is a kaleidoscope of mirrors, a fractal dome straight out of The Dark Crystal. And finally, Calm, or the cloud room, a warm purple globe with cushy carpet and a fog machine. And of course, accompanying each room is a particular scent Glade feels evokes that emotion.
"I don't think it's any different from wine tasting. There are primary and secondary and marginal notes," says Schechtman about sampling the sensory panoply in each room.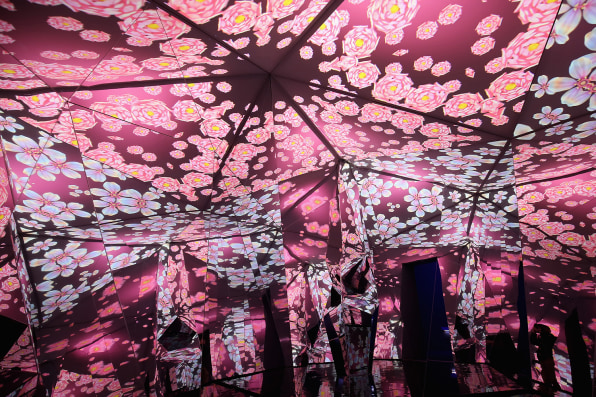 On the Museum's opening night, Schechtman walks around the exhibit—lurking, he admits—to get people's reactions. He knows that the Museum's success lies in the hands of its visitors, who will report back on social media. Like the pithy descriptive graf above, Schechtman knows it is impossible to convey a four-sense experience through tweets and Instagram posts. But if it's a knockout, he says, it will be reported as such.
On paper, the Museum of Feelings is a marketing stunt for a new line of Glade scents. In person, it's a multi-sense experience that costs nothing to run through. Schechtman and his team chose to push the Glade branding to the wrap-up room at the end, a bright space with a smelling table and a wall of candles to buy. But one side is filled with graphs of city moods across the U.S. as measured by a custom metric Schechtman's team cooked up: mix the weather with stock prices and add the averaged tone of social media within the city, and poof. The mood of a city.
Radical's metric mad science extends to selfie machines in the final room with steel handplates. Inspired by polygraph tests, the handplates read heart rate and skin salinity to, yes, layer colors over your selfie that correspond with your mood, the building's temperature, and Twitter social sentiment in your region. Radical built a mobile app for distant users to make their own moody selfie, but since smartphones don't come with hand-sensing plates, Radical settled on the accelerometer as barometer of emotions. How jerky you handle your smartphone can be measured as stress, Radical wagers, and can be mood-graphed accordingly.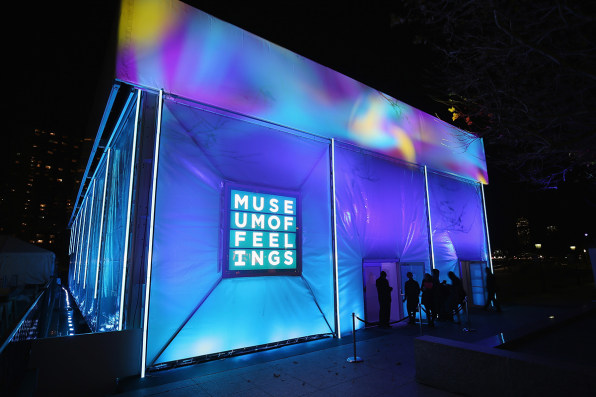 It's those arbitrary measurings of the intangible that makes the museum oddly charming. Who says this room says Optimistic or Calm—who but marketing artists that pump a room with 600 liters of fog per day over ultra-comfortable carpet to give the illusion that you're walking on clouds? Whether it's closer to installation art or shrewd marketing is in the hands of the tweeting public. Schechtman admits that after building the Museum from scratch in two weeks, he's lost all objectivity (and a good amount of sleep), so he's relying on the folks flowing through to tell him whether the Museum works.
"I heard one couple walk into a room and say 'Wow, I didn't expect that at all.' To me, that's mission accomplished," says Schechtman.