Micro-school startup founder Max Ventilla has a big ambition. He wants AltSchool–an expanding network of project-based private schools–to have as big an impact on education as his former employer, Google, did on information.
"You don't want to use a search engine that's only used by a billionaire; you want to use the search engine that's used by a billion people," the serial entrepreneur and father of two young children told attendees of Fast Company's Innovation Festival earlier this month, during a tour of the startup's paint-wet new location in Brooklyn, N.Y. AltSchool, at its core, represents Ventilla's wildly ambitious plan to upend educational elitism and bring the power of network effects to bear on classroom learning.
Silicon Valley has given that vision an A+, with investors–including Mark Zuckerberg–backing Ventilla to the tune of $133 million.
Now, after announcing in September the opening of its first Manhattan location in fall 2016, AltSchool announced today that it had secured a lease for a location in Chicago's Lincoln Park neighborhood. The K-8 school, with a capacity of 150, will open in fall 2017.
"I think Chicago is potentially a real sweet spot," Ventilla tells Fast Company. "There's a very vibrant urban life there with a tremendous amount of resources, but the city also has more available land and less of an intense real estate market than New York or the Bay Area."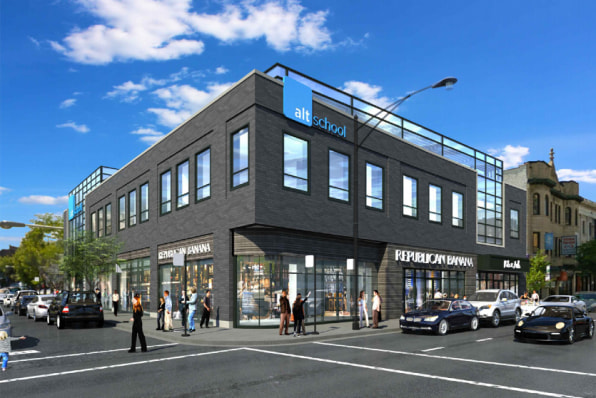 Other potential cities on AltSchool's list, based on factors such as demographics and local regulations, include Boston, Los Angeles, Philadelphia, and Washington, D.C. The first AltSchool, located in San Francisco's Dogpatch neighborhood, opened its doors in 2013.
"We expanded to Brooklyn so early in order to push ourselves to be different in each market," Ventilla says. "We think that different places really call for a different flavor of school, and are excited to see something quite different."
AltSchool is part of a rising tide of "micro-schools," a model that allows educators to experiment with interdisciplinary instructional approaches and new technologies in the context of a small learning community. The model encompasses a wide range of teaching styles, from Acton Academy in Austin, Texas, to Khan Academy's R&D lab in Mountain View, California. But at its core, it emphasizes student-driven exploration, project-based learning, and personalization.
AltSchool sits at the vanguard of this still-nascent movement, with robust product and operations teams and location scouting underway in cities across the U.S. The private schools it owns and operates charge upwards of $26,000 for tuition; in the future, Ventilla aspires to make AltSchool's technology platform available to even more families by selling the software to external schools and districts.
"We'll take it slow for the next couple years to get to a point where we can support many, many more teaching teams starting schools," Ventilla says of the company's aspirations to become the operating system for 21st-century schools of all stripes. "We're already kind of reaching a stage where if one or two dozen parents came to us and said, 'We're really excited to be a part of a new school,' it doesn't take that much to get up and running."
Whether parents in geographies outside of startup-savvy Silicon Valley will soon be clamoring for that opportunity remains to be seen. With each new location, AltSchool further establishes its reputation, reassuring wary parents of its value and reliability. But for now, as the Fast Company offsite demonstrated, curious visitors are capable of subjecting teachers and staff to a seemingly endless gauntlet of questions.
Learning through inquiry, perhaps fittingly, is core to AltSchool's pedagogy. After Ventilla's presentation, the offsite attendees walked through a classroom that's home to a group of students spanning kindergarten through second grade. The walls are papered with drawings and notes from a neighborhood walk along the East River. How do you sink a boat? and How do fish breathe underwater? the students wondered. The resulting projects, still underway, encapsulate AltSchool's approach to school, reimagined: curiosity-driven, cross-disciplinary, and tailored to each student's knowledge and skills.
"Doesn't it make you want to be 6 years old again?" lead teacher Jamie Stewart asked with a smile.
The room responded with a wistful sigh, eyes on the students' drawings of tugboats and tankers. AltSchool isn't always easy to explain–but in action, it all starts to make a bit more sense.