Martin Zibeau, a middle-aged, bearded guy more likely to be found in a sweatshirt than a suit jacket, doesn't look like the mastermind behind a new financial instrument. But in the Gaspesie region of northern Quebec, the "demi"–a new local currency that Zibeau dreamed up with a few friends over drinks at a Carleton-sur-Mer brewery–is taking off.
Demi means "half" in French. In this case, it's literally half: a sliced-in-half Canadian bill. Under the new system, half of a $10 bill is worth $5. Half of a $20 bill is equivalent to $10.
The demi began when a visitor from France told Zibeau and friends about two alternative currencies circulating in his hometown of Nantes, alongside the Euro. They got to talking about the ins and outs of alternative bank notes, particularly the security aspect. "We joked about [how] the Canadian dollar is pretty secure," says Zibeau. That's when they came up with the idea of cutting Canadian bills in half, combining the benefits of a local currency with the power of a national anti-counterfeiting plan.
The idea behind complementary currencies like the SoNantes in Nantes or the Ithaca HOUR in Ithaca, New York is that because they can only be spent locally, they encourage residents to keep money circulating and supporting businesses in their own region. But they're often also homemade. The difficulty of counterfeiting a real Canadian bill provides everyone more security, Zibeau says, than a photocopy of a bill of his own design.
Transactions using the demi rely on intense community buy-in. You have to be confident you'll be able to get something of value for your demi "The first few people that started using the demi were people we just had a conversation with," Zibeau says. "99.9% of the people who first hear about it go what the hell is that. They react very strongly, very emotionally, why would you do something like that?"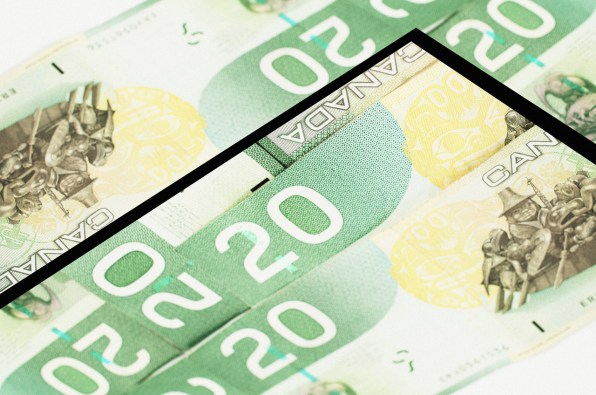 But Zibeau is turning more and more people into supporters.
Gerard Mathar did not take much convincing. Mathar co-owns Gaspesie Sauvage, an unusual business that sells food items foraged from the mountain forests, like mushrooms and berries. Their customers include a number of restaurants but people who come to him looking to spend demis are mostly locals. He's limited in what he can turn around and get with them.
"I buy bread, a lot of food, vegetables," said Mathar. He cannot buy a beer at the brewery where the demi was dreamt up. It doesn't accept them. But he can buy a haircut in at least one salon, and artisanal crafts made in the region.
The economic experts are split over the usefulness of local currency. Germain Basile, an economist who teaches at the business school, HEC Montreal thinks counterfeiting should be a concern of creators of any new cash system. "If anyone can photocopy any alternative currency it becomes very very abundant and it loses its value." He notes governments put a lot of resources into making their bills hard to counterfeit. Getting the benefit of that investment in security by just by cutting an existing bill in half, he calls a "brilliant solution."
But Thomas Greco, author of The End of Money and the Future of Civilization feels counterfeiting has not been the most pressing issue in the world of alternative currencies to date. He sees other ways to respond to those concerns.
"A currency need not be issued as paper notes but could manifest as ledger balances accessed via computers or cell phones," he says. And is there really anything inherently local about money created by cutting a national recognized currency in half. Anyone with a Canadian dollar, from Vancouver to Halifax, has access to the raw ingredients to create a demi.
But that's not a big concern to Zibeau. He sounds almost hopeful about the idea that someone could convince a business in Montreal to do business in demis. The owner of a small business might entertain it, but it will never be accepted at Walmart. And that's as encouraging to him as if the transaction took place in his backyard.
"It has to be human-sized business," he says.