Chicago survived the 1871 Great Fire, elevated a sizable chunk of its landmass, and redirected the Chicago River. But perhaps it's time for a new reinvention for the 21st century? At this year's inaugural Chicago Architecture Biennial, an exhibition called Bold Alternative Scenarios for Chicago exhibition (curated by MAS Studio's Iker Gil and featuring eighteen speculative projects generated by Chicago-based architects and designers) explored what a future Chicago–one that better interacted with its environment and population–could look like. Here are four of the more exciting visions for the Second City of the future.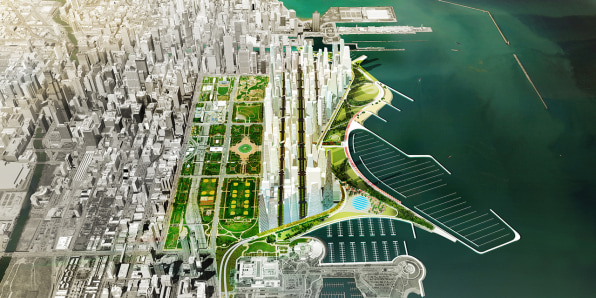 Back in 1836, city commissioners ruled the Chicago lakefront would be public land, "forever open, clear, and free of any buildings or construction whatsoever," a view echoed and made indelible by architect Daniel Burnham. In truth, as noted in this projects text, "Chicago's lakefront has been in a constant state of transformation for the last 150 years." Still, new development is prohibited east of Lake Shore Drive, and what the Big Shift proposes–constructing a land mass in Lake Michigan and building on it–is, more or less, heresy in the Windy City.
Chicagoans love their lakefront–consider the crowd of cyclists and joggers traveling the 18-mile Lakefront Trail on any given weekend. But Lake Shore Drive, a six- to eight-lane shoreline highway poses problems, blocking lakefront access and limiting public space for amenities, says Christopher Marcinkoski, director of PORT Urbanism.
The Big Shift pushes a 1.5 mile stretch of Lake Shore Drive eastward, opening hundreds of acres for high-rise real estate and creating a 130-acre public waterfront. The plan includes beaches, a great lawn framed by stately trees, six grand boulevards connecting the newly constructed land mass to Grant Park and the Museum District, and a bypass tunnel for through traffic.
"It's been misinterpreted as a privileged skyscraper development. It's actually about rethinking Grant Park and what the strip of waterfront at Lake Shore Drive means to the city. The skyscrapers are a way to create tax revenue and other sources of income to finance the development of a more generous and dramatic public space, where traffic is secondary to pedestrian and bike travel," Marcinkoski says. In other words, open, clear, and free.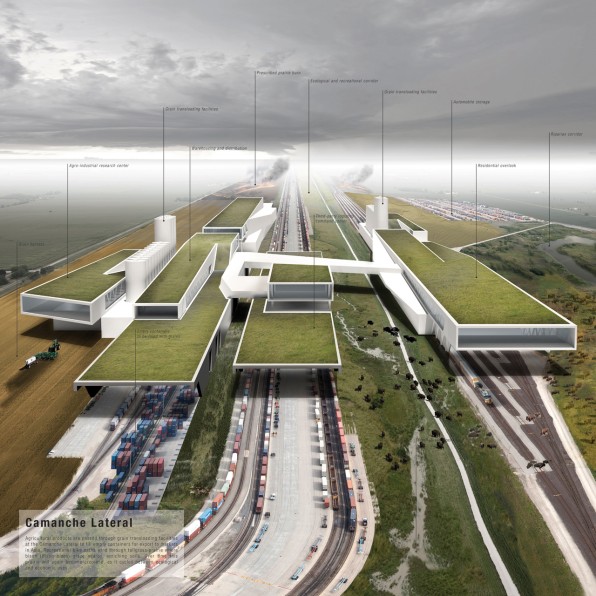 Conor O' Shea, founder and principal at Hinterlands Urbanism and Landscape, started the research and design firm in 2014 to compliment his research as a full-time faculty member at Illinois Institute of Technology's landscape architecture program. One of his lines of inquiry, which began with his discontent for the term "city," has evolved into a 100-year plan for transforming the ecology and economy of northeastern Illinois.
Logistical Ecologies hinges on the so-called Bison Mosaic, a system of land use rotation between tallgrass prairie and cropland. Under the scenario, prescribed prairie burns attract bison as new growth appears. Over 10 years, patch grazing─bison eat grasses but leaving behind leafy plants–which enriches the soil and creates natural wallows, so that crops can be planted without the need for artificial phosphorous and nitrogen, which flow into Mississippi River tributaries.
"Together, the adjacent inland ports of Joliet and Elwood, Illinois, constitute the third largest container port in the United States," reads one panel in the exhibit. O'Shea sees this as potential for rethinking what a city is and can be.
Phase two of his plan locates housing, retail, and intermodal transportation facilities alongside regional agricultural production settlements, so that shipping containers, rather than being returned empty to their countries of origin, can be filled with grains and sent back to emerging markets in Asia. "I hesitate to even call them cities," O'Shea says. "I'm staunchly against the fetishization of density, density for density's sake, going vertical. It leaves out so much of the picture, these vast, backstage infrastructure systems that support municipal commerce and can be designed."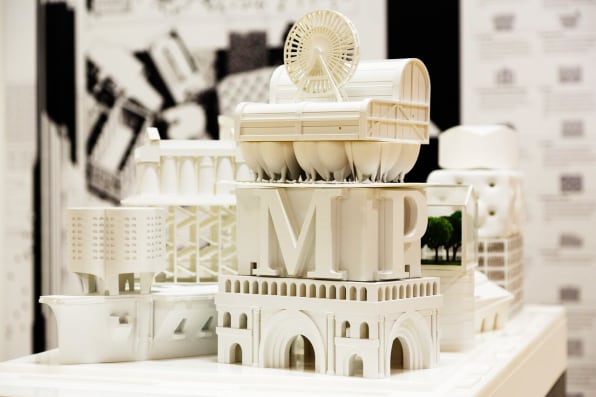 Stewart Hicks and Allison Newmeyer, architects and co-founders of Design with Company, are sort of like the literary giants of the post-modern architectural landscape. "We're interested in the overlaps between literature and architecture; that takes a number of forms, narrative and fiction, type and typology, character and story. One inspiration is David Foster Wallace, particularly "the way he talks and writes about place in fiction and nonfiction, and makes real places seem like fairy tales," Hicks says. Another is the World's Only Corn Palace, the classic tourist destination in Mitchell, South Dakota.
Part satire, part rib-jibbing, part political commentary, their playful installation, Late Entry to the Chicago Public Library Competition, uses the parameters of the 1987 architectural competition as a jumping off point for a commentary on the choice of the design prompt itself, the winning scheme, and controversy surrounding the proposed Obama Presidential Library, the Lucas Museum of Narrative Art, and recent tear down of Bertrand Goldberg's (of Wilco fame) Prentice Hospital.
Two dozen late entries take the form of mish-mashed single building that coheres about as sensibly as a confounding Midwest city. Cleverly titled entries–Jahn the Beeby, Prentice's Ghost, and TRUMP (a.k.a. the Donald)–are paired with quirky descriptions that raise questions about history's function in architecture. "Each proposal takes a Chicago way of doing things and turns up the volume on it in some way. It's a collage of these narratives, and there is different tone to how you appreciate it," Hicks says.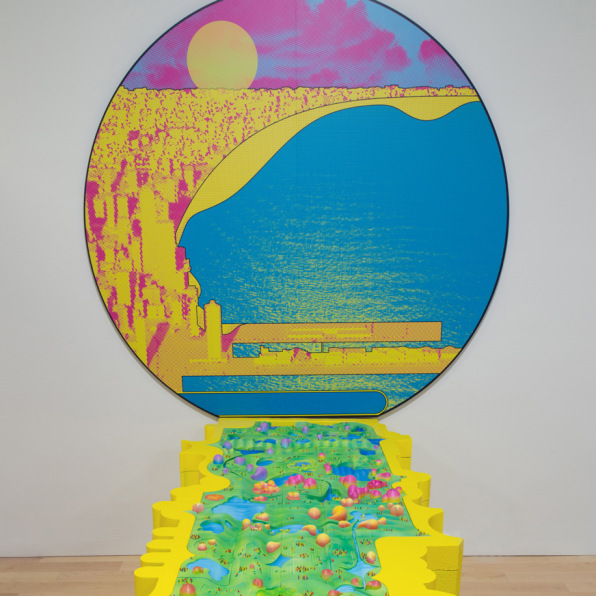 First, a bit of history. In the late 19th century, Chicago's engineers reversed the flow of the Chicago River away from Lake Michigan to prevent the river's pollutants from contaminating the lake. Today, because the river handles overflow for the city's sewer system, raw sewage flows into Lake Michigan after severe rainstorms.
Filter Island proposes removing the existing lock system, so that water will once again flow into the lake–no doubt, to the delight of St. Louis residents downriver. Large-scale biocells, interspersed among a parkland of wetlands, marshes, playgrounds, and sports fields, remove pollutants from the water before it reaches the lake.
"The island is composed of hundreds of microecologies. It looks like one big island but is actually hundreds of small islands floating in the water. As sewage flows through, microbes and plants clean up the water," explains Urban Lab architect and co-founder Martin Felsen. "Microbes are happiest when they are living in very dense fields of plants with roots underneath. They swim around eating everything we want them to, turning all the stuff that is a danger into safe fertilizers and soil," Felsen says.