"Of course I'm in charge of the cooking," Guy Fieri says when I ask who runs the kitchen at his house during Thanksgiving. To an impartial observer, there may have been a chance the celebrity chef with perhaps the most distinctive hair in the game deigned to step aside each year, and let his parents have some time to shine. Anyone who's seen his many TV shows, though, would know Fieri rarely leaves the culinary spotlight, and that he has some opinions about the biggest food holiday of the year.
Fieri became famous enough to be parodied on Saturday Night Live by frequently taking interesting risks, like Cajun Chicken Alfredo. But is there any place for kitchen creativity when cooking for your entire family on Thanksgiving? On the occasion of the new Food Network special, A Very Fieri Thanksgiving, we asked the master.
Co.Create: Are there any traditional holiday dishes that are sacrosanct—that shouldn't be messed with in any significant way—say, the turkey?
Guy Fieri: No way! I'm all about tricking out the turkey with stuffing and cranberry sauce, going a little wild there. But of course, for certain members of the family (not to be named) we have to stick with the traditional dishes.
So, if it's your first time cooking for Thanksgiving–that's a bad time to get creative?
Yes. Yes. Did I say yes? If you want to get creative, do yourself a favor…have back-ups ready.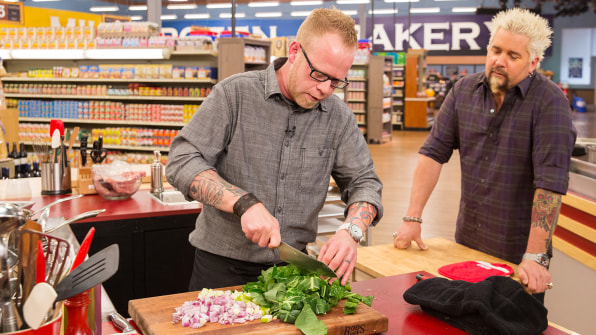 What Thanksgiving foods are most conducive to experimenting? Which ones do you tend to play around with the most?
Turkey, for sure. This year, I'm doing Turchetta. Think of a porchetta made with turkey. Sooo awesome.
Spicy food or no spicy food, or does that all depend on the family?
Spicy food. We've got to bring people over to the spicy side!
But not, like, too spicy?
You gotta take into account boundaries and expectations. You probably don't want to go too spicy with a bunch of kids and grandparents.
Should you do a trial run of anything new you're planning on introducing for Thanksgiving, or just have faith that you'll get it right on the day?
Doing a trial run is a good idea. You don't walk out the door and run a marathon, do you? So think of Thanksgiving as kind of a food marathon–get a little training under your belt and you'll make everyone happy.
Now have a look at Fieri's recipe for Pan-Roasted Turchetta below, cook it for your family, and please post pictures of your most creative Thanksgiving dishes in the comments.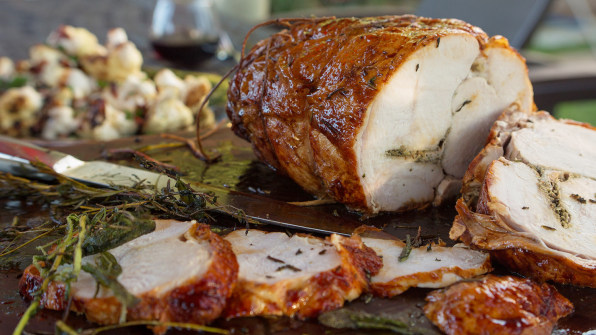 Extra-virgin olive oil

6 cloves garlic, peeled and smashed

2 tablespoons rubbed sage

1 1/2 tablespoons fennel seeds

1 tablespoon fresh thyme leaves

1 tablespoon chopped fresh rosemary leaves

Freshly ground black pepper

1 teaspoon chile flakes

Kosher salt

One (6-pound) whole boneless turkey breast, both lobes connected, breast bone removed, skin on

1/2 cup chicken stock
Special equipment: butcher's twine
In a mortar and pestle, combine 2 tablespoons olive oil, garlic, sage, fennel seeds, thyme, rosemary, 1 tablespoon black pepper, chile flakes and 2 teaspoons salt. Grind and pound the mixture into a smooth paste. Place the turkey breast skin side down on a clean flat surface. With a sharp knife, butterfly the turkey by cutting down the long side of the breast so it can open up like a book to create a large, flat rectangle of even thickness. Score the flesh lightly in a cross-hatch pattern, being careful not to cut too deeply into the flesh. Season the turkey with salt and black pepper. Rub the herb-spice paste into all the cuts on the surface of the turkey breast. Roll the butterflied breast together tightly starting with the side that does not have skin underneath it (that way there is skin on the outer layers when rolling it up). Form the turkey into a cylinder and secure with butchers twine. Tie the roll every 1 1/2 inches, then place in the refrigerator for 4 hours uncovered; this will help the turkey firm up and allows the salt to do a short dry cure on the meat.
Preheat the oven to 350 degrees F.
Remove the turchetta from the refrigerator and bring to room temperature, about 30 minutes. Brush the turchetta with olive oil and season with salt and black pepper. In a cast-iron skillet over medium-high heat, brown the turchetta, 2 to 3 minutes per side. Arrange the turchetta skin side up and place the whole pan into the oven and cook until the internal temperature reaches 150 degrees F (carryover cooking will increase the temperature as the turchetta rests), about 1 hour 30 minutes. Remove from the oven, place on a large plate, tent with foil and rest 15 to 20 minutes. Add the chicken stock to the reserved juices in the pan and stir to combine. Keep warm.
To serve the turchetta, remove the string and use a sharp carving knife to slice it into 1-inch-thick medallions. Shingle the slices on a large serving platter, spoon cooking juice over the turchetta, and serve immediately.
Recipe courtesy of Guy Fieri