Countless people already go to Facebook to talk about causes they support, and more than 150 million users are connected to one on the platform. Now users can put their money where their mouth is.
A new feature, announced by Facebook today, will allow registered U.S. nonprofits to hold fundraising campaigns on the social network. Similar to a campaign on Kickstarter, nonprofits will launch a page that tells the story of the campaign, collects donations, and tracks progress to a goal. When a person donates to the campaign using Facebook's payment tools, they can chose to share their donation on their timeline. A post will appear on their friends' News Feeds with a "donate" button–making it easy for friends to contribute, too, with just a few clicks.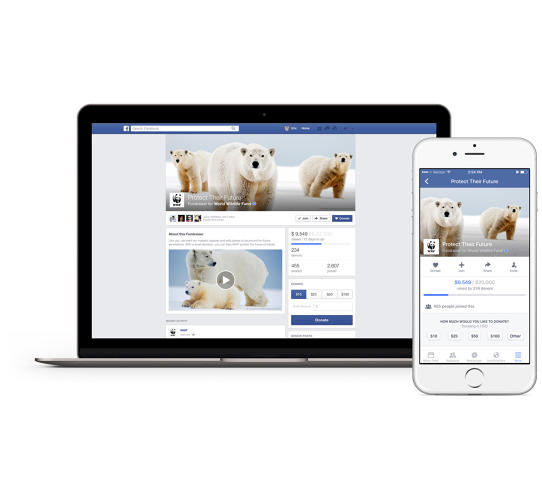 Since 2013, Facebook has already experimented with fundraising tools for nonprofits. It's also conducted its own appeals to users to donate funds in times of crisis, such as during the height of the Ebola epidemic or after the Nepal earthquake. But the company can't be out ahead of every disaster and probably doesn't want to make subjective judgments about whether every bad event in the world deserves its attention: It would rather build better tools so charities can solicit donations directly through Facebook themselves.
"Imagine you are seeing what your friends are donating to. That's just so much more effective than getting a notice on the home page asking you to donate," says Naomi Gleit, Facebook vice president of product management and leader of its Social Good team. "This is really the next step in how we can have a great impact at scale."
In addition to holding fundraisers, nonprofits will also be able to add what Facebook is saying is an improved donate button to both their page and regular posts that users see in the News Feed–the button will lead to a one-page donate form without the user leaving Facebook. All of these tools will first be available to 37 nonprofit beta partners, including three–Mercy Corps, National Multiple Sclerosis Society and World Wildlife Fund–that launched campaigns today.
World Wildlife Fund, which has 1.7 million Facebook followers, says it hopes the simplicity of Facebook donations will increase giving to its holiday fundraising drive (December is the biggest month for charitable giving nationally). Giving through social platforms will become more important, says Terry Macko, WWF's senior vice president for marketing and communications, as more people use social media, especially through smartphones and apps.
"The average donor gives once or twice a year to an organization and yet they'll interact with you potentially hundreds of times, by reading your social posts, sharing them, reading your email, and coming to your website," he says. "We want to meet people where they are."
As Fast Company noted in its recent Facebook cover story, sometimes the company's social good ambitions and business objectives fit together nicely. For example, Facebook has lately been experimenting with giving users ways to buy items and send money to friends without leaving the platform–both also help keep users on Facebook instead of going to other sites or services, which is just where Facebook wants to keep people. The new giving features would also clearly be a boost in that regard.
Facebook created its social good team, led by Gleit–a longtime employee who has previously focused on user growth–in August 2014. When the ALS Ice Bucket challenge went viral around that same time, Facebook noticed how the ALS website would crash or people would have to send in checks by mail. The team thought they could provide better options. Other early initiatives of the social good team include Safety Check and Amber Alerts. In the future, Gleit says, the team may consider turning to building more tools related to health or education.
For now, only the initial beta partners will be able to launch fundraising campaigns and activate the new donate buttons, but other U.S.-based nonprofits can apply for access as the program expands. Right now, the tools are free for nonprofits, but eventually Facebook may charge to cover its costs for things like credit card processing (but it says it won't seek a profit). The team will look to see what it can learn and what it can improve from how users and nonprofits interact with the new features.
One bigger question is what happens if or when Facebook controls a major portal to charitable giving, and nonprofits are more beholden to the company. In what could be a parallel, as media companies have relied on Facebook for more and more of their traffic and revenue, the power has shifted to terms Facebook can dictate. Even now, Facebook is applying its own filter to the process: how are they deciding which nonprofits can apply for the donate button. And with its algorithm, it can push users to see more posts from specific charities or for specific causes, and no one would ever know.
Macko, of WWF, did not seem concerned, especially because Facebook donors will be able to check a box to opt-in to organization's email list (Gleit says that's an option Facebook is testing.) "I can't see any major downsides," he says.
Overall, Macko–who, to be fair, runs an enormous nonprofit with a mission that's entirely uncontroversial–believes the Facebook tools will encourage creative moments for giving, such as donations made in honor of a friend's birthday, from a potentially younger audience. "Our goal is to increase the charitable giving pie," says Gleit. ""What we think we're going to do is really increase retail giving, which is not planned–it's spontaneous."