It goes without saying that being a professional woman of color isn't a decision you make in the same way that you decide to be an efficient, productive, collaborative employee. Many women face disproportionately steep odds for advancement at work, among other forms of discrimination, despite recent progress. And while most companies may claim to promote fairness and diversity, their cultures and policies can differ considerably. These three signs can help you determine if your workplace meaningfully supports women of color.
The research on how women of color fare in the modern workplace sends a clear message: Organizations need to do more. According to a series of fact sheets issued by the U.S. Department of Labor in 2013, women of all backgrounds have increasingly become the primary breadwinners for their families. Nearly 50% of black families and 25% of Hispanic families in the U.S. were maintained by women heads of household, compared to 16% of white families and 12% of Asian families.
At the same time, the unemployment rate is highest for black women, at 9%, among women of all the major ethnicities in the U.S., and they are disproportionately unemployed at all levels of education. What's more, all working women of color experience high levels of occupational segregation. Only 34% of black women and 26% of Hispanic women are employed in higher-paying management positions.
The problem is not a result of personal choices. In all the U.S. industries that employ the most full-time workers, in all occupations within them, and across all education levels, women of color earn less than their white counterparts. According to the National Partnership for Women and Families, black and Hispanic women are paid 60¢ and 55¢, respectively, for every dollar paid to a white (non-Hispanic) man. The disparity continues at the highest levels, too. Census data show that women of color with doctoral degrees are paid less than men with master's degrees, and women of color with master's degrees are paid less than men with bachelor's degrees.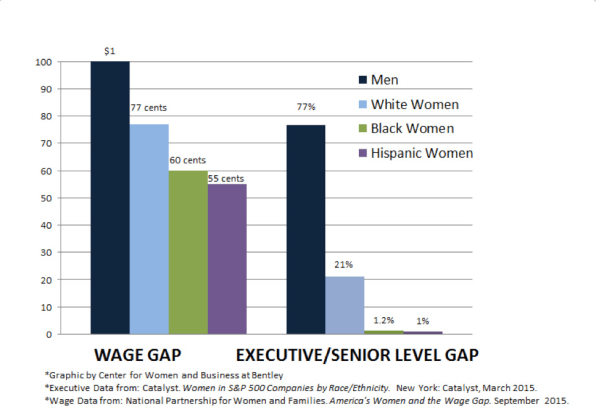 And while women of color and white women confront similar challenges at work, race presents a unique experience. Take the findings of a recent LeanIn.org and McKinsey & Company study, which refutes the notion that fewer women than men want top jobs because of family obligations. Of the 300,000 employees surveyed, mothers were 15% more likely than childless women to want a top leadership position. What's more, women of color reported 43% more interest than white women in higher-up positions, as well as 16% more interest than white men.
So far, very few actually occupy those roles. At S&P 500 companies, black, Hispanic, and Asian women make up just 16.5% of employees, 10% of managers, 3.9% of executives, and 0.4% of CEOs. Of the 23 women CEOs in the U.S., one is black, one is Asian, and none are Hispanic. These numbers are consistent across all workplaces. We should be asking why.
The trouble isn't that men are advancing to top posts, but that they're doing so at disproportionately higher rates than equally qualified women, and it isn't always clear why. According to a report by the Center for Talent Innovation, women of color lack visibility, not ambition. The authors put it this way:
Black women who are ready to lead—whose qualifications, track record, drive, and commitment make them ideal candidates for executive roles—stick firmly to the marzipan layer, in sight of the C-suite, but seemingly not in the sights of those who occupy it.
So, what's setting successful men and white women apart from women of color? To answer that question, companies need to offer greater transparency around compensation, promotion, and performance–including data where race and gender are concerned. Indeed, research shows that even people who have strong egalitarian values and believe themselves unbiased may inadvertently behave in discriminatory ways. One recent study found that white women face stereotypical misconceptions around their skill sets, and women of color confront prejudices as well, first about their racial identities, followed in turn by their skills.
This double burden doesn't just shortchange professional women of color in informal ways around the workplace, it also creeps into the key measures that impact their advancement, including performance reviews. Where workplaces fail to weed out unconscious bias and similar issues internally, laws like the California Pay Act start to make sense, requiring employers that pay more to a man working the same job as a woman to prove that the pay is based on elements other than gender. Measures like this can be effective, but employers should be proactive of their own accord and make transparency a top priority.
Managers are key gatekeepers to advancement opportunities for women of color. Yet Catalyst recently found that managers got low marks of satisfaction from women of color. In a subsequent report aptly titled "Building Trust," researchers argued that two types of trusting behavior make the biggest difference: reliance and disclosure.
In other words, can a direct report rely on their manager to take action on their behalf, such as representing their work and behavior accurately to others? And does the direct report feel safe enough to confide sensitive and personal information to their manager, including when they're having difficulty or feeling frustrated by their work?
Not surprisingly, the study found a positive correlation between comfort with disclosure and overall career satisfaction. Yet in workplaces where women of color feel isolated and subject to stereotyping and double standards, that behavior–and the trust in vulnerability it relies on–is usually the first to go.
One way for organizations to build that trust is to create a more participatory and inclusive workplace where communication and decision-making can occur outside the typical hierarchy. But another–far from mutually exclusive–option is to initiate change at the top of the hierarchy itself. Senior leaders need to decide just how much diversity matters to the company, its culture, and the people–all the people–who work within it.