Ava DuVernay doesn't like the word "diversity."
It's not that she's against the implied sentiment, necessarily–it's a question of implementation.
"When we're talking about diversity, it's not a box to check," DuVernay says. "It is a reality that should be deeply felt and held and valued by all of us."
What worries DuVernay about using the word "diversity" is that it's become something "medicinal," to use her term; something that is an obligation rather than something people work toward because they believe in it.
"Diversity is not one in the room. Diversity is not two in the room. Diversity is not three in the room. True diversity is half the room," DuVernay says.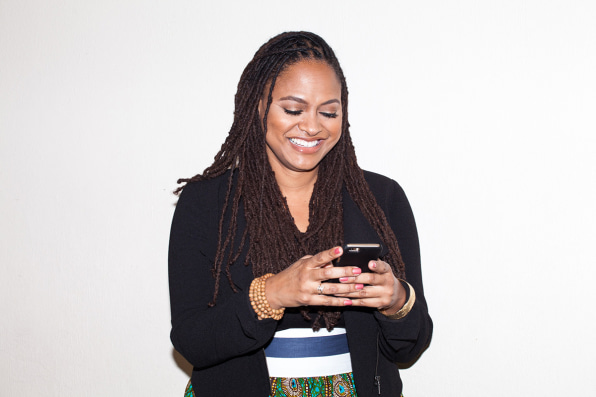 The question now becomes, who in that room will speak up when the scales are tipped in favor of the white, straight, male? As it turns out, a recent event at the Academy of Motion Picture Arts and Sciences put that question into perspective for DuVernay.
In what she says is her first time talking on camera about this, DuVernay reveals that during a screening of the new James Bond film Spectre, a reel before the film celebrating screenwriters was anything but diverse.
"As I sat there, I was offended because there was not one person of color in the video–not one," DuVernay says. "The fact that that video goes out from a body that is supposed to be thinking about inclusion, diversity, and all of that, is an example of the fact that we are not thinking about inclusion in a way that is the first thing you see when it's missing."
So consider this DuVernay raising her hand.
"These are the kinds of things that if people that see it don't speak up, they never change," she says. "I sit there and I think, Something's wrong with this…there are a lot of people that look a different way that weren't included in that who also have something to say about that topic."
And DuVernay is clear that the issue of diversity spreads well beyond Hollywood.
"If you walk into a room and there is no one that's not like you there, whether it's a woman or a person of color, anyone that's different from you, you should be able to say this is a problem," she says. "We need allies in that room to say that video, this room, this company, these ideas, this film, this whatever, this is not right–this is not good enough."