It seems like just yesterday that government tech was the laughing stock of the nation.
After the botched launch of Healthcare.gov in October 2013, it felt like the bugs, headaches, and negative headlines would never stop piling up. But the White House learned its lesson and from the ashes of that blunder, the Obama administration has begun rewiring how government approaches tech. It's been just over a year since the launch of the U.S. Digital Service (USDS) and the government digital services agency 18F, but the lessons—and poached talent—from Silicon Valley is already infiltrating the federal government and yielding results.
"There is a pervasive myth that it's impossible to get anything done in government," said Haley Van Dyck, one of the cofounders of the USDS, during a panel on government tech at the Fast Company Innovation Festival yesterday. To counter this notion, the USDS, 18F, and other technology-focused people within the federal government have been busy injecting agile, user-centered principles into the biggest bureaucracy in the world.
So how is Obama's renewed focus on tech paying off? Members of the USDS and 18F took to the stage at FCIF to show off projects that have already begun to come out of Washington.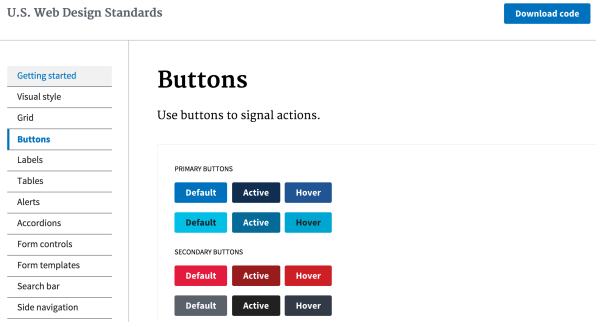 Anybody who's ever tried to navigate a U.S. government website knows that the latest in modern web design standards often get lost amid clunky forms, baffling navigation menus, and 1995-style HTML table layouts. Things have certainly improved in recent years, but there was no way to guarantee that new sites would be designed in a visually appealing, user-friendly fashion. And there was also the question of how to guide the desperately needed overhaul of the government's many existing websites.
That's where Mollie Ruskin and her team come in. At FCIF, Ruskin, a designer for the U.S. Digital Service, walked conference attendees through the creation of the U.S. Web Design Standards. Created in collaboration with 18F, the open source style guide defines the visual language of U.S. government websites and provides free, downloadable user interface elements for designers to use.
The style guide includes typography and color scheme recommendations for designing pages that are both aesthetically pleasing and compliant with accessibility standards. The accompanying U.I. elements, which include CSS style sheets, graphics, and HTML code are freely available on GitHub.
To those working in design or technology, a visual style guide may seem like a no brainer. But it's just one of the common artifacts from the private sector that are being transferred to Washington via the USDS and the White House's broader tech push. And the implications are further reaching than usual: These standards and U.I. elements are intended for websites that have very vital functions, like connecting citizens with services like medical insurance and Social Security or helping veterans appeal decisions made by the Veterans Administration.
The U.S. Web Design Standards are still in alpha, so it's quite early. But they've already been put to use on sites like Vote.usa.gov and the Veterans Administration site.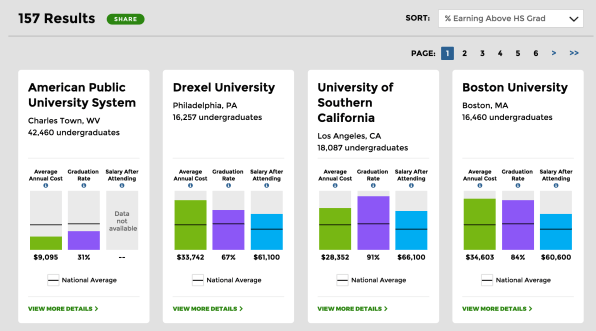 In September of this year, President Obama announced a new data-driven utility called College Scorecard. The web-based search tool mines a huge trove of public data to help parents and students better understand what they're getting themselves into when they apply to U.S. colleges and universities. In addition to things like graduation rates and tuition costs, the site breaks down new details like how much graduates of a given school make 10 years after they receive their diplomas.
In a talk at FCIF, Lisa Gelobter, the Chief Digital Service Officer at the U.S. Department of Education, explained how the website is being used. Thanks to the large, varied sets of data powering it, College Scorecard is able to point parents and students to the schools that yield the highest incomes for the lowest cost, for example. Or which two-year schools lead to the highest salaries in each U.S. state.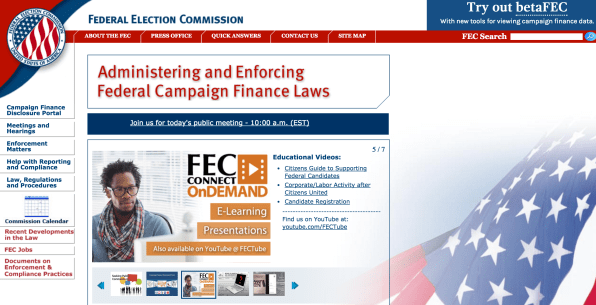 Nostalgia for the 1990s may be all the rage in music and fashion right now, but this affinity thankfully does not carry over into web design. Despite this fact, many government websites appear to pay tribute to the Clinton years by sporting throwback, 1997-style digital aesthetics. The Federal Election Commission site, in particular, is a visual nightmare, complete with a scrolling marquee and other nods to the worst tendencies of the vintage web.
In late October, the FEC launched the beta for a completely overhauled version of its website. In a welcome visual refresh, the new FEC site introduces a modern design and a new API for campaign finance data, allowing other developers and journalists to put the FEC's data to use. The site sports a cleaner, much more intuitive search engine that visitors can use to find out how money is flowing into the upcoming presidential election and other campaigns. To make things as accessible as possible, the new site even has a glossary for translating wonky campaign finance terms into plain English.
Instead of redesigning the FEC site in one big go, the team behind it is borrowing the iterative, agile mentality of Silicon Valley by designing it in phases and actively soliciting feedback from visitors.
Like these other initiatives, a redesigned website is normally nothing special. But in this case, the impact could be significant. With more and more money being spent on campaigns (and with fewer restrictions on it, thanks to the Citizens United ruling), the public's awareness of how money flows through political campaigns is more important than ever. This is much more than a visual overhaul for an important government website: It also sets a standard for future website redesigns. With new design standards in place and more technology investment from the Obama administration, this isn't the last redesign we should expect to see in the coming months.