"The store is kind of like a big giant product."
At Fast Company's Innovation Festival in New York, Angela Ahrendts, Apple's senior vice president for retail and online stores, discussed with editor at large Rick Tetzeli the customer experience beyond selling products, uniting Apple's online and offline stores, and her own experience as one of the top executives at the world's most valuable company.
Apple brought in Ahrendts, who previously served as the CEO of Burberry, two years ago to breathe new life into its physical and digital retail experiences. Not that Apple's retail experience was in dire need of a makeover—Apple's brick-and-mortar stores remain massively successful, with more than 450 locations worldwide and the highest sales per square foot of any U.S. retailer.
On stage, Ahrendts kicked things off by talking about her first week at the company. "Once [I] made the decision to finally [join], you walk in, and you understand half the acronyms," Ahrendts joked.
One of Ahrendts' goals is to transform Apple retail beyond staples like the Genius Bar and evolve the experience in the Tim Cook era, especially as the company ventures into new categories such as its Watch device and new markets like China.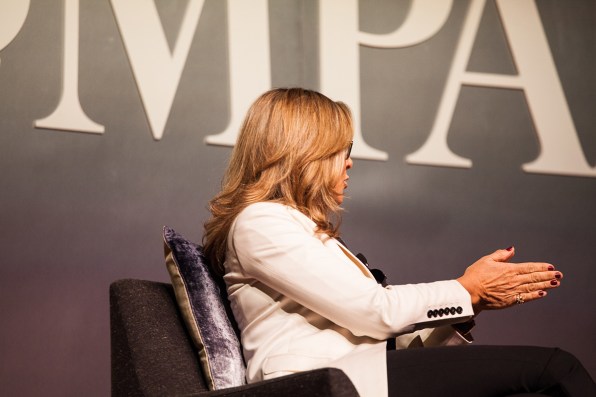 Ahrendts spent much time talking about how to refocus the stores around Apple's new services, some of which were not products. While the company has become masterful in selling iPhones and iMacs, Ahrendts says, "How should we handle Apple Pay? How should we help customers download Apple Music? They're not products we're selling—we get no credit for doing that at all. Yet that's good for Apple and the customer." On the other hand, with Apple Watch, she continued, "We did launch exclusively in the stores, because we needed to get the kinks out with this incredibly new form factor."
To her, the store is a "big giant product" in itself," and she says it has evolved in a similar way as the iPhone and Mac, and gotten "sleeker and smarter" over the years. But, she wonders: "How do we get our kids who prefer no human interaction into these stores?" Ahrendts bemoaned how fragmented the Apple retail experience has been in the past, with Apple.com separate from the Apple Store's website, and both those separate from the in-store experience. "I asked Tim a very simple question: Why do we do it this way?" she recalled. "He said, 'I don't know–we've always done it this way.'" The company is now working to better unite its online and offline experience.
Ahrendts also wants to recenter the physical experience around particular "passion points." Like her predecessor Ron Johnson, she envisions redesigning the stores around use cases for Apple's devices: photography, gaming, and so on. The company has started exploring some new store components, such as "The Avenue," which has Apple's accessories repositioned from the wall into an experience that feels more akin to walking down the street of a "small town and looking into each window."
But at least one thing will stay the same: the tables in store promoting Apple's hardware. "Jony Ive designed that table—that table is iconic, that table will not change," she said.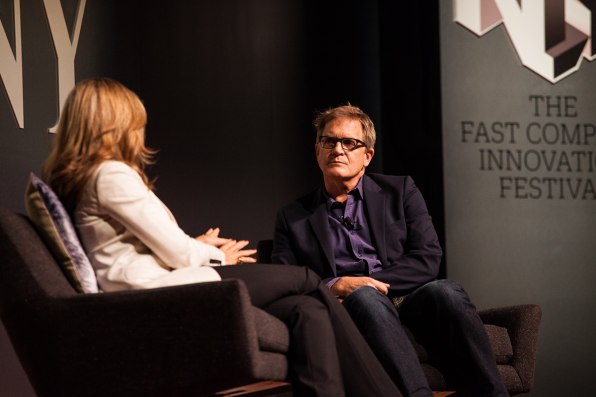 During her first six months on the job, Ahrendts asked her team to study which cities would be the top 100 most populated by 2025. "If we're going to do 10-year leases," she said," that's what we want to invest in." Unsurprisingly, 20 of the top 100 cities in the next decade will likely be located in China.
So Apple has been working on ramping up its operations in China, but it's also increasingly investing in its mobility program, which has Apple retail employees relocate to different areas around the globe to cross-pollinate the company's DNA. For example, as Ahrendts noted on stage, 200 million people from China travel outside their country every year, whereas only 70 million Americans have passports. She's thus interested in making sure international employees are represented at more of Apple's U.S. stores, which are especially popular with Chinese tourists. In New York, there are 21 Mandarin-speaking employees alone at its Upper East Side venue. "We need not only to move culture into China, but we need to move our best Chinese employees all over the world," she said.
These types of programs also help with employee retention, which she boasts, is at 81% now across Apple retail's operations.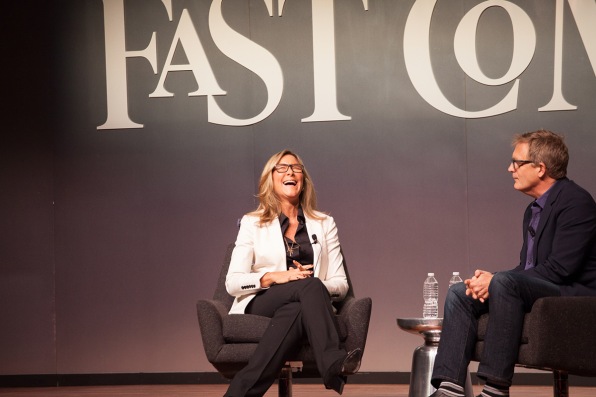 When Ahrendts decided to join Apple in late 2013, she said she spent a substantial amount of time reviewing Apple's practices. She visited 40 different markets, spent time at contact centers, and "about 6 months in, [you] finally get your head above water and can think a little clearer." It's been a mad race ever since the first week, when CEO Tim Cook had her "meet with executive after executive—my head was spinning by Friday," she recalls.
One of the first things she decided to do was create a better way to communicate with her 60,000 Apple retail employees. "My kids were visiting from London and all they were doing in the car was WhatsApp and Snapchat," she says. "It hit me: That's the way we should communicate." She now shares a video with her employees every week—three thoughts in under three minutes, she says—so her employees can feel more involved with Apple's decision-making.
Ahrendts also reports that she's been learning how best to collaborate with her executive counterparts. For a new Apple Music experience in the store, she called "Jimmy" and "Eddy," meaning Jimmy Iovine and Eddy Cue, two of the senior Apple executives who help oversee the service's direction. She also recently connected with Craig Federighi, Apple's senior vice president of software engineering, for help coming up with a "curriculum to teach code in stores."
For Apple and Ahrendts, then, there is no shortage of plans–and if history is our guide, they will figure out how to execute.