A lot of truth is said in jest. For instance, at one point during his epic, two-hour interview with Marc Maron, Lorne Michaels says, "It's gotta be awesome to be meeting me like this." Even though he immediately cuts off Maron's probable response to let him know that he was just teasing, what the late night TV and movie impresario said was not wrong. For Marc Maron, this interview is the culmination of a 20-year quest to find out what went wrong with his 1995 audition for Saturday Night Live.
It just may have been worth the wait.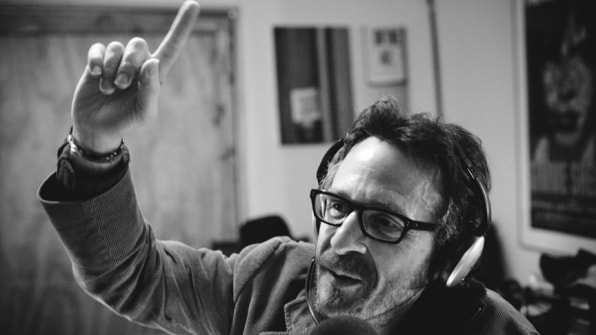 As long as Maron has been doing his top-rated podcast, WTF with Marc Maron–six years and counting–Michaels has been his white whale. The comedian and creator of IFC's Maron has interviewed dozens of writers and performers over the years who hail from SNL, and grilled each of them about the elusive headmaster of the long-running comedy institution. Each time, he would always mention how much he would like to interview the man himself, just in case Lorne was out there listening. As Maron's podcast and his Michaels fixation increased in infamy in tandem, it began to seem as though refusing the interview was one of the more punk rock things audiences could always count on–like The Smiths never reuniting. Just like a hypothetical Smiths concert in 2015, though, now that the interview actually happened, the fans are here for it.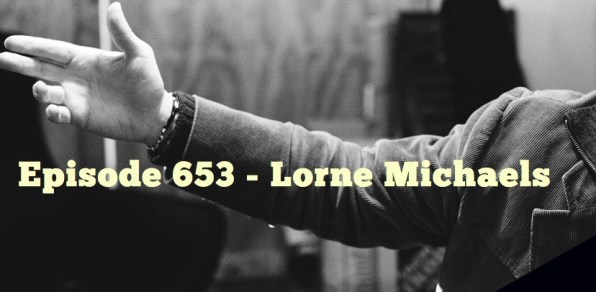 Not only did the wide-ranging interview provide closure for Maron, it was also entertaining and informed us about the man, the show, and the history of late night TV. Here are 25 revelations, moments, and quotes Co.Create found particularly insightful. Don't wait six years to read them.
Lorne Michaels remembers the time he auditioned Marc Maron, and refers to having him back in his office as the "scene of the crime."

Despite persistent rumors to the contrary, Michaels denies the existence of a "candy test," in which whether the person auditioning reaches for candy from a Dish on Michaels's desk affects their fate on the show. (Maron did have some candy, and thought he caught a look for it.) Although the fact that Lorne remembers the kind of candy that would have been in his bowl in 1995, Tootsie Rolls, suggests maybe there was candy test.

Michaels contextualizes Maron not getting on the show by explaining the climate at the time. In 1995, the press was saying "Saturday Night Dead," the cast was transitioning away from Adam Sandler and Dana Carvey, and the movies under Lorne's production arm, like Tommy Boy and Wayne's World, were just starting to hit. Long story short: It wasn't that Maron wasn't ready for the show, there just wasn't a spot for him. "You can't really explain bad timing."
Apparently, interviewing with Lorne Michaels is terrifying. The SNL leader explains away being dismissive of Maron's downtown brand of comedy in 1995–"I don't know what you think you're doing down below 14th street, but it doesn't matter"–by saying: "I was just being playful."

Lorne Michaels grew up in a fairly Jewish Toronto neighborhood, and his given last name is Lipowitz.

One of Michaels's best/most terrifying quotes, about putting together SNL originally: after Maron leads by saying, "I know you've probably talked about it before," Lorne cuts him off with, "Really? You think?"
Lily Tomlin changed Michaels's life. He was about to go back to Canada after an early stint writing comedy in L.A., when he started working on a pilot special with her. After it got and lost an Emmy nomination, Tomlin brought him in as writer/producer for her next special, which did win an Emmy. That's what gave him the credibility to get SNL made.
It took three months for Lorne to staff SNL initially, and then the cast and writers all lived together for three months before they went on the air.

"You always write your last hit until you're actively discouraged by the audience or the industry" –Lorne Michaels

Apparently, Steven Spielberg has been a fan of SNL since the third episode Jaws parody.
"Our strength has always been in the middle of the country," Michaels says about SNL's longevity. He won't admit to doing away with esoteric humor to appeal to a broader audience, but he does say, "Holding an audience is the crux of a business."
Michaels thought of the first season of the show as his championship season, because he'd written everything he'd ever wanted to do twice by that point.


Steve Martin called his production company company 40 Share, because that ratings measure is what you needed to stay on the air at the time: 40 million people watching. Michaels mentions this to explain why it was considerably low stakes to do late night TV in the mid-'70s, as it was an unexplored time period.

Dan Aykroyd and Phil Hartman's ability to move quickly and talk fast made it so they could fit a seven-minute sketch in four minutes when they were pressed for time.

Michaels agrees with Maron that fans may have turned away from Eddie Murphy because he's gone so far away from what audiences fell in love with him for.

"I see my specific talent as moving it forward, getting the best out of everyone that I can, and encouraging a climate in which brighter ideas prevail and in which chance is part of it, and encouraging people and discouraging people." –Michaels on what he does at SNL.
Michaels disowns the idea that all power on SNL stops with him and that any decision is ultimately his.
In the '90s, NBC president Warren Littlefield gave an interview with Bill Carter at the New York Times and said there would be a lot of changes at SNL, and everything was up for grabs–including the presence of Lorne Michaels. [Michaels responded with this piece.]
According to Michaels, there has never been a perfect show on SNL, they've never pitched a no-hitter.
Writing Three Amigos with Steve Martin and Randy Newman was one of the happiest times of Michaels's life.
In the five years in the early 1980s that Michaels was away from SNL, he never watched the show once.
When asked about retirement, Michaels says he wanted to stick around until the 40th anniversary to be there while the initial cast was still around. (RIP Gilda Radner.) He doesn't think he'll be there for the next big anniversary, though.


The first year of SNL, Lorne, Chevy Chase, and Michael O'Donoghue stayed in town during Christmas break and wrote the first January show for Elliot Gould together–and won an Emmy for it.

"What you say you're looking for, that's just the brochure. You don't really know until you see it." –Michaels, on casting 46-year-old Leslie Jones recently.

"Well, if this thing explodes…" –Michaels on Marc Maron's chances of hosting SNL.