Minorities are more likely than whites to be passionate about virtual reality. And despite the attention paid to Facebook-owned Oculus in the media, Sony's PlayStation VR is the most recognized brand.
These are some of the conclusions from a wide-ranging survey of consumer expectations and preferences about virtual reality that will be released Tuesday by Greenlight VR, a virtual reality analysis and research firm, and Touchstone Research, which conducts online market studies. Fast Company was given exclusive advance access to the data.
Virtual reality is a technology with a long and storied past. The first attempts at it date back decades, and it came into wide public awareness in the 1980s. But recent developments in consumer VR took off with the first announcement of the Oculus Rift in 2012. Now, according to a recent study by Digi-Capital, the technology is expected to generate $30 billion in annual revenue by 2020.
"In just three years, virtual reality has gone from pre-dated technology to household name," the Greenlight VR study's authors wrote. "What started as a small Kickstarter project has reawakened an entire industry, mainly due to the grass-roots effort of early VR believers in the Oculus Rift."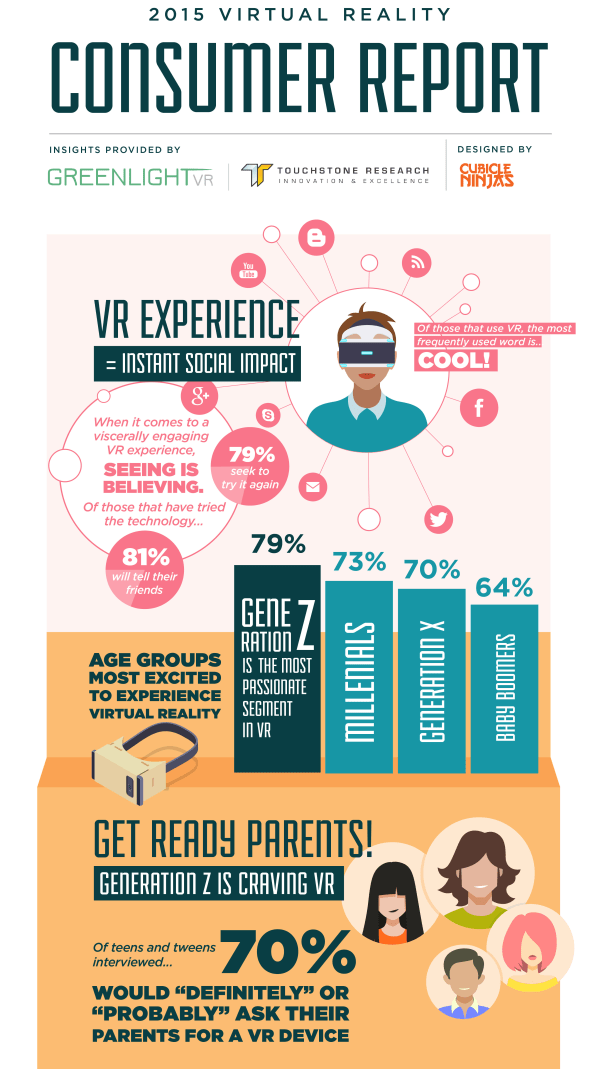 However, while 80% of people in the survey said they have some awareness of VR technology, just 10% indicated they know a lot about it. "Lack of VR familiarity and VR brand awareness may result in slow VR adoption over the near-term if the brands don't ramp up marketing communications," the authors wrote.
And while the report, which surveyed 2,282 Americans, lauded Oculus's role in revitalizing the VR industry, it found that Sony's PlayStation VR, which is expected to be released in the second quarter of 2016, has the highest "unaided brand awareness," meaning respondents were already aware of the brand. Samsung's Gear VR, which is already on the market (a newer version should come out this holiday season) was second, while Oculus, which should hit the market in the first quarter of 2016, came in third.
Still, just 20% of those surveyed said they were interested in a specific brand at this time. Of those who were, 48% chose both the Sony PlayStation VR and the Samsung Gear VR–respondents could pick more than one device they were interested in–while Oculus got 44% of the interest.
It might be most surprising that, according to the report, whites were less aware of and/or interested in VR than minorities were. That may be, the authors wrote, because older age groups, which had less interest on the whole than younger generations of Americans, tend to be more white, while younger people are more ethnically diverse.
"For marketers and developers, here lies a large opportunity to cater to these segments in a more meaningful way, especially as minorities tend to get overlooked in the clutter of marketing schemes," the authors wrote. "For VR brands that take time to create content that caters to minority interests, and most importantly recognizes them as a formidable VR consumer, these VR companies could benefit by being rewarded with a number of new, passionate fan bases."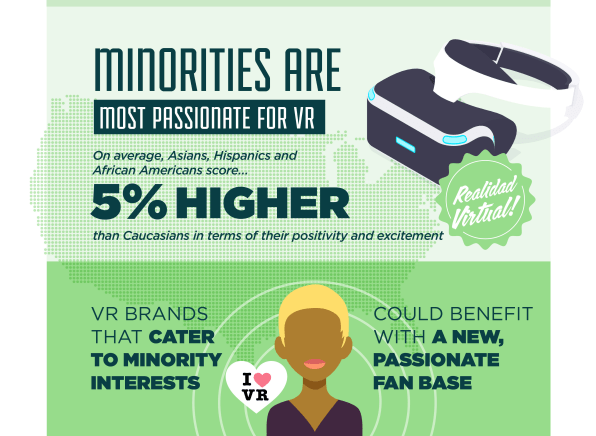 The study, which looked in depth at consumers' purchase intent, focused much of its attention on how much people are willing to pay for virtual reality systems. That's vital, as the report contends that price is the top factor in determining whether someone will purchase a VR system in 2016.
The conclusion? About 60% of all respondents said they will not pay more than $400 for a VR headset. The largest group, 31%, said they would pay between $200 and $399. What might be troubling for Oculus, which will require being paired with a PC that meets certain technical specifications, is that just 11% said they were willing to pay more than $1,000.
Not surprisingly, millennials and generation-Xers are willing to pay significantly more–a maximum of $524 and $526 on average–than baby boomers, who don't want to pay more than $400. Men are willing to pay an average highest price of $564, while women top out at $411, according to the report.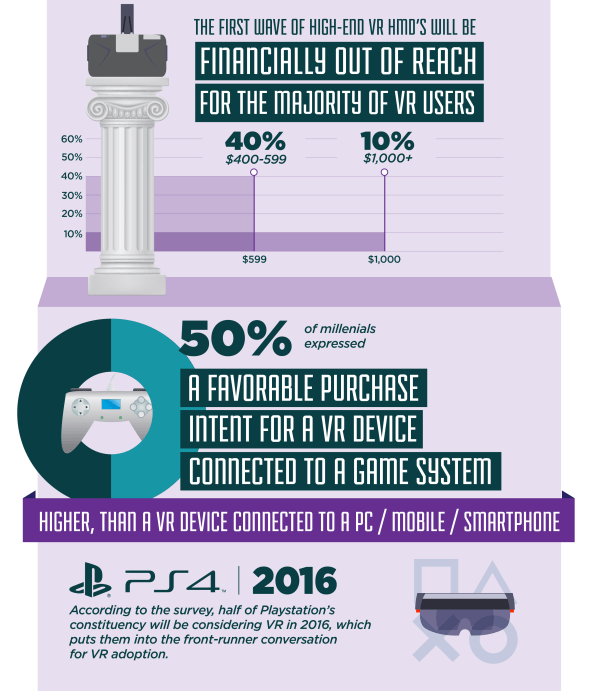 "Price point thresholds indicate that 20% of consumers will be willing to spend between $400 to $500, boding well for Playstation VR and possibly the HTC Vive," the report concluded. "Only 11% of consumers are willing to spend $1,000-plus. With the need to purchase a specialized PC alongside a new console, Oculus falls into this expensive category."
At the same time, the authors wrote, many people who may want a higher-end system like an Oculus Rift may have to settle for a lower-range device, or be willing to wait a year for prices to fall.
It's also key for VR companies to get their products in front of consumers. Between 36% and 41% of respondents said that prior exposure to VR tech was "extremely important" in their purchase intent. That means making product demos widely available is vital to maximizing potential sales.
There are many categories of VR content. Topping our interest across all age, gender, and ethnicity groups are travel and exploration categories, which 37% of the report's respondents said they wanted to do. Gaming was next, at 33%, followed by shopping, at 10%. Just 4% said they want to watch movies or TV in virtual reality.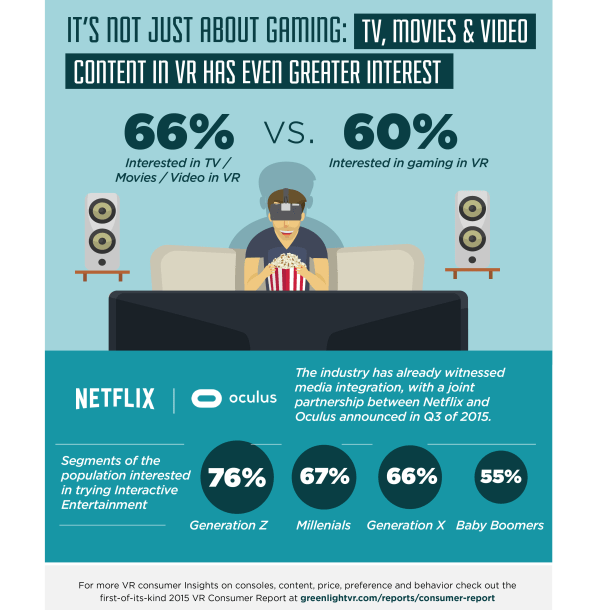 However, 66% of those surveyed also said they were definitely or probably willing to try all forms of interactive entertainment, which includes TV, movies, and other video experiences. Travel and tourism content also garnered the interest of 66% of respondents. And 60% said they were interested in trying VR gaming.
Among those who are currently gamers, 80% said they would try playing games in VR. And among those, racing games had the highest interest, at 49%, with action coming in next at 40%, and sports at 39%.
Finally, just over half of those surveyed reported they had some form of concern about trying VR. A total of 23% of respondents cited worries about their health, 11% fretted about "losing touch with the real world," 5% thought they might get addicted, and another 5% said they thought VR systems would cost too much.