You log into Facebook and find out that today is your friend's birthday. You haven't bought a gift, and it's too late to mail a card.
But instead of dispatching one of those tacky animated e-cards, the curatorial e-retail platform AHAlife wants you to consider its new gifting app, which lets users send a real gift and a digital card in under a minute.
Aha–the company's new free app that's available now on iOS and next month for Android–hopes to make giving a physical gift as seamless as sending a text message.
Shauna Mei, founder and CEO of AHAlife, says the $200 billion global gifting industry is ripe for disruption. Aha's average repeat shopper buys six times a year, Mei says. And in a recent survey of its users, she says gifting emerged as the No. 1 response. But while gifting is a function included in all forms of retail, further research into the App Store showed no apps specifically geared towards gifting itself.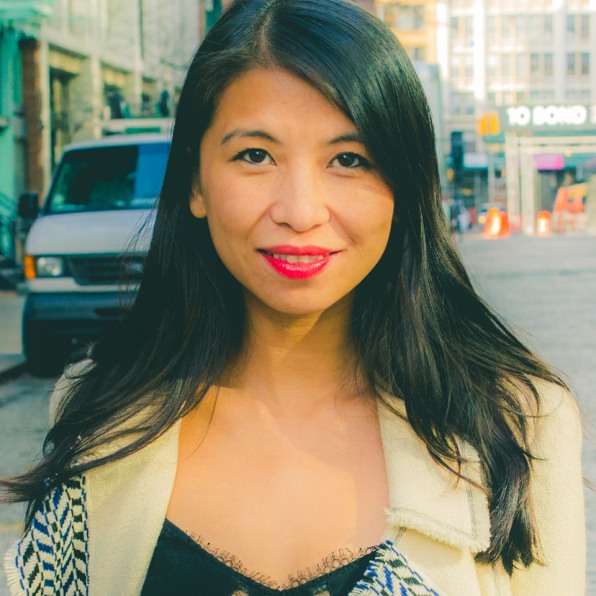 So Mei and Sachin Devand–president and CTO of AHAlife–set out to create an app that relieved some of the pain points of time-sensitive gifting, including but not limited to the stress of choosing something thoughtful and having enough time to purchase and ship it. Shoppers today likely don't even have a mailing address for their friends and colleagues–and asking for one on the day of a special occasion is the surefire way to out yourself as a birthday procrastinator.
"It's a really clunky experience today for a lot of people because we forget people's birthdays. You get reminded of a close friend's birthday on Facebook," Mei says. "It's too much of a hassle so people don't even bother, or they wind up buying a gift card. And as the receiver of a gift card, you know that it's the most thoughtless gift."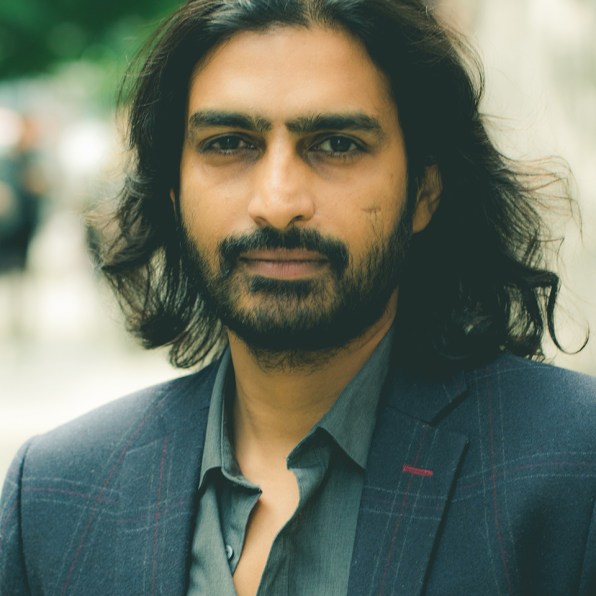 The app starts at the source: With permission, it accesses your contacts and Facebook profile to remind you of upcoming birthdays. If you decide to buy, the shopping experience is divided into 10 personality types like the foodie, the techie, and the style maven. The Aha team, whose flagship site AHAlife already touts a high-end curatorial approach to limited-edition design from 2,800 brands, curates the gifts that fall under each category. Gifts in the techie category, for example, run from a $40 gadget charger to a $4,400 decorative "Lucid Mirror," which shows luminous 3-D images behind a mirror glass.
Once the shopper selects a gift, the app lets them write out a card and sends a text message to the recipient with a link to the gift before ever having to put in payment information. The recipient "unwraps" it by dragging downward on their screen.
"When she looks at the card, when she unwraps the gift, I am getting push notifications on my app," Devand says.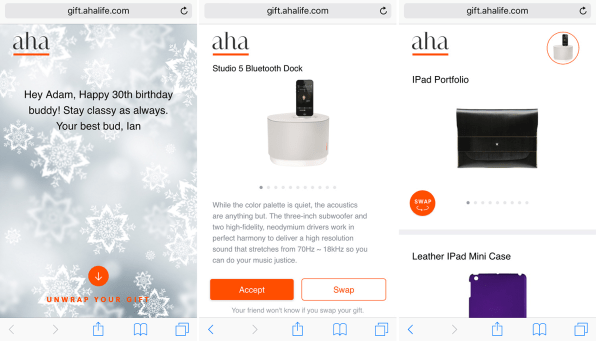 Here's where Aha hopes to tune up another piece of the gift-giving puzzle: awkward returns and exchanges if the recipient doesn't like the gift. If the selected item comes with color or size options, the recipient gets to choose. But if he or she doesn't like the gift altogether, Aha offers them a selection of 20-30 alternative gifts they can swap it for that fall into a range of 10% more or less than what the shopper originally selected. The recipient remains blind to the price no matter what they choose, and the giver isn't notified that there's been a switch. Instead, Aha takes care of any extra cost that may come with the exchange.
"Because it's 10% plus or minus, and our product margin is 50%, we can actually absorb that difference," Devand says. "Over time, it's going to average out. And even if it doesn't, we have enough margin to absorb the cost."
The recipient then plugs in their own preferred shipping address for delivery, a notification prompts the purchaser to plug in their credit card details, and Aha lets the recipient send back a thank you card.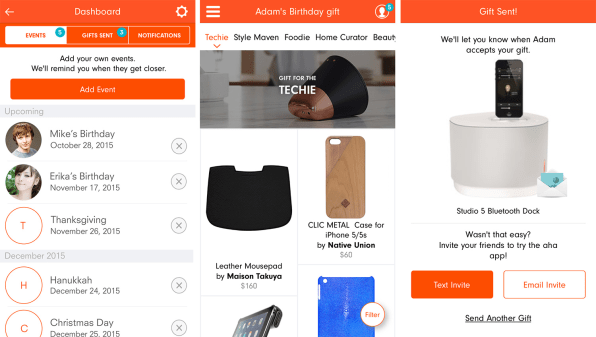 "The boring and tedious parts of gift giving, we've pushed them to the back of the flow. The fact that you need to know somebody's address and put in your credit card information is being pushed back," says Devand. "We've broken down the checkout process, and half of it is done by one person, and half is done by the other."
There's no need to have the app to receive a gift, but once the transaction is complete, each recipient is added to the Aha emailing list with the extra perk of store credit for downloading the app, too. Mei and Devand are piloting the new app among its 400,000 users, predicting that about 12% of them will download the app and buy an average of four gifts a year, Mei says. Those figures, paired with an average purchase price of $100 among its Aha customers, comes to more than $19 million in revenue potential by focusing on gifts.
"The whole point is that you make gifting extremely frictionless. Once you have this app, you can literally remember people's birthdays the day of, give them a gift, and not worry about giving them the wrong gift. And you don't need to know their shipping address," Mei says. "I think a lot of times we as humans have the intention to give gifts more than we actually do. This app will make it so simple that you can actually make it happen, and it will take you 60 seconds."