Four of us are sitting around an undersized cafe table in a crowded northside Chicago bar, and though we're practically in each other's laps, it's a struggle to discern Jacob Palmborg's Swedish accent. His smooth, lip-pursed phonemes are lost in the cacophony of IPA drinkers.
Then I slide my finger across an iPhone app, and his voice sings forward like a brass soloist above the orchestra.
The mechanism at work is a product called Here Active Listening, for which Palmborg served as Design Director. Here is essentially a pair of wireless Bluetooth headphones, except they don't play music. Instead, they're engineered to listen to the world around you, and remix the soundscape in real time. With the aid of a companion app, you can swipe your finger across a waveform to do practical things, like cut the drone of an airplane, or more experimental actions, like adding the flange of an electric guitar to everything you hear.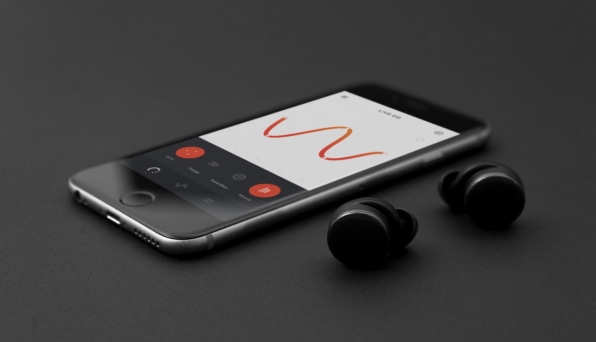 One filter gives the cozy bar the echo of a cavernous sports stadium. Another adds a delay to everything I hear. It's wild, transformative, and immediate. My ears can often discern a metallic edge on Here's technology (what I suspect is a result of the digital audio compression, the drivers, or both), but it's still good enough to totally fool me when Doppler Labs' founder and CEO Noah Kraft snaps once near my ear, and I hear a perfect, hallucinatory snap a second later.
After selling 300,000 of their simpler Dubs ear plugs in nine months, launching a $635,000 Kickstarter campaign for Here, and now riding $17 million in funding, the Here team has ballooned to more than 50 people. This includes senior engineering talent pulled from companies including Apple, Nest, Nike, Amazon, and Microsoft. But despite the quick momentum, Kraft's pitch is one of incredibly enthusiastic spin control, in which their expectations are only tempered by the long term potential they see in the product.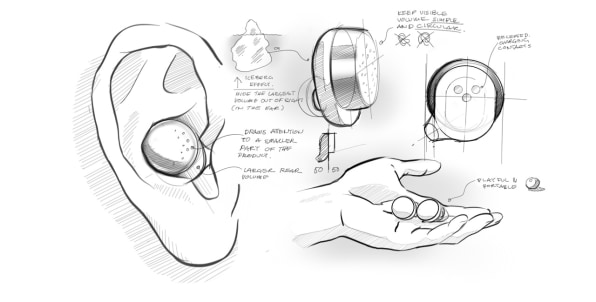 "Our goal, with all humility, [is to] create somewhere between Beats and Google Glass," Kraft says. "Glass was technologically innovative for sure, there was just no cultural impact. Beats, there was incredible cultural impact–you were making a statement if you wore Beats around your neck!–but obviously it's an $8 headphone [in a fancy case]."
Kraft wants to "ease people to the zeitgeist" of the ear-based computers made famous by Ender's Game and, more recently, Her. But even if Doppler Labs' efforts could solve the myriad of technological problems that arise in building a system like Siri or Cortana, Bluetooth headsets carry a negative stigma that's hard to shake.
In turn, Here is being marketed to people looking for a unique, even trippy, concert-going experience. This targeted customer probably understands what an EQ bar is without explanation, and might appreciate the ability to filter music through an on-demand, psychedelic altered state. 5,000 of their first units are being given to tastemakers in the music industry–including partners like Mark Ronson, Tiesto, Hans Zimmer and Quincy Jones–in a Beats-esque marketing ploy to seed their product with people who might eventually influence you to pick up a pair.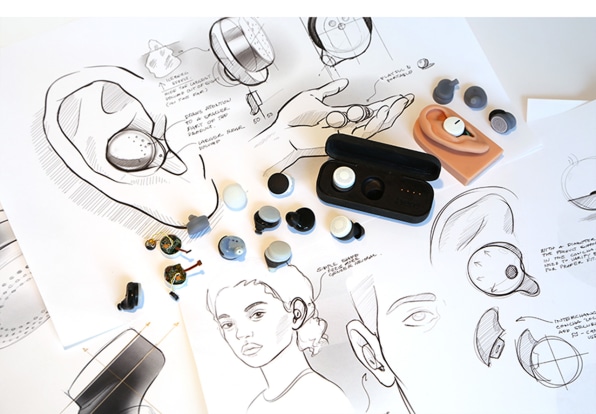 At the same time, Here's industrial design has been approached less like a fashion-forward piece of jewelry as we see with Ringly, or a future-forward piece of hardware as we saw with Google Glass, and more like a Bauhaus, gender-neutral marriage of utility and function. Believing that Here has an opportunity to "own the circle," Palmborg designed it as a black or white microphone array, and little else. It's carefully branded, yet subtle in its presence, which is important for their space. Because while Beats is designed to tune people out, Here needs to tune people in.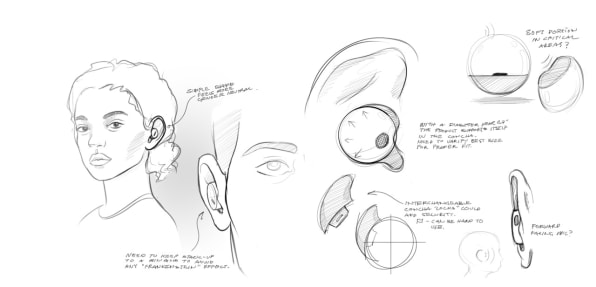 "It has to be part of your life rather than a layer in between me and my interaction with other people," Palmborg says. "I think that's the shortcoming of Google Glass, especially as a consumer product, where I was expected to wear this thing on my face and have a layer of information that you weren't aware of in between us."
Despite all of this strategic positioning, Kraft readily admits that the company is easily 5-10 years away from the sci-fi promise of Her, where everyday people actively choose to talk to themselves into an ear device. And as he promises again and again, his voice amplified just short of a godly roar thanks to the bionic filter in my ear, he's okay with that.
"If you tell someone to put a computer on their face 24 hours a day, how do you think that's going to work socially?" he asks. "We're going to clearly say this is an episodic product. We're going to clearly say this is not for sale. This is a concept product we're putting out in the world."
"Of course, the goal is eventually, you leave it in longer and longer," he adds later. "As functionality grows…we work slowly and slowly into more people's ears."