"Ozymandias," one of the final episodes of Breaking Bad, may not appear on the surface to have much connection to ballet. Then again, that show was often about what's beneath the surface.
Moira Walley-Beckett was a writer and producer on Breaking Bad when producers Laurence Bender and Kevin Brown asked her what kind of show she would do if she were to write a series set in the ballet world. They sought her out because "there aren't too many cable writers with a strong dance background," says Walley-Beckett, a native of Vancouver who studied ballet as well as jazz and contemporary, and danced professionally into her twenties before transitioning to musical theater and then television.
Given free reign, Walley-Beckett, who won an Emmy for "Ozymandias," told Bender and Brown to let her think about it. "We were shooting Breaking Bad at the time, and I was in my hotel in Albuquerque with my legal pad and inky blue pen, musing on what I wanted to do, and it all showed up," Walley-Beckett says.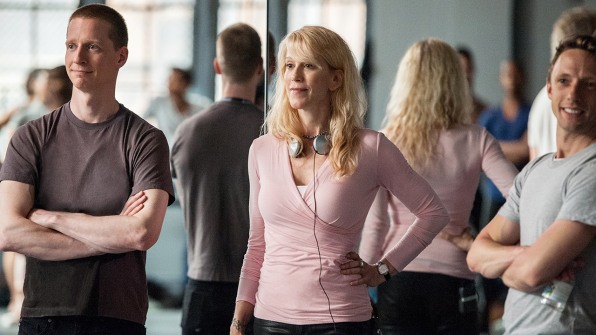 What "showed up" was Flesh and Bone, a limited series premiering on Starz November 8, about an ambitious ballerina from Pittsburgh named Claire Robbins who arrives in New York City to audition for a prestigious dance company. Claire is talented, and she gets into the American Ballet Company, which should be a dream come true, but she is surrounded by crazies, including a manipulative artistic director who makes her his muse, and jealous ballerinas. Claire is also haunted by a dark past—it's really dark as we see when her brother back home in Pittsburgh gives her a call and tells her how much he misses her while he lays on the bed in her old room with his hand down his pants.
"I'm drawn to damage," Walley-Beckett says. "I like to explore the darkness and the really, really intricate human components of us."
That doesn't come as a surprise given Walley-Beckett's Breaking Bad background. "I was so fascinated working on Breaking Bad all those years with the journey of Walter White. What was cool about Walter White was he started off as this beige guy, who was seemingly ordinary and lead a mundane life, and a decision forced him into finding aspects of himself and acquiring aspects of himself that previously didn't seem to exist," she says.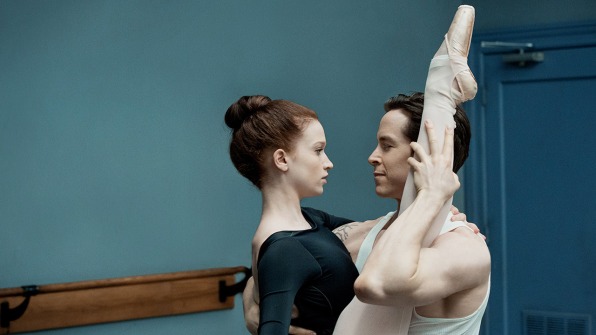 In Flesh and Bone, "What was exciting to me was to flip the journey, to take this person who is extraordinary already and extraordinary in what she does and extraordinary because of her damage and send her on a quest to be ordinary," Walley-Beckett continues. "This is a person who wants to be normal in the midst of her vaulting ambition. She just wants to be ordinary because she never had the opportunity to be."
While she came to the table with a complex main character, disturbing storylines and a mission to show how grueling it is to be a ballerina (Claire's toenails will make you scream!), bringing an eight-episode ballet-intensive drama to the screen was a demanding task with some unique requirements above and beyond those of your average television production. Here, Walley-Beckett talks to Co.Create about the three things she had to have to produce a dance world drama that would feel authentic.
It was imperative to Walley-Beckett that all of the actors playing dancers in Flesh and Bone were company-level ballet dancers. In fact, Walley-Beckett insisted on it before she agreed to go forward with the project. "I didn't want to do it any other way," she says. "It is important that we are actually sweating and breathing and bleeding with them," she says. "I think it makes a huge difference."
The other big ballet project in recent years—Black Swan—took another approach, casting actors Natalie Portman and Mila Kunis as dancers. "I think Black Swan did a nice job of capturing the dynamics. What was unfortunate, for me, was they cast actors that didn't dance," Walley-Beckett says, noting, "It only bummed out the dancers who went to see Black Swan because they did a really seamless job—nobody could tell, but we could tell."
No one is faking it or being replaced with dance doubles in Flesh and Bone. In addition to Sarah Hay, a member of the Semperoper Ballet in Dresden, Germany who was a featured dancer in Black Swan in the lead role of Claire, the Flesh and Bone cast includes Irina Dvorovenko, once a principal dancer with the American Ballet Theatre in New York City, and Sascha Radetsky, a soloist with the American Ballet Theatre.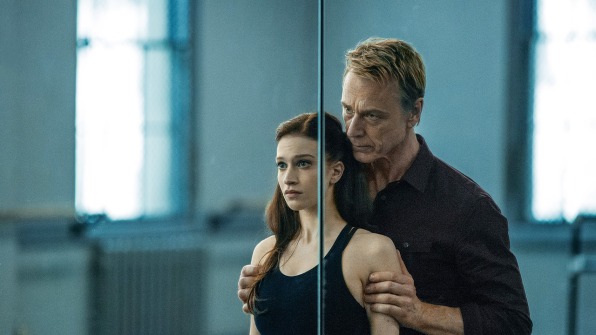 There are some incredible dance sequences in Flesh and Bone, but it is ultimately a drama, and while the cast includes seasoned performers, including Ben Daniel, who plays the artistic director of the ballet company, many key members of the cast didn't have a lot of acting experience. So Walley-Beckett hired directors who had a lot of experience "actually directing actors. Sometimes, in long-form series that have been going on for years, the actors are good-to-go. They know their characters," Walley-Beckett says. "But this was different. We were teaching them this craft."
Flesh and Bone's directorial roster features some of the top names in television, including Adam Davidson, whose credits range from Fear the Walking Dead to Community; Alik Sakharov, who has helmed episodes of series including The Sopranos and Game of Thrones; and Nelson McCormick, who is known for his work on The Good Wife and Nip/Tuck.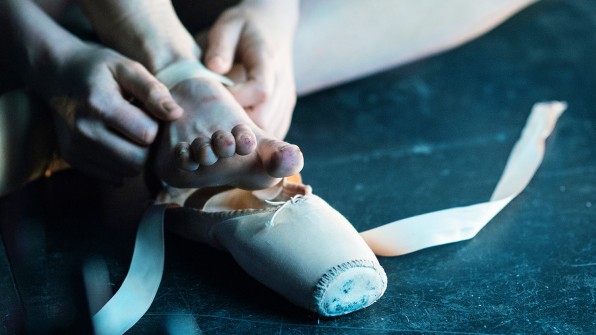 Walley-Beckett didn't simply build a set that looked like a dance studio—she built a real, working dance studio at Kaufman Astoria Studios in Queens, New York. "Not only did it have things that I wanted to see, like church windows, because ballet to a certain degree is a religion, but we also had to make sure we had a sprung floor, and it was properly built," she says.
If you jump up and down on an ordinary floor, there is no give, Walley-Beckett explains. But a sprung floor has some give so dancers aren't pounding down on concrete. "It provides a little shock absorption for the bones," she points out. A specialist supervised the construction of the sprung floor, which was topped with a marley floor covering made of heavy-duty, slip-resistant vinyl.
Additionally, the studio had to have mirrors, of course, but they had to be mounted on gimbals and moved to accommodate the ways the dancers needed to be shot and to hide the cameras.
Plus, there had to be people on hand to take care of the dancers who were not only acting but also performing rigorous moves and routines. "We had physical therapists standing by every day. We had to keep the dancers warm and safe, and it was a complicated way to work. It was so complicated and so punishing. It was punishing for these dancers," Walley-Beckett says. "We did everything we could not to kill them."