So tech entrepreneur Greg Lowe–who founded Lowekey Media and the Songbooth app–is starting his own athletic wear subscription box and lifestyle brand to capitalize on some of the product quality and customer service mistakes committed by others. Fitbox will start accepting signups starting November 15, and shoppers can sign up for the monthly activewear box, which will officially begin shipping in January. A men's line will debut later in 2016, Lowe says.
"I saw an opening in the market. Fabletics is doing great, but they have horrible reviews. I wanted to be able to give women the option of having quality clothing similar to Lululemon. So it's Lululemon quality at a lower price point," Lowe tells Fast Company.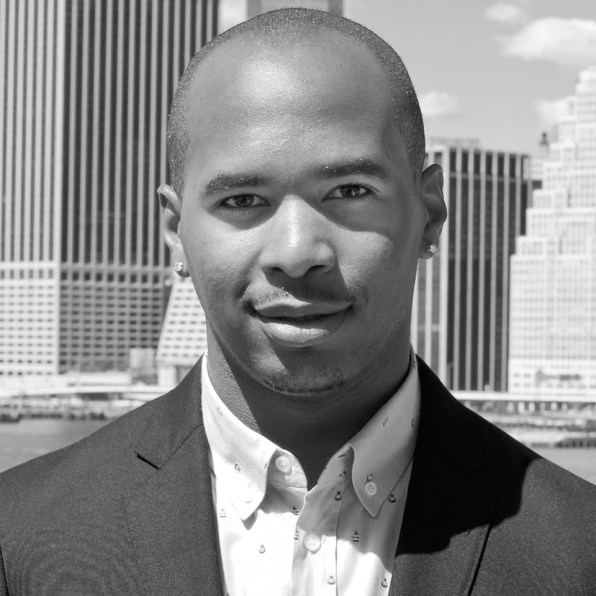 Lowe says he poached designers from DKNY, and Fitbox items are all designed in house, giving Lowe control over the clothing's quality while still opening him up for celebrity-designer collaborations in the future. He says he went after the same gram weight and fabrics used by Lululemon, for quality but purposely priced his clothing lower than the cultish athletic brand.
"The winning proposition for us is to be able to fit into that luxury price point, but at the same time, not go too far beyond that luxury price point," says Lowe, who is eating up some of his own margins to appeal to a more affordable set.
Lululemon's yoga pants run from about $100 to $150 a pair. Fitbox will cost $60 a month for two items–a top and a bottom, but shoppers can upgrade to a jacket or sweatshirt for an extra fee. Subscriptions come in one-month, three-month, six-month and 12-month increments, and users can elect to skip a month.
The Fitbox fleet of activewear will fall into three categories: basic (for regular workouts), novelty (for lighter sweating), and athleisure, which could just as easily be worn to a light day at the gym as to the farmer's market. Each season will add about 10 new styles in prints and solids, Lowe says.
"Our tagline is, 'Life is a workout–dress for it.' Women run around all the time doing all different things. You may have to go pick up your kids, carry the groceries. You want clothing that's going to wick away and also that's comfortable enough for you to look stylish in," Lowe says.
While Lowe–whose career has centered on developing mobile app platforms–may seem like an outsider to the athletic wear industry, he insists the heart of Fitbox is the lifestyle brand that will live on the app through its content, which members have access to via a subscription.
"Mobile is the way people are devouring content. But now we're seeing editorial being able to push sales," Lowe says. "I'm really focusing in on the tech side of it to make sure the app works seamlessly with the website, along with other additions that we'll be adding in the future, like wearable technology in the shirt. We'll be able to track your movement from a basic shirt that you can wash and reuse over and over again that connects to the app, as well."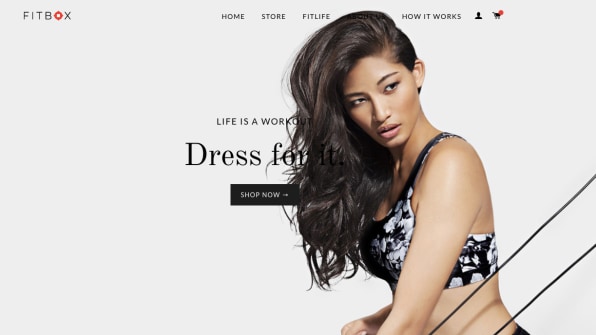 He's also enlisting an arsenal of Fitbox brand ambassadors to contribute articles, workouts, and recommendations to the lifestyle brand's app. So far, Lowe says he has a lineup of "fitness-preneurs" signed on to represent the brand and create content. Fitbox's app will offer a simple storefront for users to shop and subscribe, as well as a Fitlife section that will feature articles by Fitbox and its ambassadors, videos, recipes, and suggested playlists.
Earlier this year, we pointed to the explosive growth of the activewear market. Athleisure sales reached $34 billion last year and made up 16% of the entire American clothing market, according to market research firm NPD Group. And while big brands like J.Crew and Gap scramble to adjust to the changing sartorial climate, Ann Taylor, Urban Outfitters, Net-a-Porter, and designers like Tory Burch and Stella McCartney have jumped on the trend with their own fitness lines.
"Athleisure is the fastest-growing sector in the fashion industry," Lowe says. "But at the same time, athleisure is getting very, very expensive."
Lowe looked to the successes at Warby Parker, Birchbox, and Barkbox to build his brand. He says receiving clothes in a subscription model will encourage Fitbox users to be more active, and the content from the app will fuel that ecosystem of fitness and commerce encouragement. And like Birchbox and Warby before him, he envisions Fitbox's future as a mix of digital and brick-and-mortar retail.
But for now, Lowe is focused on ramping up the first iteration of the digital subscription service–all while keeping in mind potential expansions in the future, whether in physical retail, sponsoring athletic teams, or wearable tech.
"When I'm looking at athletic wear, there's chargeable potential, there's health potential because you're working out in the wear, there's tracking your steps," Lowe says. "So wearable technology is a space I'm really interested in for the future."
An earlier version of this story said that Tracy Anderson has signed on as a brand ambassador for Fitbox. That statement has been removed, as Anderson is not affiliated with the brand at this time.