The steps to make it to the top slot at a company aren't cut and dried. The current CEOs of the top 100 companies in the Fortune 500 have examples of both entrepreneurs and those who climbed the career ladder in a more traditional way. There's Jeff Bezos who started Amazon as an online bookseller in 1995, and Frederick Smith who launched FedEx. Then there's Tim Cook, who joined Apple in 1998 and worked his way up to CEO when Steve Jobs resigned in 2011.
Hard work and his or her own unique leadership style notwithstanding, the top CEOs have more in common than you might think. The team at JobApplicationCenter, an online platform for jobseekers in the retail, hospitality, and service industries, analyzed Fortune 500 rankings and public information about CEOs and came up with an in-depth look at the similarities among these successful leaders.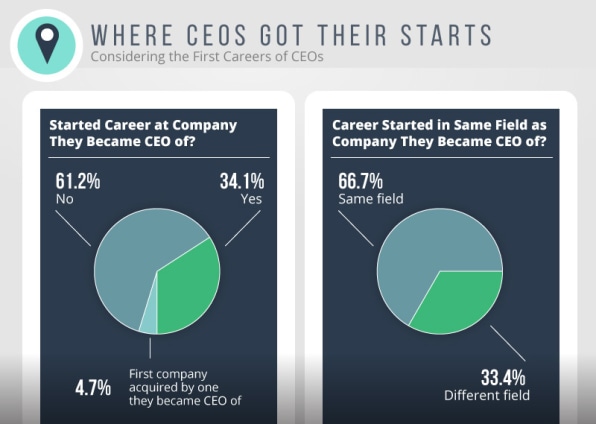 It's always inspiring to read about a CEO who started at the bottom rung of the company ladder. At Fast Company, we've chronicled the rise of Xerox's Ursula Burns from intern to CEO. Among the current CEOs analyzed in this survey, Mary Barra also started at GM in her student days. The second generation in her family to work at the automaker, Barra rose through the ranks and was named CEO in 2013. The position made her the first woman to head a U.S. auto manufacturer.
Other notable rises from low-ranking jobs to the helm of the same company include Rodney McMullen, who started at age 17 as a store clerk at Kroger, Dennis Muilenberg, who joined Boeing as an engineering intern in 1985, and David Abney, who began as a package loader for UPS at age 19.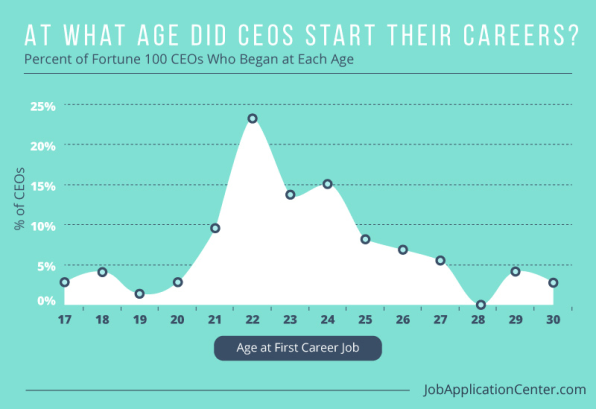 Perhaps because these CEOs are the product of a pre-Facebook era, nearly a quarter of them started their career climb at age 22, when most graduated from college. Ages 23 and 24 are almost as popular, claiming 14% and 15% of CEOs' first career jobs. Although there are no Fortune 100 CEOs who started at age 28, about 8% total were late-blooming entries into their career at age 29 and 30.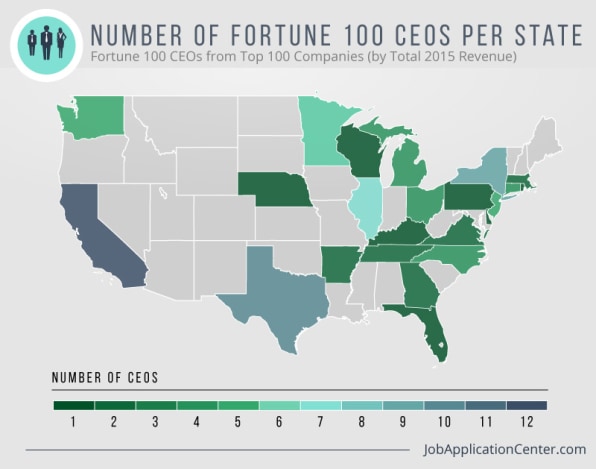 Just as we saw that location matters for jobs, startups, women-owned businesses, and LGBT-friendly workplaces, so it is for CEOs.
This stands to reason as nearly half (44%) of Fortune 500 companies call just four states home to their headquarters. California has the highest percentage of CEOs (thanks to Hollywood and Silicon Valley), with Texas coming in a close second with a proliferation of energy companies that serve both product and infrastructure. Rounding out the top locations are Illinois (agriculture and food production) and New York (financial services and telecommunications).
According to the report, "Twelve states actually have no Fortune 500 companies, including Montana, Wyoming, and Alaska in the West, as well as Vermont, New Hampshire, and Maine in the East. Why? Simply put, company leaders tend to gravitate to cities with major socioeconomic presence."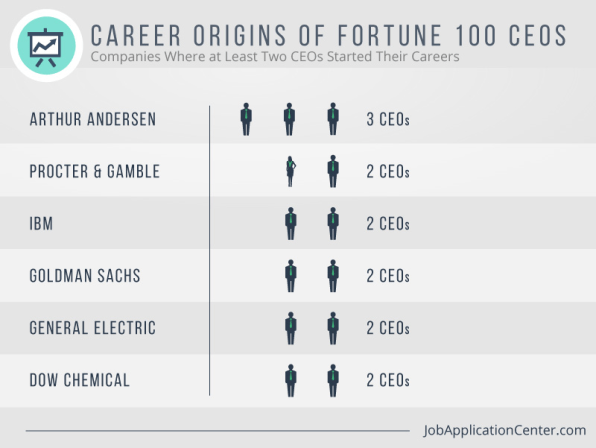 Some companies proved to be a breeding ground for leaders. Global accounting firm Arthur Andersen, for example, had the highest number of employees turned CEO. Three employees were named CEOs of other companies including DirecTV, Halliburton, and UnitedHealth Group. When he worked for Arthur Andersen, Dave Lesar's first client was Halliburton. He eventually became CEO of the oil-field services corporation.
The research team found that almost seven out of 10 began their career in the same field, while slightly more than three out of 10 started in a different field. Procter & Gamble's current CEO A.G. Lafley joined the company shortly after completing his MBA, while Meg Whitman, who started at Procter & Gamble as a product manager, went on to become CEO of Hewlett-Packard.
IBM and Goldman Sachs each hired two employees who left to become CEOs of other firms. General Electric and Dow Chemical also bred two CEOs each, including the ones who would lead these firms.
Another thing the top CEOs have in common is that they are mainly white men. Women and minorities are still woefully underrepresented in this list, no matter where they got their start. Only eight of the CEOs in the survey are female. In addition to Mary Barra and Meg Whitman, PepsiCo's Indra Nooyi, General Dynamic's Phebe Novakovic, Mondolez International's Irene Rosenfeld, DuPont's Ellen Kullman, Lockheed Martin's Marilyn Hewson, and IBM's Ginni Rometty ranked among the leaders of the companies in this survey.
This is likely due to a variety of factors, not the least of which is a thick glass ceiling that still doesn't make it easy for women or minorities to ascend to the top spot. As Sheryl Sandberg noted: "If NASA launched a person into space today, she could soar past Mars, travel all the way to Pluto, and return to Earth 10 times before women occupy half of C-suite offices. Yes, we're that far away."