What do we really know about how our always-on, tech-focused lives are affecting us? Not much, it turns out.
Scientists have conducted isolated studies about how our exposure to screens is affecting our bodies. Every few months, new findings trickle in. For instance, a New York surgeon recently published a study showing that tilting our heads forward to gaze into our phones is putting an average of 60 pounds of pressure on our necks, causing pain and misalignment. Researchers at the University of Exeter found that men exposed to radiation from phones experience a consistent drop in their sperm count. The Vision Council, a trade group, found that 70% of U.S. adults have experienced eye strain from exposure to screens.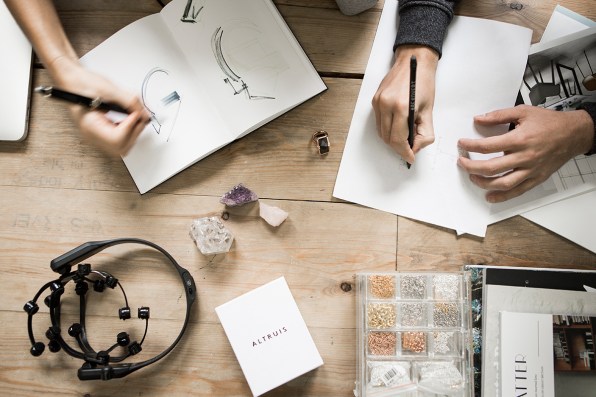 These insights are interesting, but what has been lacking is a systematic and ongoing analysis of how technology is changing us. Today, a lab is opening in London in the hopes of doing exactly this. The was developed by Kate Unsworth, the founder and CEO of Kovert (which has now been rebranded as Vinaya), a company that develops products and tools that help people manage their relationship with their devices. The three-story research facility is located in Shoreditch, a creative hub in the city, and opens up into a busy street full of cafes.
In early 2015, Unsworth raised a $3 million seed round of funding from U.K.- and U.S.-based investors to build this space out. "Early-stage investors are typically looking for a quick return," she says. "We specifically sought out people who bought into our long-term goal of doing in-depth research. We reached out to people who believe in our mission and were keen to understand the science behind how we relate to technology." The Vinaya lab will eventually use this research to create products that help foster healthy relationships with technology, which will serve as the organization's primary revenue stream.
So far, the team staffing the lab consists of six neuroscientists, an anthropologist, a philosopher, and a psychologist. These researchers will also have access to what Unsworth calls a "Brain Board" of experts from local universities who study things like sleep, ADHD, and artificial intelligence. (This list of collaborators is still in flux and will be announced in early 2016.) Unsworth says that finding the right people to bring into the lab has been her main focus in the last year. She's been tapping into universities and research institutions to find talent with the right kind of expertise for Vinaya. "We want to establish ourselves as a notable research institution," she says. "Finding the people that we want to be associated with our space and help influence the experiments has been our biggest challenge."
The space has been equipped with monitoring systems that track brain activity, heart rate, cortisol levels, and technology-addiction loops, allowing the team to collect data about the body during experiments. Occasionally, the Vinaya researchers will outsource experiments to universities and medical facilities that have bigger equipment, such as MRI machines. As the lab kicks into gear, Unsworth says that the first areas of research will focus on how technology impacts stress, depression, anxiety, sleep, and productivity.
Over the past two years, the Vinaya team has carried out initial small-scale studies in preparation for doing larger ones in the lab. For instance, they were keen to learn more about how individuals and businesses interact with email and to what extent digital communication enhances or hinders productivity and happiness. Eventually, they are hoping to understand whether there is a tipping point where email stops being useful and becomes counterproductive.
In an initial examination of 100 professionals across a range of companies, they found that 63% of respondents agreed that they spent a significant portion of their day responding to emails, and 41% felt they would be more productive at their job if they were expected to be less responsive on email. They found that the amount of time a person spent on email was not determined by the volume of email they had to deal with, but rather the expectation from their employer that they remain accessible at all time. The majority of respondents checked their email while on holiday and over the weekend, even when their inboxes were rarely full. Respondents agreed that this focus on email had become such a part of their everyday life that they often did not recognize how it was impacting them in harmful ways.
The researchers have also been studying human bonding by examining the importance of eye contact and in-person communication. This work inspired the creation of a viral video, "I See You." They have also been looking at how music can be a calming agent; their initial studies found that merely thinking about music changes our cognitive processes.
The third floor of the building has been converted into a large hangout space where the local community will be invited to spend time and attend specific events. "The space is stocked with books," Unsworth says. "It's supposed to feel like a college library where someone can pick up a book on a topic that interests them and dive into it."
Unsworth says that the Vinaya lab is also designed to be a space for public lectures and a spot where people from different disciplines interested in these questions can mingle and cross-pollinate. The lab will host talks by experts from a range of fields who will share their research. The goal will be to compile their findings into accessible content and reports to educate the public.
"We wanted to create a modern-day version of the Lyceum in ancient Greece, where Aristotle and Socrates used to hang out and learn from each other," Unsworth says. "We want people who come here to really begin to dig into each other's area of study, because experts in different disciplines don't typically have many opportunities to interact."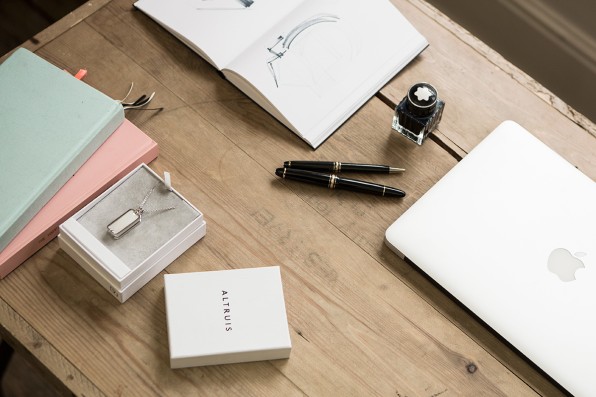 Part of the Vinaya lab will be a design studio for designers and product managers to develop products. So far, the team has already designed a piece of jewelry called the Altruis which, much like Ringly, helps the wearer field calls, text messages, and emails. Worn as either a ring or a necklace, the Altruis stone vibrates when a designated person tries to make contact, or when a specific keyword is used in a message.
"We see ourselves as a product company," Unsworth says. "That's really our speciality, and where we can add value." She points out that most of the research that takes place in the Vinaya lab would otherwise take place in academia, where it takes a long time for insights to trickle down into tools and products that can help consumers live healthier lives. "We want to bridge the gap between the deep research and consumer products," she says.
Unsworth says the design team is working on a range of other products, and that the next one to hit the market will not be a wearable device, but some other tool that promotes a more mindful relationship with technology.