Some things in the work landscape are slow to change. So it is with job hunting. People are forced to search for job postings using the same filters such as zip codes and titles that they were 20 years ago, argues Anthony Van Horne, founder of the site CareerLabs. The platform, designed for jobseekers to get inside information on the companies they're applying to, is now officially launching after six months of live testing with stealth beta tests.
Van Horne says that the idea was born years ago during the financial crisis. At the time he was working at Goldman Sachs and teaching as an adjunct professor at NYU. "So many students were coming to me with anxiety," he recalls, fearing their upcoming job searches wouldn't yield employment, or that the jobs available wouldn't be at companies that were a good fit for them.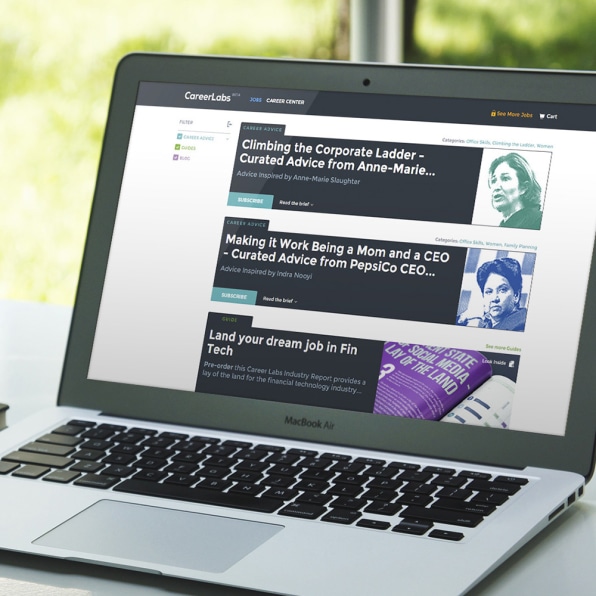 If there was a platform to provide a transparent look into a company's practices including management and compensation, as well as the more squishy areas like culture and work-life balance, and use those criteria to search for jobs instead, seekers could have a better picture of the business before they apply.
Now the recession has officially ended, and the job market is booming and twice as many employers are looking to fill jobs as there are applicants. Van Horne says the time has never been better to change the game for job seekers.
He also points to the New York Times' expose of Amazon's corporate culture. "Public perception is that it's this extraordinary place to work," he says. "And we found that's not the case."
The way CareerLabs works is simple: You sign up for free (you can use a Facebook or a LinkedIn profile) and start browsing job listings aggregated from other online job boards. CareerLabs layers in data on companies' financial health and growth prospects, compensation, health care, career progression, culture, and management, among other criteria, to show candidates as full a picture of the business and its staff as possible.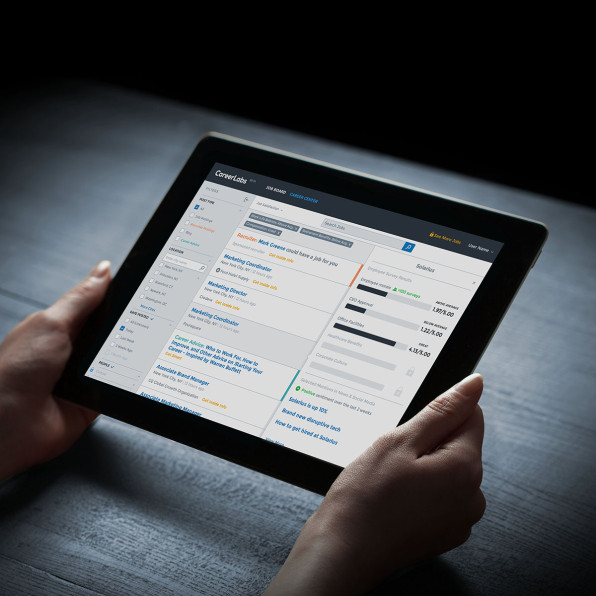 Van Horne tells Fast Company that CareerLabs currently tracks and monitors 70% of all U.S. companies, which amounts to over 22 million organizations, and gathered some 10 million data points. He says that though basic service is free, subscription packages offer more filtering tools. For $19 per month, you get added information such as whether a company sponsors workers from other countries. For $49 per month, "you get very heavy analysis tools that can penetrate and determine the growth rate of a company," for example.
Information on benefits is garnered from financial filings. Anytime a company has a 401K plan, for example, "a crumb of data is left behind with SEC, so we gather and provide quick index on that type of benefit," he says.
Getting inside information on company culture and morale is a trickier prospect. Platforms such as Glassdoor encourage current and former company staff to post anonymous reviews to help future job seekers know what the climate is like before they accept a job. However, employees with an axe to grind could skew results, or simply land on top of a pile of better reviews, obscuring the bigger picture for an impatient job seeker.
Van Horne says CareerLabs aggregates and analyzes data from employee sentiment surveys on culture, people, management, etc. directed at past and current employees, using thousands of data points to ensure only statistically meaningful results. CareerLabs's user base is primarily composed of urban and suburban job seekers between 25 and 45 years old, seeking jobs where they can earn between $70k and $150k.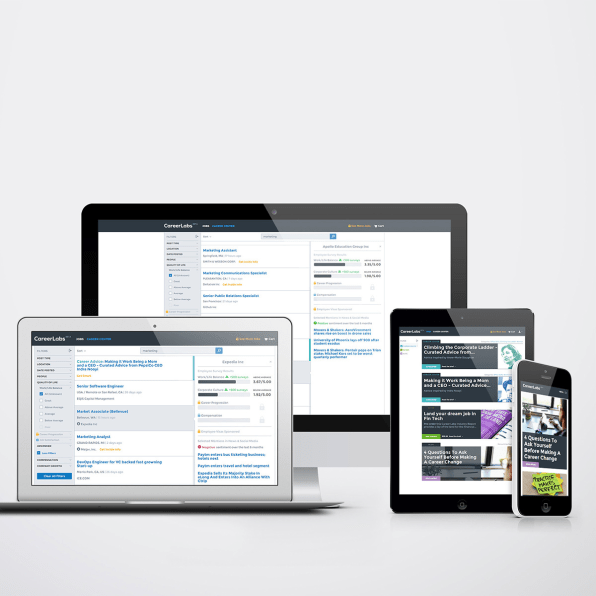 The platform also looks at aggregated employee political contributions to determine liberal, conservative, or independent-leaning culture. "Gathering insights on workplace harmony is also a very important indicator on culture," he explains. "Employee-employer litigation is one means we use to explore this dynamic." This particular tool won't be available until next year.
Van Horne says that the job seekers on CareerLabs so far are very interested in its work-life balance and financial-health filters. "As we engage with our beta users, we understand there is also real interest around understanding a company's maternity leave policies, gender and race diversity, and several other important matters," Van Horne explains.
So far, Van Horne says CareerLabs is experiencing better than expected month-over-month growth on signups as well as engagement. "We have several job seekers who have found employment using our application," he says. "Many are in general management, marketing, design, and finance fields."
Above all, Van Horne insists that big data is the antidote to walking into a job that isn't right. He believes that it could also illuminate the more shadowy sides of startups. Job seekers are planning to join what they think is a unicorn, he says, but instead might be joining a "unicorpse" where the environment is unhealthy. The data, he contends, can even show users places with declining morale.
"The number one thing for people in tech is employee morale and work-life balance, but they select companies that have dismal morale or work-life balance, because it is a brand-driven search," he says. CareerLabs should change that.