Director Sarah Gavron's new film, Suffragette, tells the story of the the women's right-to-vote struggle in Britain at the turn of the century. It's a period piece, but it's not glamorous or air-brushed–imagine Downton Abbey without the fine china and starched frocks. This was intentional on Gavron's part. The filmmaker, who got her start making documentaries, wanted to focus on the gritty, underbelly of the fight, which is told through a lowly laundress, Maud Watts (Carey Mulligan), who is awakened from her state of beaten-down, world weariness by a group of fiery suffragettes led by Edith Ellyn (Helena Bonham-Carter), whose character is based on the real-life women's right's activist Edith Garrud. Meryl Streep also makes a cameo as the regal Emmeline Pankhurst, another character lifted from history who coined the movement's motto, "Deeds, not words."
Yet for all the ways in which the film is steeped in history, Suffragette feels oddly contemporary. Women's equality, particularly in the work place, after all, has bubbled up as a hot-button issue recently, most notably in Silicon Valley and Hollywood. Gender inequality in the tech world is well-documented in the media, and in the entertainment industry the severe lack of female directors–last year women directed less than 5% of major studio releases–has prompted the EEOC to launch an investigation that could result in a government-led class action suit.
For Gavron, just the act of making Suffragette was an exercise that unwittingly became a political statement given today's environment. Not only did she choose to make a film populated almost exclusively by women, but most of the behind-the-camera jobs were also enacted by women, a very rare turn of events in Hollywood. None of this made making the film easy; indeed, it took six years to bring the project, which Gavron says "fell down once or twice in the process of financing," to the screen. As the film's screenwriter Abi Morgan has said: "A film that is fronted by an ensemble of women, and they are not being funny or romantic, is hard. That became a huge obstacle."
Gavron recently spoke to Co.Create about those obstacles; how she thinks women can overcome the gender bias in filmmaking; and how a bunch of T-shirts set off a media firestorm.
Co.Create: The issue of inequality for women has gathered so much momentum recently–how much of the current debate, and the issues in question, were on your mind as you made Suffragette and did it inform the way you approached the film in any way?
Sarah Gavron: "Well, it was interesting, because I'd been wanting to make this film for 10 years and ended up working on it for six years. And so things emerged as we were developing the script. In some ways, it has become more timely and relevant as that debate, or that conversation–about the lack of women in the film industry–has gathered momentum, more than ever, I think, since being in post-production. Obviously, it's something I'm very aware of as a female director. The inequity, you know, 1% to 10% of films a year are directed by women. So it's an unusual situation to be in.
"But I surrounded myself, I really found my champions in a way in people who supported the project. And we had an unusual number of female heads of departments, and obviously so many women on screen. So I've always been aware of it, but yes, I'm really excited that it's gathered so much momentum and that it's part of the conversation in a way that I don't think it's ever been in my career."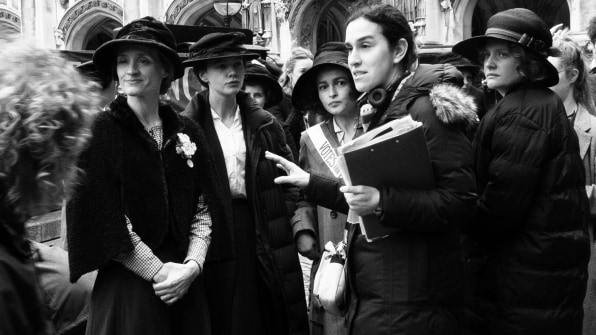 Has your own career been affected by a gender bias in the film world? Are there projects that you are sent or not sent because you're a woman?
"It's difficult for me to know whether the reason it's hard to make films is because it's hard to make films or because I'm a woman. But I'm certainly aware of how few women there are. I decided to, or dared, rather, to put myself forward, to train as a director, only because I saw other work by women directors. That was what inspired me. It was, kind of, If you can't see it, you can't be it. Role models were really crucial to my own journey. In my mid-twenties I was looking at the work of Mira Nair and Jane Campion and Kathryn Bigelow and others who made it feel possible.
As for projects being sent to me, "it's hard to know. Maybe. I can't say, in a way, because in the U.K. I've sort of carved out the kind of director I am and then you get sent projects that apply to you. And I haven't made that many films yet, this is my second feature, so it's hard for me to judge that. But I've definitely heard other female directors talk about that and how they feel. Yes, I'm sure it's part of the broader experience."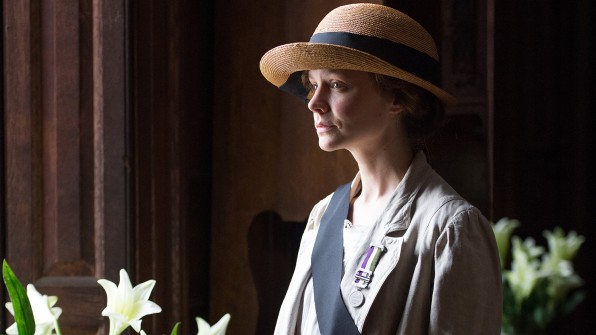 What's your advice in terms of how to change the conversation so that your sex isn't at all a part of your job or how you navigate the industry?
"I think that, one, it's about shifting perception and making people aware. What's interesting is the research that Geena Davis has done (at the Geena Davis Institute on Gender in Media) really reveals how it's an unconscious bias a lot of the time and people aren't even aware. You know, her unearthing figures like women account for 17% of the people in crowd scenes (in popular films). People wouldn't have noticed that. So I think it's about awareness and the conversation happening at the moment is certainly, it's hugely increasing awareness.
"And then I think it's about people proving themselves at the box office so that people have confidence in those films. But I also think anything that helps kickstart it is a good thing. My personal position is, I can only do what I can do as a director, but I'd like to really campaign for and mentor women coming up in the industry and get more women behind the camera. And more people of diversity, generally, but certainly more women."
Was your decision to hire women for most of the key behind-the-camera roles on Suffragette a conscious one or did it just unfold that way?
"It was a bit of both. We met widely for each crew member and we gravitated toward women. Looking back, they were absolutely the best people for the job, but I also think they expressed a passion for it, and it felt right. And it was certainly, upon reflection, a great thing to have that many women on the project. I think it made me more confident. We did have men who also contributed a huge amount, but I think it was important to redress the balance in that way. It was good for the film."
One issue that comes up a lot in the discussion about why there are so few female directors is children. Some argue that directing is physically demanding, all-consuming work that doesn't mesh well with family life. You recently had your second child and took some time off to be a mother. How do you resolve the work-family balance?
"It's never straightforward. The way I've managed it is that I've got a partner, David (Katznelson), we've taken turns is the way we've done it. So he's in the film industry, he's a cinematographer, and we've taken turns to work. Rather than both be on a job at the same time, we try to sort of time it. It's a constant kind of balancing act of working out how to do it. If I'm working, he'll take a job in London or a short job. Our choices are made with that in mind."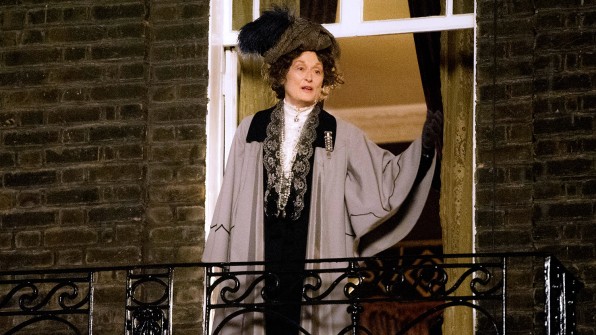 When Meryl Streep and other cast members recently appeared on the cover of the London edition of Time Out wearing T-shirts that said, "I'd rather be a rebel than a slave," it sparked an uproar. Even though that was a quote from Pankhurst, critics said that it belittled the plight of African-American slaves. Were you surprised by this reaction given the good intentions of the film?
"The first film I made, Brick Lane, was only people of color, and this film is working women. So my kind of mission is to put people you don't normally see on screen on screen. And while in the U.S. you had a very diverse (suffragette) movement, and you had women of color involved in key roles… we didn't have that story in the U.K. because we had tiny amounts of immigration, and the really richly diverse community we have now is only the result of immigration after the suffragette movement and the First and Second World Wars.
"We did have tiny pockets, there were two Asian aristocratic women involved in the movement, one of them was the god-daughter of Queen Victoria. But in the film we were concentrating on the marginalized, working women, that was the only reason for that. So I think it's important that people know the background. But what I hope is that by telling this very, very tiny, specific story of a 2.5 mile radius in London in 1912 that we speak to all women all over the world from all backgrounds and all cultures and that it gets out of the specific and becomes universal."