On the global scale, startups mean big business as they contribute to innovation, job creation, and economic growth. Recent estimates put small and medium-sized businesses at more than 90% of global enterprises.
And even though we know growing a startup is often fraught with challenges, many have broken out to become some of the largest, most successful companies of our time.
Who are the driving forces behind global entrepreneurship right now? Thanks to this infographic from online coupon database Coupofy's blog, we can get a better idea. Data from sources such as AngelList, Britannica, Forbes, and Inc. reveals surprising insights on which countries are the most startup friendly, where the fastest growth is happening, and who the most influential investors worldwide are.
Here are the results:

The U.S. holds the top spot for sheer number of startups, but keep an eye on Uganda. That country gets top honors for being the most entrepreneurial nation in the world, because research reveals that nearly one-third (28.1%) of its adult population is involved in entrepreneurial activities. Thailand follows close behind with 16.7% of adults starting businesses. Look for growth in the emerging economies of India and Brazil, where the number of startups has currently reached 2 million and 584,000, respectively.
Government support can go a long way towards giving a bootstrapping entrepreneur a leg up to get started. Singapore recently put $48 million into six venture capital funds, and Israel gave $450 million to seed funding and R&D projects.
Those who aren't located in a hotbed of startups need only apply for entrepreneur-friendly visas to countries like Ireland or Spain, which fast-track entry into their nations to assist startups. Canada, Chile, Denmark, and France all feature incubator programs to get startups going.

Unicorns can teach startup hopefuls valuable lessons in innovation and market disruption. Currently, the U.S. holds the dominant share of unicorns with companies valued at over $1 billion, including Uber, Airbnb, Palantir, and Snapchat. China's Xiaomi and Didi Kuaidi, and India's Flipkart also make the list.
The latest members of the unicorn club include Germany's e-commerce marketplace HelloFresh and France's Bla Bla Car, along with U.S. companies such as Stemcentrx (health care), okta (cybersecurity), and APTTUS (software).
But there's nothing so impressive as rapid acceleration through that billion-dollar door. Slack, Pinterest, Groupon, Xiaomi, and Webvan Group are all among the startups that went from founding to unicorn status in less than three years.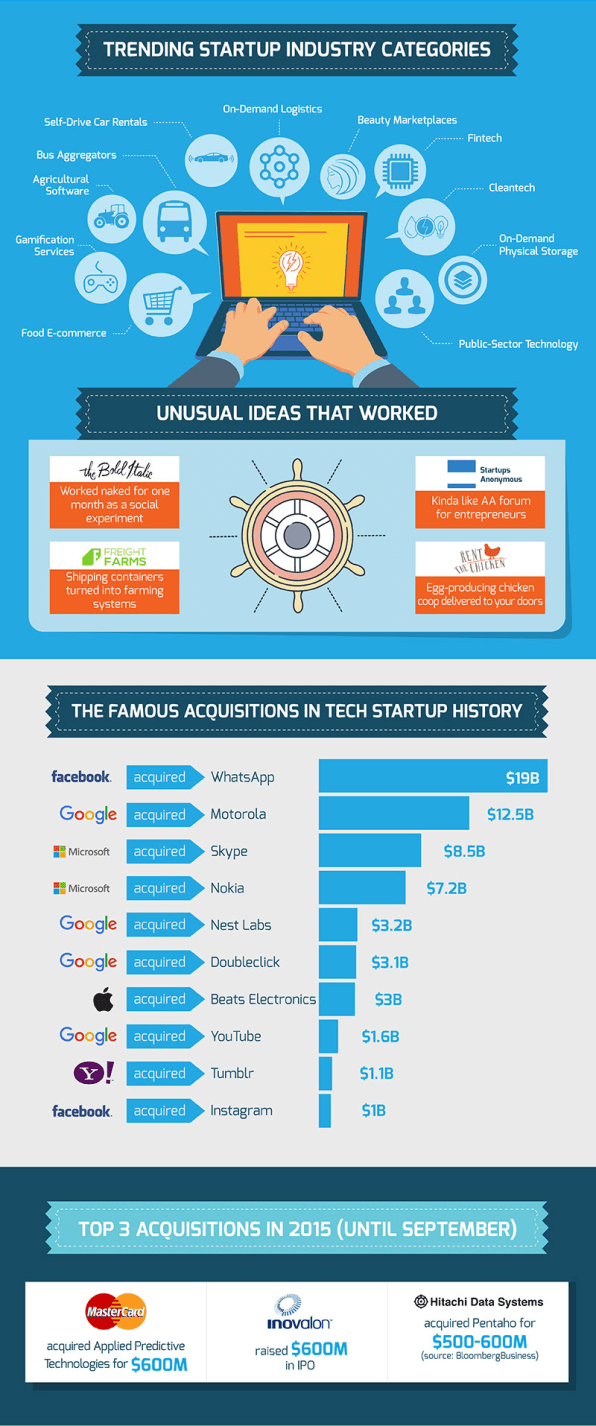 Many successful entrepreneurs believe you don't have to be first to market, you just have to be better at grabbing marketshare. However, some startups capitalized on an unusual idea to grow. Rent the Chicken delivers a functioning chicken coop to your door, while the founder of The Bold Italic worked naked for a month as a "bold" social experiment.
Sometimes those great ideas get snapped up by bigger organizations who no doubt had great R&D and still thought, "Why didn't we come up with that?" Among those were Facebook buying WhatsApp for $19 billion and Instagram for $1 billion, and Google's shopping spree, in which they acquired Motorola ($12.5 billion), Nest ($3.2 billion), Doubleclick ($3.1 billion), and YouTube ($1.6 billion).

Funding startups is one of an entrepreneur's biggest challenges. So when an angel investor comes into the picture, it's like a gift from heaven.
Angels flexing a lot of muscle include Dave McClure, a founding partner at 500 Startups, who's made over 600 investments, and entrepreneurs Scott and Cyan Banister, who made 252 investments. Syndicates such as the Tim Ferriss Experiment tops the list with 1,114 backers who invested $5.8 million in e-commerce and consumer Internet companies.
Now that you know some of the more surprising statistics surrounding startups, you may have a different view of taking your own step into the entrepreneurial waters.