Thanks to companies like MakerBot and FormLabs, consumer 3-D printing has taken off in a big way. But while everyone dreams of owning a Star Trek replicator, there's a big piece of tech missing from the equation: a consumer 3-D scanner, capable of cheaply and efficiently digitizing physical objects to be distributed over the Internet and recreated in the home. That's about to change, however. Eora 3D is a new scanner that uses your smartphone to create 3-D models of anything you put in front of it, while matching the quality of industrial 3-D scanners that cost 100 times as much.
Before the Eora 3D even existed, the guys at Eora 3D had a problem. Mechanical engineers by background, Rahul Koduri, Asfand Khan, and Rich Boers were trying to design a device that could reflect the sun's rays into a powerful single point, with the intent of generating electricity. So they designed a parabolic dish, and then sent it off to Singapore to be manufactured. When it came back, the dish didn't work.
"That left two options: either the parabolic dish hadn't been manufactured properly, or our software was wrong," says Eora 3D's head of execution and strategy, Rich Boers. There was only one tool out there that could tell them what had happened: a 3-D scanner. But when Boers and his partners, Asfand Khan and Rahul Koduri, went to try to buy a 3-D scanner, they got sticker shocked: it would cost their tiny startup $20,000 to buy the 3-D scanner they needed to diagnose the problem.
As engineers, Koduri, Khan, and Boers decided to try to cobble a 3-D scanner together, using random parts, their smartphones, and some open-source libraries. The trio were surprised when their Frankenstein prototype produced results pretty close to what a $20,000 3-D scanner were going to do, allowing them to diagnose the problem with the parabolic dish. (Singapore had screwed up.)
"We asked ourselves: what would happen if we tried to design a 3-D scanner properly?" says Khan.
The Eora 3D is the result. Don't confuse what the Eora 3D does to something like iPad-mounted scanner though. The latter is a low-fi, camera-based scanner, good for augmented reality and motion tracking, but little else. The Eora 3D is a lot more sophisticated.
A sleek cylinder of anodized aluminum, topped by a cycloptic green eye, the Eora 3D works by bouncing a highly accurate laser off the surface of an object, while your smartphone measures the way the beam refracts. Together, this approach can capture a digital model of a physical object precise down to 100 microns, or about the size of a grain of sand. An optional, Bluetooth-controlled turntable rotates the object for you while the Eora 3D scans, but it's not mandatory: you can also just move the Eora 3D around the object you're trying to scan, a process Khan describes as being similar to taking a panorama.
But how can a sub-$300 3-D scanner like the Eora 3D possibly stack up to a $20,000 scanner? "In the same way 3-D printing has existed for decades but has only become a consumer concern in the last few years, 3-D scanning has been around for a while, but there's been no focus on the mass market," explains Khan. "The companies making them relied on a lot of legacy components to focus on a low-volume, high-margin business model. We decided to go the other way."
A lot of those "legacy components" were things like dedicated computers and industrial cameras, but in the last few years, smartphones have become powerful enough to do all the photography and processing needed for 3-D scanning without dedicated equipment. This allowed Eora 3D to put all of their money and focus on software and that green laser–the one piece of hardware your iPhone doesn't have.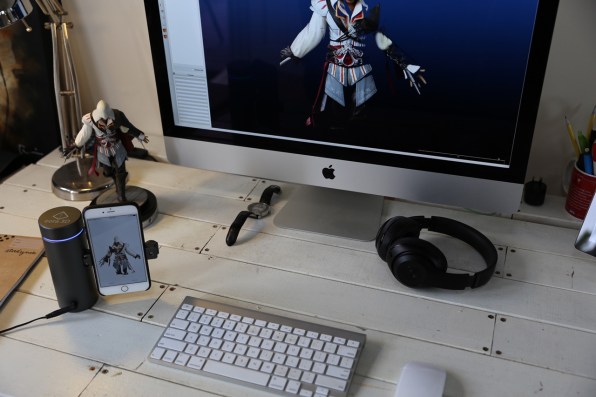 3-D printers have an obvious Star Trek allure: the ability to replicate physical objects on demand. But is 3-D scanning really ready for the mainstream? Khan thinks so. Unless you have technical skills, creating a new design for 3-D printing is a sophisticated process that requires the mastery of some pretty hardcore software. An affordable, consumer 3-D scanner opens the door for making 3-D printed objects as easy to replicate as placing them in front of your smartphone; creating new designs as intuitive as taking out some clay and scanning the results. And Eora 3D says that it's not just makers who are interested in their device. They've been getting a lot of interest from museums who want to digitize their collections. VR is taking off in a big way right now, and many museums are interested in digitizing their collections, to recreate the museum-going experience on platforms like Google Cardboard and the Oculus Rift. Eora 3D gives them an affordable way to do so.
Eora 3D's solar energy project might be on hold for now, but the scanner they spun out of it is doing extremely well: in less than 24 hours, it blew through its crowdfunding goal, and is currently sitting at $250,000 worth of pledges with 28 days to go. You can order one on Kickstarter starting at just under $230.