So how do you bridge that great divide, and reach those intimidated by science, or swayed by political, religious, or trendy beliefs about climate change, women's bodies, the age of the universe, and vaccines, to name a few.
"Science literacy isn't just how much you know, but how much your brain is wired for thought," says astrophysicist Neil deGrasse Tyson. "If science had been taught that way, I'm pretty sure you couldn't, as an adult, cherry pick scientific results according to your political, cultural, religious, economic, or social philosophies, because you won't see it as a body of information that you've attached yourself to. You'll see it as a way of thinking."
One of his efforts in that mission, the Emmy-nominated StarTalk returns for its second season October 25 on the National Geographic Channel, with Bill Clinton as his first guest. A combination of pop culture, academics, and humor, the hour show tries to get people to consider science in a new way.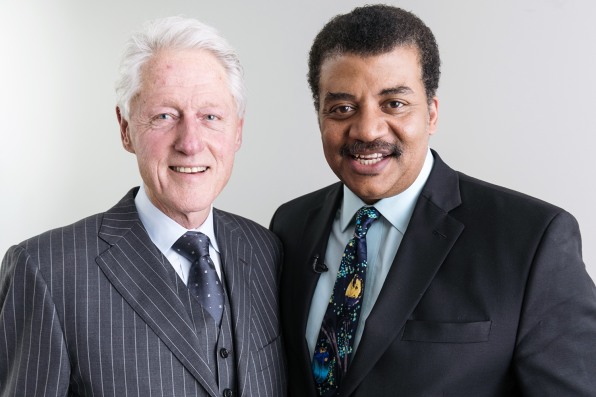 It's a recipe that sprang from experimental honing over six years of Tyson's National Science Foundation-funded satellite radio show of the same name.
"StarTalk is the product of intensive exploration in the ways people would best receive science content and literacy," says Tyson. "We explored all the ways that could, might, didn't work, could work better, did studies, focus groups, and what emerged is this blend of science and pop culture, with comedy for flavor. It's a tapestry of these three threads, and at the end of the show, we've made a quilt."
Tyson conducts an initial interview with a celebrity—after Clinton, season two continues with Larry Wilmore, Seth MacFarlane, Penn and Teller, David Byrne, Susan Sarandon, and Mars One's Bas Lansdorp—to learn how science factored into that person's life. He and his production team then look for scientific hooks within that interview, and bring in an academic expert for a more grounded scientific discussion in-studio. Each show, shot with an audience in the Hall of the Universe at the American Museum of Natural History in New York, features a comic for levity, other related guests via Skype, and short videotaped bit by pal Bill Nye, the Science Guy.
"The pop culture is the scaffolding on which we place the actual scientific discussion, and viewers may learn about science in ways they never thought of before," Tyson says. "It's a very different model from, for example, NPR's Science Friday, where the focus is a science topic, with scientists being interviewed by a journalist.
"We have many of the same trappings of your traditional nighttime talk show, except we take it to a whole other academic place," he adds, "and you learn about the secret geek underbelly that these actors and musicians might have."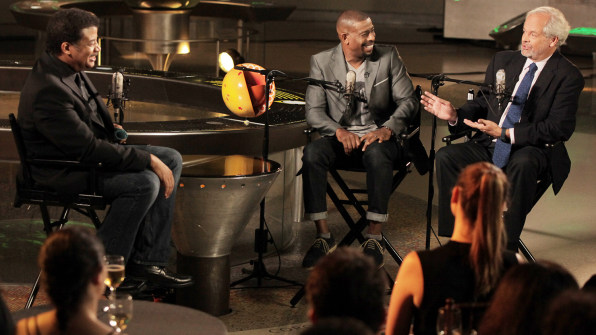 Tyson believes pop culture is not only a gateway to introduce more people to science and its possibilities, but a gauge of rising interest in the subject, despite jaw-dropping gems from political leaders and pundits suggesting otherwise.
"There's evidence that science is trending—the popularity of the NASA missions, blockbuster movies where science is a driving force, award-winning biopics about scientists, like The Theory of Everything, Steve Jobs, and The Imitation Game," says Tyson. "I'm told there's one in the making of Carl Sagan. That couldn't have happened unless there was major studio confidence in financial returns. The Big Bang Theory is the top show on TV. Comic-Con has hundreds of thousands of people attending each year, when it used to be a sleepy event that only a few weird people attended. I have 4.5 million Twitter followers. How the hell did that happen?
"So how long can you have politicians deny science in the face of science trending?" he adds. "Not long, when you look at the demographics of who's leading this science enthusiasm. It's the people 35 and under. They're leading the country in socially progressive attitudes. They're just not old enough to run the country yet."
"In terms of politicians denying science, it's a free country, they can deny what they want," says Tyson. "But their getting voted into office in the face of that denial means there's an electorate that feels the same way. So the issue should never be about what the politician thinks. To me, the issue is how has science been taught in schools—as a body of information [as opposed to] a way of querying nature, thinking about what works in this world, filtering what is true from what is claimed to be true, but isn't, and vice versa. But if you're not quick to think of the world that way, you are not equipped to evaluate or establish policy related to it."
"And, by the way, there's plenty of anti-science to go around," Tyson continues. "While liberals may be quick to label conservatives as anti-science, the anti-vaccine movement or new age thinking in terminal medical care centers in left-leaning communities, which rejects scientific consensus.
"Scientific consensus doesn't mean everyone agrees," he adds. "It means the overwhelming majority of scientific experiments and observations agree. That's sufficient enough to declare an emergent scientific truth. My claim is if science were taught the way I described, it would change both sides of that equation."
UPDATE: Tickets for Tyson's 2016 live multimedia tour go on sale November 6 at www.neildegrassetysonlive.com