If you ask Josh Thomas to describe his dramedy Please Like Me in three words or less, he comes up blank.
"I'm sorry. I'm a letdown. I'm a disgrace," says the Australian comedian. "I'm just baffled. There are no words or themes that come to mind."
That might sound like a vote of no confidence coming from the show's creator, writer, and star, but Please Like Me, which premieres its third season Friday night on millennial-centric cable network Pivot, can't be neatly summarized. Much like other semi-autobiographical series (think HBO's Girls or FX's Louie), Please Like Me doesn't readily fit into straightforward comedy or drama designations. Take the overstuffed pilot, which opens with main character Josh realizing he's gay because his girlfriend tells him so, and ends with him moving in with his mother following her failed suicide attempt. From there, the series is a balancing act of high highs and low lows, true to the lives depicted by the characters in each episode.
So when Thomas struggles to find the right words to describe a show that opts for the relative mundaneness of everyday living rather than Breaking Bad-style dramatic arcs, you can't blame him. "There are never any themes," says Thomas. "Just people trying their best."
The same can be said for 28-year-old Thomas, who spent six years workshopping the show from old stand-up comedy routines and life experiences before watching it get switched at the last minute from the Australian Broadcasting Corporation's main channel to the younger, smaller ABC2 channel. What might have looked like bad news at the time ultimately led to Pivot, Participant Media's new cable channel, taking notice and ordering a second season as part of its launch lineup. Please Like Me's realistic portrayals of LGBT relationships and mental health made it a natural fit for the socially-conscious network, even getting a third season renewal before the second one had aired.
Since then, the show has racked up its share of strong reviews as well as a few award nominations, including one for the International Emmy for Best Comedy Series. But critical praise aside, Thomas's focus is and always has been writing as much as he knows and doing it as honestly as possible. That concern with authenticity (who couldn't relate to Josh asking his parents for money or spending too much time on his phone on a date?) is a key part of what makes Please Like Me one of the most relatable shows on television.
This year, however, might represent something of a turning point for the series, which finds Josh and his friends continuing their begrudging transition into adulthood. In a season three promo, one character proclaims, "This is it. We're not practicing anymore." The sentiment might carry some weight with Thomas, who also found himself in new territory this season, as he stopped pulling on personal details for his scripts. "We went in with nothing. We used up all our life experiences," he says.
The changes are subtle and reflective of the way twenty-somethings trudge toward maturity, a process Thomas describes as one big moment of progress followed by several setbacks. While the second season had Josh celebrating his newfound growth after finishing a roll of dental floss, the third season deals with bigger triumphs. "Josh definitely feels a lot more mature now," says Thomas, though he's quick to note that Josh will likely never be entirely grown up. "He's nicer to his dad. He puts in more effort with people. I think he's a bit less selfish."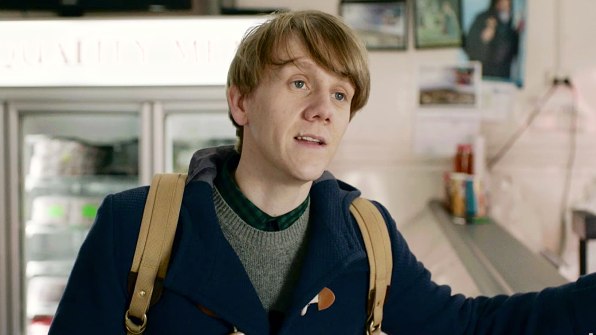 Off camera, Thomas's writing inspiration may have changed, but there aren't many other growing pains. He still doesn't think too much about ratings, nor does he give much thought to treating American and Australian audiences differently, save for a few chocolate bar references Americans might not understand. His measurement of success, then, comes from answering three questions: "Is it believable? Is it entertaining? And have we seen it before? And you want to answer yes, yes, and no."
This season also marks Thomas's directorial debut on the fourth episode, which required him to step in when series director Matthew Saville had to take a week off to work on another project. "I didn't want someone with their thoughts and their way of doing things coming in, so I did it," he says. And though he says the crew babied him and had to explain basic camera guidelines repeatedly, he wouldn't mind the experience again.
For now, Thomas is focused on growing his characters as truthfully as he can. While he says it would be easy to kill off a character or to have Josh make several horrible choices for dramatic tension, the harder act is having everyone straddle the fine line between likable and "awful." And though he's already killed off two fan favorites in the last two seasons, he's more concerned with creating three-dimensional young people, ones that will inevitably make a misstep or two. "I think it's key to try and make sure that if someone's being a dickhead, you understand why they're being a dickhead,"says Thomas. "Because nobody is wholly bad. Nobody is trying to be mean."
A fourth season hasn't even crossed Thomas's mind, considering the other day he just gave final approval to the season three finale, the 26th episode in the series. His next stop is a break in Mexico, where he'll bounce ideas around with Tom Ward, who writes and plays Josh's best friend on the show. If the ideas are worthwhile, they'll do another season. Otherwise, they won't. "I just want to make sure it's going to be good before I say yes to it," he says. "Not that many people agree with me at work. They want me to lock it in so they're employed again."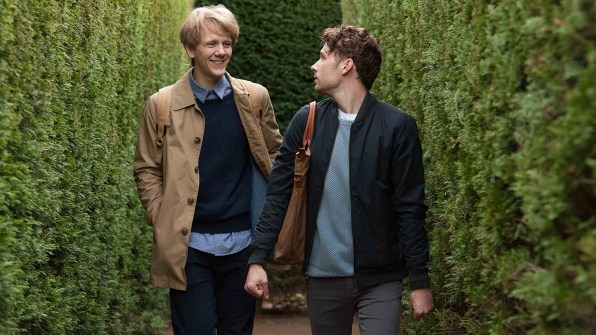 The goal is to find more ways for the characters to grow up, to advance each storyline naturally and to strike a balance between everyday routines, like going on a date or getting dinner with friends, with the bigger milestones—a balance that makes the show so universal.
So when it comes time to revisit those elusive three words to describe Please Like Me, Thomas takes a moment's pause before finally landing on two.
"Ferris wheel," he says. "We go to a ferris wheel in one episode. But that's not a very thrilling teaser, is it?"