Heretofore I have skipped recapping the recap segments, because it seemed redundant. They're great for longtime fans of the show, but there's no tension in seeing how well Barbara's popcorn company is doing.
This week is different. Because after the founders of a sock-subscription company called Foot Cardigan dance a jig out of the studio, Kevin "Mr. Wonderful" O'Leary tells us in his recap that he loves "love" and introduces the purest expression of it: A highly exploitative, but frankly brilliant, business plan.
O'Leary, in that classic rich guy relaxation-mode uniform of billowing luxury dress shirt opened two buttons deep, is a marriage officiant and we see him preparing to marry some friends on Nantucket. And what better way to express his love than to invite three of his Shark Tank investments—the wedding registry site Honeyfund, Bottle Breacher wine openers, and Wicked Good Cupcakes—to market to the happy couple and their guests.
As Mr. Wonderful explains, these companies are going to become part of the Something Wonderful platform, and his "plan is to make a huge dent in the wedding industry." Then he instructs the six (!) entrepreneurs he just invited to the wedding to get dressed for the occasion. I can't remember if the officiant at my wedding even brought his wife, though I'd definitely recall if he brought three companies he'd invested in to turn my wedding into a native ad for his new business idea.
Cut to: Mr Wonderful performing the ceremony (in a different rich-guy dress shirt opened perhaps one button too many) and the joyous attendees celebrating a union of two people in love. Kevin has barely finished saying "You may kiss the bride" when his voiceover kicks in. "You know what I love about love and weddings? It's the one time in your life when you're completely irrational about price." Later in the show, he seems to contradict this by saying there are three moments in live in which you're immune to price gouging—birth, weddings, and death—but I'll give him the benefit of the doubt here. I have no idea what my funeral is going to cost, especially if my family can get Mr. Wonderful to deliver the eulogy.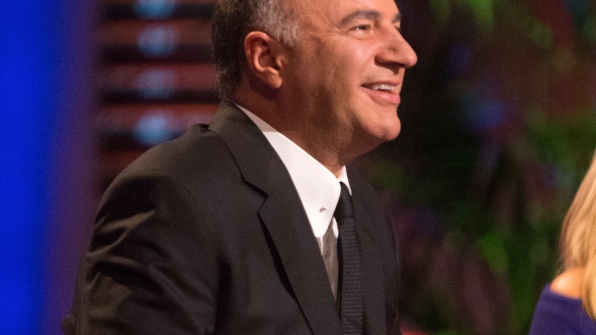 I got married 10 years ago this month, and the most vivid memory I have from wedding planning—aside from the cake tastings—was the sticker shock. Tell any vendor you're getting married and their prices immediately skyrocket 10x. Sure there are people who lose sight of costs when planning a wedding. I was sorely tempted to buy a cake that cost $12 a slice until I recovered from my raspberry genoise-induced haze. But my wife and I quickly learned to lie wherever possible and just tell companies we needed those flowers or all that barbecue for a party rather than a wedding.
Kevin has this all figured out. He sees a natural synergy here to bundle and co-market several of his investments together, and he wants to grow the Something Wonderful platform to be worth hundreds of millions of dollars. This is a brilliant idea. My wife and I had a World's Fair-themed wedding and had to source all the memorabilia that accentuated our decorations off eBay. But if you're into Shark Tank, it's going to be a lot easier going to Mr. Wonderful than Staples, Bed Bath & Beyond, and other big-box stores to get everything you need.
We see how this is going to work two segments later when the Two Guys Bow Tie Company comes out selling wooden bow ties, pocket squares, lapel flowers, and fedoras. These two guys, one of whom is not wearing a bow tie (unforced error), look suspiciously like the two sock entrepreneurs from the beginning of the show so at first I thought Foot Cardigan was just back for more cash with a front business. The wooden accessory strikes me funny, but I'm pretty sure that when a friend messaged me after the show that "I just ordered a product featured on this week's episode," this is what he bought, so maybe it's sort of cool.
Kevin jumps into the action rather early, noting that this would be a great fit for "Mr. Wonderful's Platform of Love," to which Lori can't help but gasp, on behalf of the American people, "Oh God." He wants a higher equity stake because he can offer a lot of value. After all, if the Wicked Good Cupcakes are served at a wedding for dessert but somehow the caterers forgot to bring spoons, guests can use their wooden bow ties as scoopers. Or if a disgruntled ex-boyfriend crashes a wedding and tries to stab the groom in the neck or heart with one of those bullet-shaped Bottle Breachers, the Two Guys Bow Tie or pocket square should protect him. (Maybe these guys should expand into kevlar accessories, though, just to be double safe.) This is the kind of expertise Kevin can offer and the benefit that being part of the Something Wonderful platform can provide.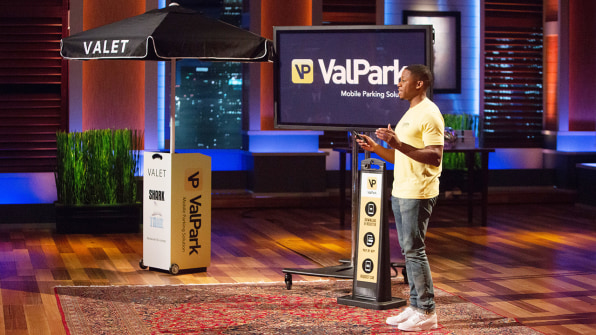 All I want now is for every pitch to get shoehorned into the Something Wonderful platform. Those Foot Cardigan socks? Groomsman presents. The "Uber for valet parking" app ValPark that immediately followed the Something Wonderful introduction? That's a natural for weddings in locations without enough lot parking.
Alas for Mr. Wonderful, Daymond gets the wooden accessories deal, because he wasn't as greedy to get a piece of sales as Kevin. That's the fundamental challenge of creating a platform: Are you willing to make it attractive enough for your partners to make a living knowing that you'll ultimately benefit too, or do you extract a steeper tariff and risk alienating them once they have somewhere else to go? This is the delicate balance we've seen Apple, Google, Facebook, Snapchat, Etsy, and many other tech platforms wrestle with. If Something Wonderful is going to pay off big as a platform, Kevin needs to think longer term.
My faith in Kevin's business acumen is restored at the end of the show when he kisses off the family making lip balm for the bridge of your glasses to keep them from sliding down your face by saying, "You're dead to me." He's right: The couple making NerdWax is already married with three kids. When can Mr. Wonderful get his hooks in? After they're dead.
---
Apologies to Troy Carter and the community of venture capitalists who enjoy boldly patterned socks: I had many thoughts about both Troy's performance and the Foot Cardigan segment. Ask me on Twitter @davidlidsky.