Since the early 2000s, French artist Benjamin Gaulon has built his career on revealing the faults in some of today's most popular consumer devices. He and a friend once wrote display-scrambling software that numerous people have downloaded onto showroom computers inside Apple Stores while filming customers' bewildered reactions. In another project, Gaulon ceaselessly trawled eBay for defunct Amazon Kindles, signed the backs of them, and put them back for sale on Amazon. Though his projects border on the rebellious, Gaulon also manages to celebrate technology's possibilities.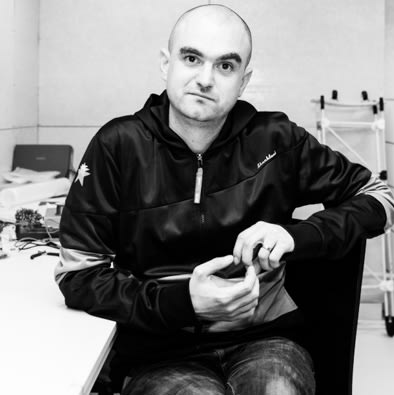 So as Gaulon's wayward niche started to evolve, he gradually nurtured a parallel academic career in teaching technology that institutions of higher education have come to respect. Today, Gaulon is the program director for art, media, and technology at Parsons Paris, The New School's longstanding art and design school in Paris. Since joining Parsons Paris in 2013, Gaulon has attracted globally respected artists as adjunct faculty and helped institute degree programs in technology that distinguish Parsons Paris from its sister institution in New York, all while continuing his own exploits in the art world. It seems that for Gaulon, educating future creators serves the same purpose as his subversive artwork does, to sustain a dialogue about the significance of today's technology.
---
Increasingly more American universities are opening international branch campuses that teach the home university's curriculum in the foreign country and confer degrees from the home institution. The Cross-Border Education Research Team reports that as of this summer, U.S. universities have opened 81 international branch campuses, far more than any other branch campus exporters in the U.K., Russia, France, and Australia. Globalization is rapidly expanding the educational market, which IBIS Capital estimated as a $4.4 trillion market in 2013.
Yet Parsons opened its school in Paris decades before other universities started to move their campuses abroad. When it opened its art school there in 1921, it became the first American college in any discipline to establish a study-abroad program in Paris. Parsons Paris continues to make a unique proposition on the educational market with its technology-infused curriculum from one center for art and fashion to another. It has three bachelor's and four master's programs, and since it reopened in 2013 after a three-year reorganization, the school has grown to 150 students across all programs. Susan Taylor-Leduc, dean of Parsons Paris, says she expects to admit 50 more students next year.
---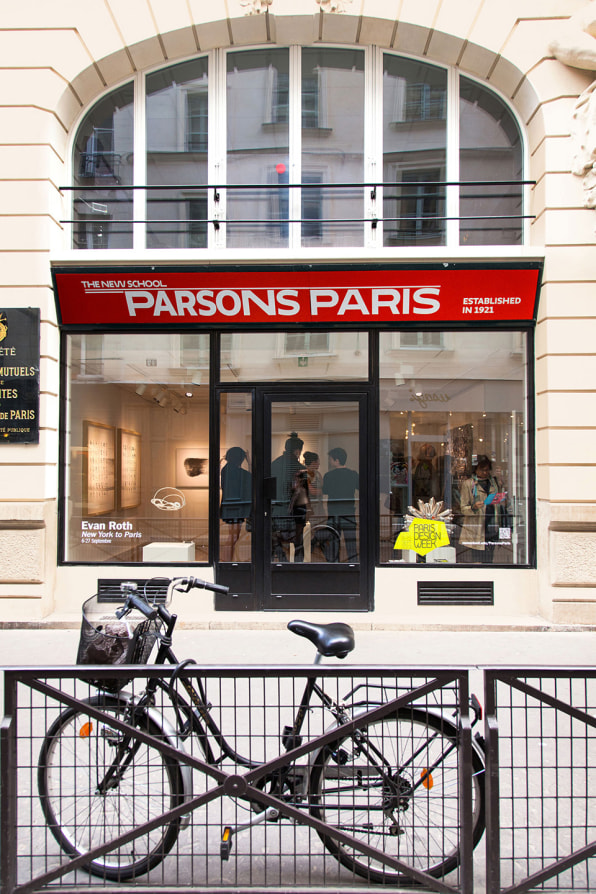 The things that make Parsons Paris special became tight constraints on Gaulon's quest to build his team of adjunct faculty for his specific programs. He had high standards for finding local talent that not only embraced The New School's New York essence, but could also leverage Europe's cultural resources.
"In France, to find people who can teach well–and in English—is hard to find. Most of them already work with me," Gaulon says. He knew that the search for excellent academic talent was global, so he reached out to his network across Europe and North America.
The people Gaulon has helped hire at Parsons Paris are quasi-luminaries in the digital art world. Digital artist Chris Sugrue coteaches a master's studio class with Gaulon. And Alessandro Ludovico, chief editor of the new media arts criticism magazine Neural, helps mentor Gaulon's master's thesis seminars. Next semester, the globally renowned digital artist Evan Roth, who also happens to be Gaulon's studio mate, will teach a course in Gaulon's BFA program called "Internet Landscape" for the first time.
Both Sugrue and Roth are graduates of Parsons's MFA in Design and Technology program in New York. "It's super-nice to have them here to get a bit of the spirit of New York in Paris, but with our own flavor and old style," Gaulon says.
He has gathered a multinational group of programmers, photographers, sound performers, publishers, DIY electronics people, and what he calls "urban hackers." Out of Parsons Paris's more than 50 faculty members across its four main programs—fashion, design history and criticism, and design strategy comprise the other three—Gaulon has chosen 13.
---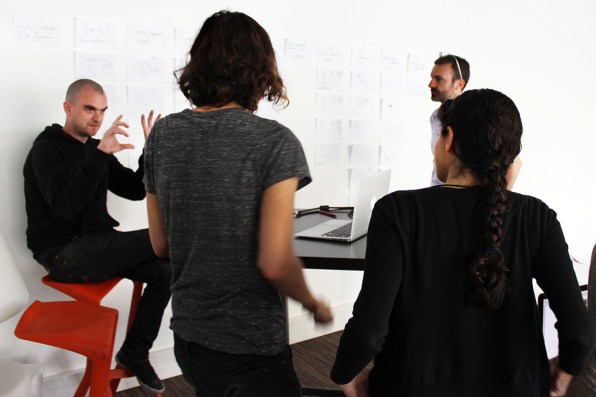 Gaulon spent more than a decade away from his native France to earn his MFA in the Netherlands and then explore the creative scene in Dublin. While teaching in an arts graduate program at the National College of Art and Design there, he heard about an opening at Parsons Paris through some friends. He says being French strengthened his application, but by then, his professional network was almost exclusively non-French. Gaulon's global network ended up being what Parsons was looking for.
At Parsons Paris, Gaulon created his bachelor's program, the BFA in Art, Media, and Technology, "basically from scratch." It is only available in Paris and not at Parsons's New York campus. And he brought Parsons New York's popular MFA in Design and Technology to Paris last year.
"People are creating their own software and hardware and really developing new types of technologies, researching what it means to work with technology today on a theoretical and practical level," Gaulon says of his students. The programs teach electronic programming and creative research around art and media technology.
The curricula that Gaulon helped design are exceptional to what's on offer at virtually all French art schools and most similar schools internationally. The competition to Parsons Paris's art, media, and technology programs, he says, is largely global, counting programs at New York University's Tisch School of Arts and the Royal College of Arts in London as competitors.
Last year, the first pair of master's students to finish Gaulon's new MFA program showed their graduation projects at a dedicated digital art gallery in Paris. Both of the students were women. He recognizes that women dominate his classes and strives to have his faculty reflect that gender makeup.
---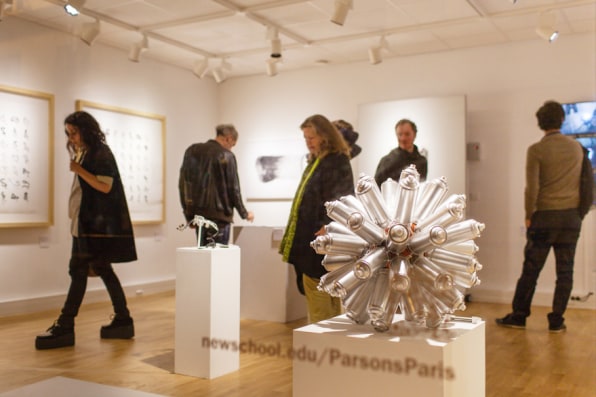 Gaulon is constantly struggling to find a stationary point in the interplay he sees between technology and art. He wants his fellow faculty and students to also try to interpret this exchange. Sometimes, he says, he's not sure that there's one teacher out there that can fit his singular vision. Perhaps that person doesn't exist yet.
He encourages his students to keep an open mind when learning new concepts of art and technology in his classes. "Some of my students say, 'I think I should be focusing on doing something that I can do as a job.' I tell them that this is the time to really ask the big questions."
This month, Gaulon's 2.4 GHz project will start showing at the ZKM Center for Art and Media. Later this month, he'll collaborate with art colleagues at the School of the Art Institute in Chicago. And in November, he will show at the Utah Museum for Contemporary Art in Salt Lake City. Gaulon's students in Paris aren't the only ones who can learn something from his hacker ethic.