The people of Filson have a saying, that the brand's territory is anywhere the salmon can swim. Since 1897, the company has been outfitting the more rugged types of the Pacific Northwest, starting with gold miners, then forestry workers, and on to outdoorsmen of all stripes, including hunters, fishers, sports shooters and travelers. Over the last decade, the brand's territory has expanded to just about anywhere a guy can grow a beard, championed by a certain set of consumers looking for a classic, made in America authenticity, along with other heritage brands like Red Wing, Pendleton, Carhartt, and more.
From swinging axes with real lumberjacks to hanging bespoke axes on the wall with the urban variety, the brand has ridden the heritage brand wave with very little marketing, relying on word of mouth and product quality to get the word out. Now Filson is ready to start telling its story louder than ever before.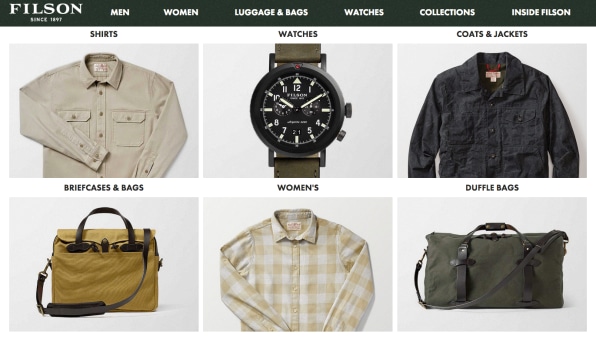 Over the last year and a half, the company brought in Alex Carleton (Rogues Gallery, LL Bean Signature) as creative director, and Gray Madden (Burberry Watches) as the brand's new president. They've recently unveiled their first campaign along with a new fall catalog, and in November the brand will launch a new flagship store at the Filson HQ in Seattle.
"Filson has been in business for more than 100 years, but we're just starting to really tell the brand's story," says Carleton. "My job isn't to make things up, it's about creatively showing and telling the stories that exist here."
It's a rare thing for a brand to last for 118 years, let alone to do it with its identity still intact. "So many brands get messed up along the way, and this was just a great, quirky brand that needed some love and attention," says Madden. "We have to make sure the people who love us will still love us, and find additional consumers as well. But it's not that difficult a puzzle because we're just going back to what the company does well, which is the quality. It's about not just outfitting for the outdoors, but for the spirit of the outdoors. So guys on the train with their briefcase still have an idea of an adventurous spirit."
The plan is to use the legacy of the brand's long, storied history to chart its future. Here's how they plan to do it.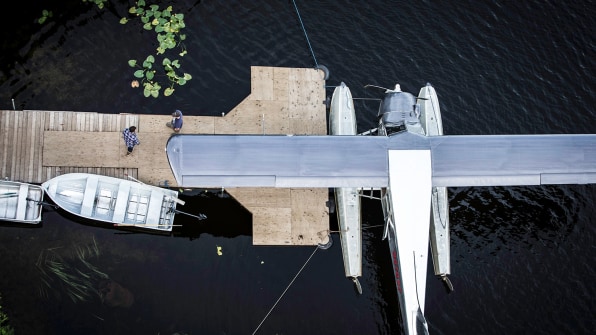 As simple as it sounds, Carleton says one of the primary challenges the brand has given itself is to do a better job of just getting its story out there. Even for him, a guy whose career is steeped in heritage and outdoor brands and style, before making the move to Seattle, Filson was largely a well-respected mystery.
"It wasn't something done with much intent in the past," says Carleton. "And the idea of trying to communicate Filson to a larger audience, many who may have never heard of the brand, was a bit paralyzing. What do you say?"
The approach they landed on was more about documenting the Filson lifestyle than creating a traditional ad. "We go to these wild places with friends of the brand, going to bush camps, going with geologists up to the glaciers in Alaska, meet the Iditarod folks, be out there with outdoorsmen and let's document it," says Carleton, adding that plans include telling more of these stories with video. "It's about communicating a connection with a lifestyle."
Despite positioning itself as a premium men's apparel brand, you won't see much of Filson in fashion mags for men. Madden says the bulk of where it will be spending its money is places like Nat Geo and Outside magazine, as well as a bigger focus on digital and social. "We were whispering our story before," says Madden. "Now we're just going to open the window and shout, then next year we'll be using a megaphone."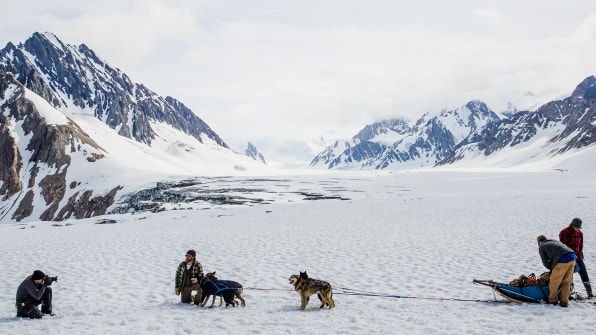 The bulk of the brand's goods are still manufactured in the U.S., in Seattle and Idaho, and while happy to broaden its appeal, both Carleton and Madden are acutely aware of doing it without diluting the reputation and image Filson has built over the last century.
"One thing that separates Filson from a lot of other brands out there is that we're about real people doing real things," says Carleton. "None of it is fake. You can walk downstairs here and watch the product being made. We source the materials we use from some of the oldest mills around, who we've been in business with for decades. You can drive out to the Olympic peninsula and have lunch at the Hungry Bear Cafe and see all the work guys there, their logging trucks parked outside, wearing their tin cloth Filson. That's a very rare and precious thing today, where a lot of marketing is about the idea more than it is about the reality."
We've talked a lot about Filson's long history, its Made in the USA pedigree, but what Carleton really sees as the brand's ultimate appeal and what provides its biggest opportunity to find a bigger audience is the aura of the Pacific Northwest and its connection to the wild.
"The brand can be this conduit that takes people out of their everyday lives and transport them here," says Carleton. "There's something fascinating about taking the narrative of the wilderness and adventure, and introducing that into places like New York City or London. I believe it's very engaging and a story that people want to connect to."
But can it really make a meaningful impact in urban markets without making products better suited to riding the subway than working in the Selkirks?
"We're not looking to be a fashion brand," says Carleton. "We don't need to think about what someone in Paris might want. Or how someone on the Upper East Side of Manhattan relates to the brand. It doesn't matter where you live and work, there's a reason Call of the Wild sold millions and millions of copies. That's the narrative you're engaged in and I kind of look at Filson as a brand version of a Jack London storybook. You don't read Call of the Wild and end up in Baltimore. Part of the beauty is how it's based in the culture of the Yukon, and as an outsider it provides inspiration and escape."