Those who think of superheroes as the province of Comic Con might wonder why an institution like the New-York Historical Society (N-YHS), New York City's oldest museum and research library, is hosting an exhibit celebrating Superman, Batman, Captain America, Wonder Woman, Spider-Man and Iron Man. But it makes perfect sense when you consider the history of these characters and how they were introduced to the world through New York City-based publishers, writers and artists inspired by the Big Apple.
"The fact is that the most beloved, the most popular, the well-known of the superheroes were created in New York City. It's a phenomenon that started here, and we want people to know that," explains curator Nina Nazionale, who put together the exhibit dubbed "Superheroes in Gotham" with fellow curator Debra Schmidt Bach. As for the name of the exhibit, Nazionale says that while only Batman resides in Gotham, the museum chose to think of Gotham as a state of mind.
Running through February 21, the exhibit opens on October 9 (coinciding nicely with this year's New York Comic Con, being held October 8 to 11), and the Batmobile alone will likely be a big draw. It's been parked in the lobby of the N-YHS for a few days now and is—for the sake of accuracy—Batmobile #3, one of four Batmobiles created by car designer George Barris for the 1966 Batman television series that cast Adam West as the Caped Crusader.
Aside from the car, which is something to see in person, visitors can ogle lots of other cool items, including first-issue Superman and Batman comic books; the costume George Reeves wore when he played Superman in the television series The Adventures of Superman, which premiered in 1952; the original artwork Steve Ditko created for Spider-Man's first-ever comic book appearance, complete with comments from Ditko's editor and Spider-Man co-creator Stan Lee. There's also one of H.G. Peter's early drawings of Wonder Woman, the character created by psychologist William Moulton Marston (who, incidentally, invented a lie detector test that ultimately led to the creation of the polygraph test still in use today).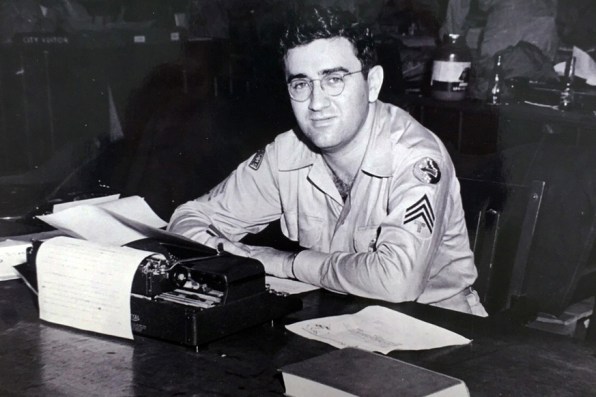 Nazionale has spent the last three years researching the history of the superhero, and was particularly interested in learning more about the people who created the characters and what motivated them. The earliest—Superman came first, followed by Batman—were introduced in the late 1930s as the United States was coming out of the Great Depression and headed toward World War II. It was a time when Americans needed heroes, she notes, and both characters were created by the sons of Jewish immigrants—Jerry Siegel and Joe Shuster were behind Superman, while Batman was born from the minds of Bob Kane and Bill Finger. These men would have had a hard time finding work in New York City at the time, not only because of the depression but because they were Jewish. "The story of people hustling to find work in a climate that's not very friendly, both for economic reasons and for ethnic reasons, that really got to me," Nazionale says. "I never really thought about that."
While they weren't handed jobs, the imaginative men behind the early superheroes made their own opportunities by creating extraordinary characters, fueled to a great extent by New York City, according to Nazionale. "New York City was a tough place to live and find work at that time, but it was also really inspiring," she says. "Think about all the big skyscrapers, the IRT, the fast-moving elevated trains, Coney Island—all the hustle and bustle."
Nazionale notes that Siegel and Shuster were not full-time residents but commuting to New York City from their home base of Cleveland—the typewriter Siegel lugged back and forth on those trips is featured in the exhibit.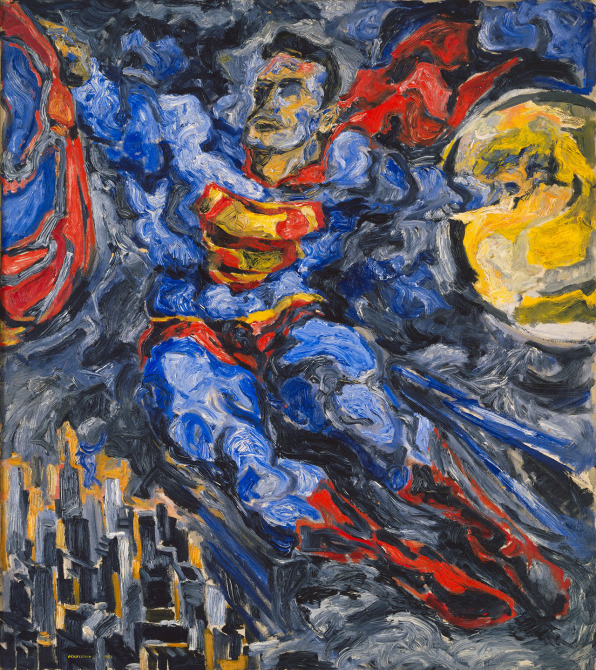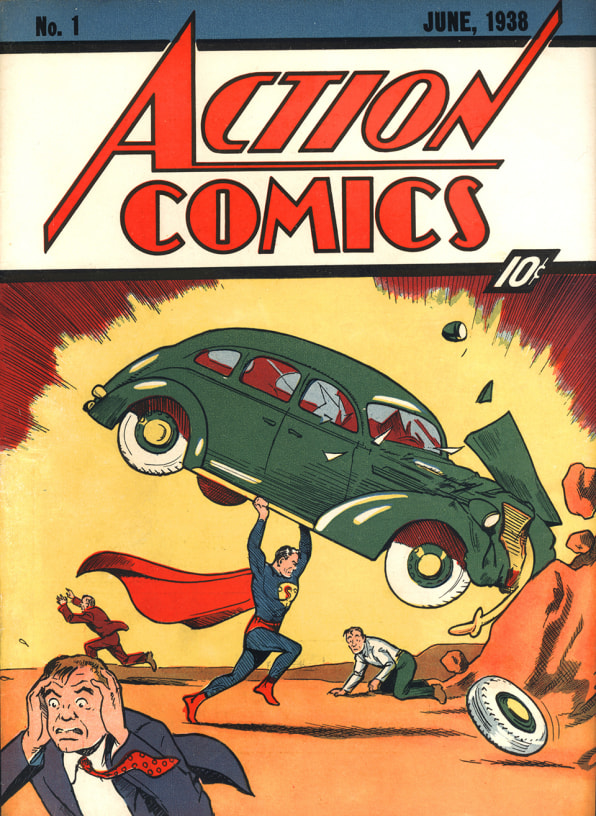 Americans took to the heroic men in tights right away. "When Superman first appeared in Action Comics No. 1 in June 1938, he was an instant hit," Nazionale says, noting, "That issue sold 900,000 in three printings." And American soldiers brought their comic books overseas, introducing the characters to a worldwide audience.
Superman and Batman—as well as Wonder Woman and Captain America, first seen in 1941; Spider-Man, who debuted in 1962; and Iron Man, introduced in 1963—went on to success in all forms of media after debuting in print. Visitors to "Superheroes in Gotham" will see highlights of that evolution in a section of the exhibit devoted to how superheroes were portrayed in film and television from the 1940s through the 1970s.
As media has evolved, the superheroes have been there to test and expand the limits, and while they can pretty much do anything in a realistic fashion in today's blockbuster films, it wasn't always that way. "For instance, in the 1948 Superman film serial, they couldn't figure out a way to get the actor [Kirk Alyn] to look like he was flying. It was not big budget, so the poor guy, they had him hanging on a wire—I don't even think they had a harness—for hours and hours, and the producers finally said, 'This is not working.' So they used animation. In the first live-action version of Superman in '48, all the flying scenes are animation," Nazionale says. "When I saw that, I thought, 'I love this' because we all take special effects for granted. Special effects have not been around forever, and they are not easy to do. Everything is an evolution. Everything has a history."
And no matter what you think of the 1966 television version of Batman (the show is derided by some critics for being so silly and campy but beloved by others), you have to give the show credit for being innovative—Batman debuted when television began broadcasting all of its primetime programming in color, and the producers took advantage of that. "If you think about Batman and the use of color, it's crazy," Nazionale muses. "There is a reason why the deadly gas the Joker releases is pink."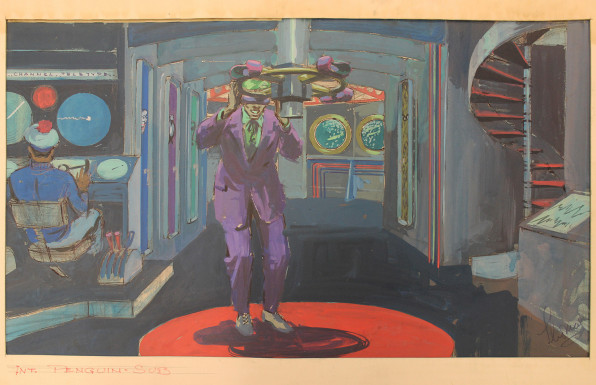 Since the inception of superheroes nearly 80 years ago, generations of illustrators, writers, filmmakers, makeup artists, costume designers—creative people from many disciplines—have had a hand in bringing these characters to life. Meanwhile, a new generation of artists has been inspired to create their own superheroes. Visitors to "Superheroes in Gotham" are shown how Superman and the rest of the gang, as well as New York City itself, continue to influence the work of modern-day artists like Dean Haspiel, who just a few years ago, created a retro-style, reluctant superhero named Red Hook after the neighborhood in Brooklyn. Then there is Darryl McDaniels of Run-DMC fame, who fashioned his own comic book superhero called DMC. "We're hoping to inspire kids and teenagers and young adults to create their own superheroes," Nazionale says. "This is a very creative form of pop culture."
---
Think you know all there is to know about superheroes? The N-YHS is hosting a special superhero edition of The Big Quiz Thing on October 9th as part of Comic Con's New York Super Week.