Look out GoPro, DJI's getting into the handheld camera business.
Today, DJI, the world's largest maker of consumer drones, unveiled the Osmo, its brand-new stand-alone high-end camera, and its first non-drone product aimed at consumers.
The 6.4-inch-long, fixed-aperture, Osmo, which weighs less than half a pound, is a 4K camera mounted atop a handheld stabilizer. It is designed to allow users to shoot smooth, high-quality video no matter how they hold it or move it. The 12-megapixel camera itself, the Zenmuse X3, is the same as the one that comes integrated with DJI's Inspire 1 drone.
Built with DJI's three-axis gimbal stabilization technology and a 94-degree field of view, the $649 Osmo was designed to shoot 60 minutes of no-shake 4K video with its built-in battery, or can be used to take high-quality still photos.
The company is expecting the Osmo to appeal to both photography and videography enthusiasts alike.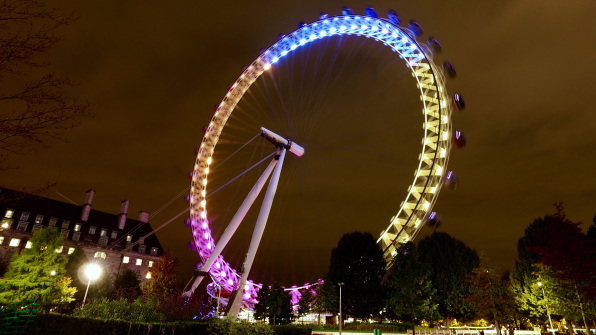 The Osmo offers ISO settings from 100 to 1800 for still photos, and up to 3200 for video. It can also automatically take 360-degree panoramas and long-exposure photos, and can shoot slow-motion video of up to 1080p at 120 frames per second.
While it doesn't offer fully manual white balance, the camera does allow users several white balance choices: automatic, sunny, cloudy, water, and incandescent.
Whether or not the camera is an intentional shot across the bow of GoPro–which is planning to launch its own drone in early 2016–there's little doubt that the Osmo, which is ideal for many types of action photography, will be seen by some as DJI's response to GoPro's decision to get into drones.
DJI, of course, has built its business on drones. As it sold more and more of the flying vehicles, including its popular Phantom line and the higher-end Inspire, it also became known for its camera technology. Until now, however, it has never sold cameras specifically intended to be used at ground level. The company says the thought behind the Osmo was to bring its camera technology back to Earth.
Increasingly, DJI and GoPro have found themselves as competitors as much as partners. In DJI's early days, many of its customers mounted GoPro's cameras on their drones.
More recently, however, DJI's drones have come with built-in cameras, and last month it unveiled a new set of high-quality Zenmuse cameras meant to be used with the Inspire. It's not known whether that change motivated GoPro to launch its own drone product–or what that will look like when it hits the market–but it's become abundantly clear that the two companies will be going head-to-head, especially now that they will be competing on both the drone and camera front.
However, GoPro shouldn't worry that the Osmo could supplant it across the full spectrum of adventure sports. That's because, as DJI itself acknowledges, the Osmo is not durable and can't survive being dropped or submerged in water. In other words, it's not meant for skiers, surfers, or mountain bikers, although DJI imagines people using the Osmo to film people performing those activities.
On its drones, DJI's cameras are essentially a lens coupled with sensors, with all of the image processing done on board the flying vehicle. With Osmo, all the processing is done in the handheld stick itself. It features a small smart joystick for panning and tilting while shooting video, and a shutter button for taking still photos.
The stick also has a built-in smartphone holder that easily carries an iPhone or Android phone running DJI's mobile app. That makes it possible to view what the camera is seeing in real time.
While DJI likely hopes most customers will buy the Osmo with a camera, it will also sell the mount as a stand-alone product, since it is compatible with the full line of Zenmuse cameras that are sold with the Inspire.
DJI says it will start taking pre-orders for the Osmo today and it expects to begin shipping within two weeks.