Similar to how Apple created the smartphone as we know it, Roku created the streaming video "box" (though some are now dongles). Today Roku unveils its latest offerings–a powerful 4K-capable box (its most expensive yet, at $130) called the Roku 4, and updated software and mobile apps that bring better content search to older players and Roku-powered smart TVs. Preorders start today, with the new hardware and software available by the end of the month. Roku's upgrades are about due: Apple, Google, and Amazon have debuted new streamers in the past four weeks.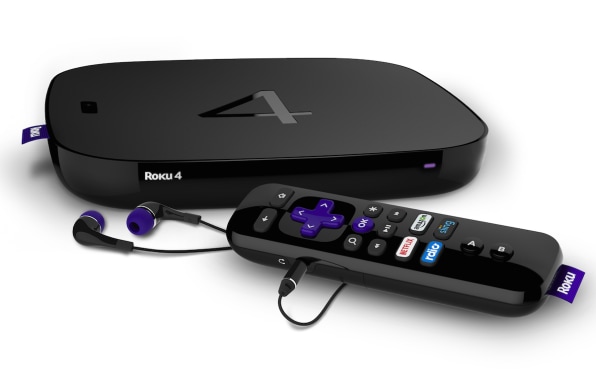 On a basic level, the four companies compete with each other. But Roku, which started this business, has a different endgame. Apple, Amazon, and Google make hardware and software that nudge you towards their content channels: iTunes and a new tvOS app store, Amazon Prime, and Google Play. Without its own store, Roku instead is building an online cable network, which–with more than 3,000 channels and its own advertising platform–dwarfs the selection from the traditional cord or dish, as well as the other streaming boxes.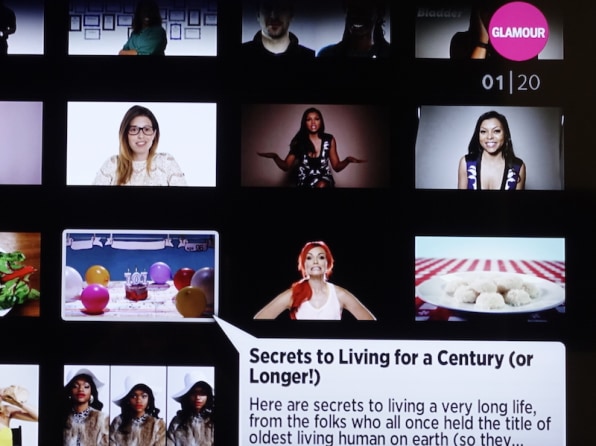 "Ultimately we believe that all TV will be streamed," says Matthew Anderson, Roku's chief marketing officer. "And if all TV is streamed, eventually all TV advertising will be streamed." Anderson says that the vast majority of viewing still goes to Roku's top 20 channels, such as Netflix, Hulu, Pandora and MLB.TV, but viewing to the non-top 20 is growing very quickly, he says. As an example, Anderson pulls up The Scene, a channel that houses all of Conde Nast's video, say from GQ or Glamour magazines, as well as partners including BuzzFeed. Like most of Roku's new channels, The Scene is free, but the videos feature ads served up by Roku's ad network. The more niche content Roku carries, the better it can target the ads.
With more nearly 3,000 channels–1,000 of which added in the past 12 months–Roku can get very niche. That goes well beyond the granularity of a 250-channel cable package, without the resentment that you don't watch most of the channels you are paying for. With Roku you get only the ones that matter to you–-some paid, many free, often with ads. That's the promise of all streamers, but Roku's selection is vast in comparison to the others. Apple TV, in comparison, currently has about 60 channels, though that's likely to grow with the new players and app store.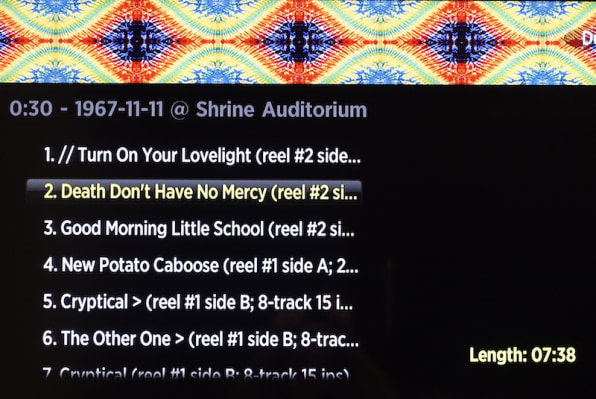 Roku's selection includes extensive audio options, with about 140 channels currently. As an example, Anderson shows me the Dead Shows channel, which features "every Grateful Dead show that's ever been," he says. Anderson first asks me to pick a year, and I say 1967. Then he asks for a date. My first choice of November 12 doesn't have any Dead shows, but November 11, 1967, has a couple. He queues up the second number from the Shrine Auditorium show, "Death Don't Have No Mercy." All that takes just 25 seconds (I was timing). "Where we want to have the deepest and widest selection is in the core video and music content," says Anderson.
With all that content, search is key. Roku has long offered the ability to search across multiple video and audio channels at once, with 20 now indexed. In April, the company introduced Roku Feed, which began with Movies Coming Soon, which provides updates on movies that have debuted in the theater but are not yet streaming. Users can check the feed to see when a movie becomes available.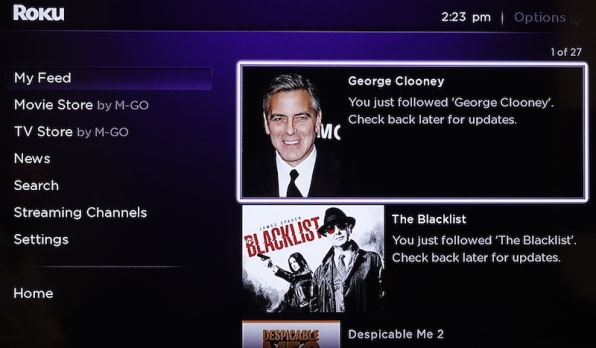 In OS 7, the feature expands to Follow from Search, which lets users create a custom feed from a search, with updates on the shows, movies, actors, or directors that they like, including pricing updates. (When I met with Roku, for example, Amazon was selling episodes of the show Empire on special for 67 cents.) Roku has seriously revamped its mobile app from a line-drawing design reminiscent of a 1980s video game to a more graphical interface, including transparency, swipe gestures, and all the full "Follow from Search" features and information featured on the TV screen.
Roku's search lists all the providers offering a certain show or movie in order of price, and it doesn't have incentive to point you towards its own content store, since it doesn't have one–although it has revenue-sharing deals with providers and seems to have a sweeter deal with one called M-Go. (Roku wouldn't reveal the specifics.) In comparison, Amazon Prime video is unavailable on Apple TV and Google Chromecast. In what looks like retaliation, Amazon is banning all of its retailers from selling those devices. Roku introduced voice search in April (on its mobile app and the remote for its top-end player)–trailing Amazon's Fire TV, but well ahead of the new Apple TV boxes.
Roku has taken some criticism in the press for its weak game selection, with lightweight, often obscure titles and just a motion-sensing remote (only on its priciest models) to play them with. Anderson admits that gaming isn't critical for Roku. "Others are making a very, very big deal about their gaming capability," says Anderson. Google's Android TV devices and Amazon's Fire TV have large game selections, and Apple is recruiting top developers for its new games-capable Apple TV. "Our philosophy has always been, people who are really serious about gaming are going to want a console," says Anderson. And those who want casual games will just play on their phones, he adds.
Roku is instead focusing on streaming, including video quality. Even with its new devices, Apple is stuck on 1080p HD video, whereas Roku is now offering 4K/Ultra HD with the Roku 4. The new Amazon Fire TV does offer 4K streaming, at 30 frames per second. Anderson brags that the Roku 4 tops that, at up to 60fps. Virtually no 4K content goes above 30fps, though. Roku is highlighting all its 4K content with a new 4K Spotlight channel.
I did a double take when Anderson first told me about "OS 7," because Roku has never named or numbered its software. "We realized that we were up to 7, and we're going to have a really big one next year," said Anderson, leaving me in suspense. "We thought it would be a good idea to let people understand that each one of these are coming." Apple now brands its Apple TV software as tvOS, and both Apple and Google prominently announce new versions of iOS and Android.
It seems that Roku wants to equally brand its software, which is really the company's main product. Roku's streaming boxes and Streaming Stick have consistently gotten favorable reviews, but hardware has always been a means to get the software to people. Last year, Roku announced deals with giant Chinese TV makers Hisense and TCL to make "Roku TVs" that run the company's OS. It has since added deals with Haier, Sharp, and Insignia (Best Buy's house brand). "Over time, we really think the vast majority of TV manufacturers will license a platform or OS from someone."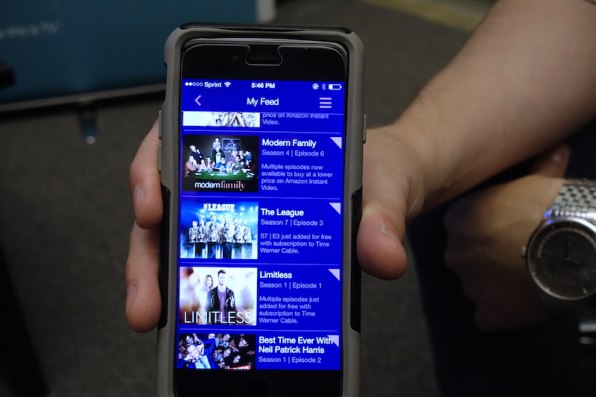 That could be wishful thinking. Big TV makers like LG, Samsung, and Vizio are heavily invested in their smart TV software, which is all pretty slick. Sony outsources its smart TV interface, but from Google's Android TV platform, which also runs on some Sharp TV models. Roku, though, is going for the less famous but still high-volume brands.
Anderson said that TCL alone will sell more than a million Roku TVs by the end of the year. Apple has sold far more Apple TVs (about 20 million, as of April) than Roku has sold its boxes (in excess of 10 million), but Roku has been outselling Apple TV lately, and factoring in Roku TVs could further help the company to catch up.
Apple fans have long dreamed that Apple would build not just a box but a full TV with very user-friendly software as an alternative to the often-ponderous traditional TV experience. It's looking less likely that Apple will build such a TV; but through partners, Roku already has.