Marvel Comics' biggest bromance is back on.
Writer David F. Walker (Shaft, Cyborg) and artist Sanford Greene (The Runaways, Uncanny Avengers) have been named the new creative team on a revival of the classic buddy comic "Power Man and Iron Fist," reuniting fan favorite characters Luke Cage and Danny Rand.
This distinction is vital, as Cage and Rand's "Heroes for Hire" business has existed in various forms with a rotating roster of heroes over the past few years, but this new title brings it all back to its 1978 roots by focusing once again on the two originators.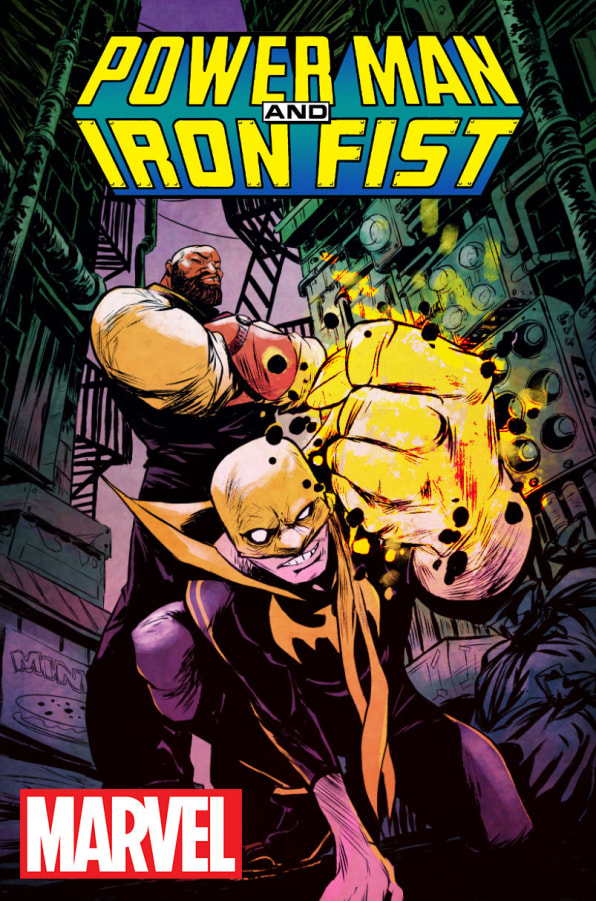 "About a year ago or so, [Marvel editor] Axel Alonso asked me to list all the characters that I wanted to work with the most," Walker tells Fast Company. "He said, 'Don't be limited–go as big as you want.' At the very top of that list were Luke Cage and Danny Rand, and I put in parentheses after their names: 'as a team.' Because this was something that I'd wanted to see for years and years. That particular duo, they're so iconic. As a writer, you love interesting characters, and those two characters are so fun to delve into. They are the ultimate bromantic couple."
Walker, a writer, filmmaker, journalist, and educator, recently revived the character Cyborg for DC Comics, and is fresh from a run on a Shaft series for Dynamite Comics. Greene, who had contributed cover art for Walker's Shaft run, had been working on a number of Marvel titles when the opportunity to pair with Walker was presented.
"Growing up as an African-American kid, you identify with these characters," says Greene. "Luke was one of those characters that impacted me. And it was always a dream project to get to work on him. It was the cherry on top to find out it would be Iron Fist as well."
The announcement of Walker and Greene comes with Marvel still fresh from the news that award-winning writer and recent MacArthur "genius grant" recipient Ta-Nehisi Coates will be taking over as writer on Black Panther. To Walker and Greene, these moves reveal positive steps forward for the industry and pop culture in general—and Greene is quick to praise Marvel for not engaging in, as he puts it, "flash-in-the-pan efforts," but to push for real change. "It's not, 'Let's put an African-American artist or writer on this African-American character and that's our quota.'"
Adds Walker: "People use the words diversity and representation a lot these days, but it's important to draw the distinction between diversity and representation being a marketing ploy versus an ideological shift. Saying, 'This is how I want to live my life, this is how I want to run my business.' It's a difficult conversation to have for a lot of people for a lot of different reasons. This particular project has been in development for quite some time–and during that time, people were blasting Marvel and DC and other publishers about their lack of diversity and representation, but then you're sitting there at a convention wanting to go, 'Hey! Guess what book I'm writing!' but you can't. Then a book gets announced, like Black Panther, and there were people who were like, 'Oh, yeah, Marvel just got those guys to shut all the critics up.' I'm like—they got a guy who is one of the best writers in the country right now! You can't broker a deal like that over a weekend, you know? It takes time."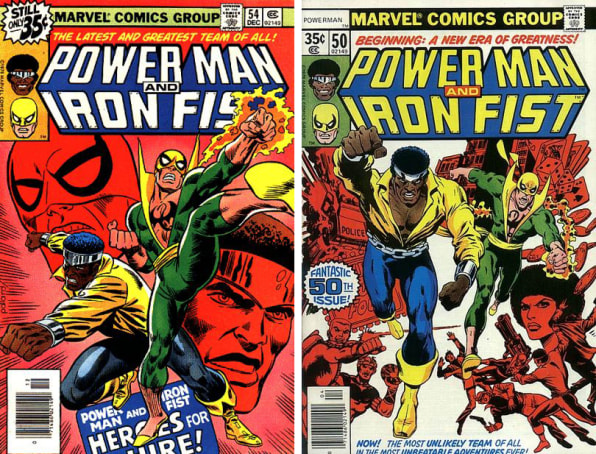 Both Greene and Walker say they were equally encouraged by the changes happening behind the scenes as well. "Our conversations were about how to make this change work and how to make it stick," says Greene. "This will be across-the-board real change. And it's going to go beyond just the creator side. I hope I'm not going too far ahead here . . . but from my understanding, it's going to happen on the administrative side as well. I tell people, stay tuned."
And while the potential cultural impact is substantial, the new series hits Walker and Greene on a purely creative level as well. Walker wanted to get his hands on Luke Cage specifically because of the character's unique depth and maturity.
"Luke has grown more than most characters have in the past 35 to 40 years," says Walker. "He has a kid, he's married to someone who is a prominent player in the Marvel universe. . . . In comics as in real life, once you have a kid, everything is different."
In current comic book continuity, Cage is married to retired superhero-turned-private investigator Jessica Jones, and the pair have a daughter named Danielle (as a tribute to Rand). Cage and Jones, of course, are both set to star in their own Netflix series (starring Mike Colter as Cage and Krysten Ritter as Jones) that will tie in to the popular Daredevil series launched earlier this year.
It turns out, Cage's maturity (and the fact that the story is not set in the 1970s) posed a unique challenge to Greene as he attempted to update the characters' looks. Although Cage has never had a traditional "costume" per se, there is a lot of love for his original look, which consisted of a yellow butterfly-colored shirt and a silver—for lack of a better word–tiara.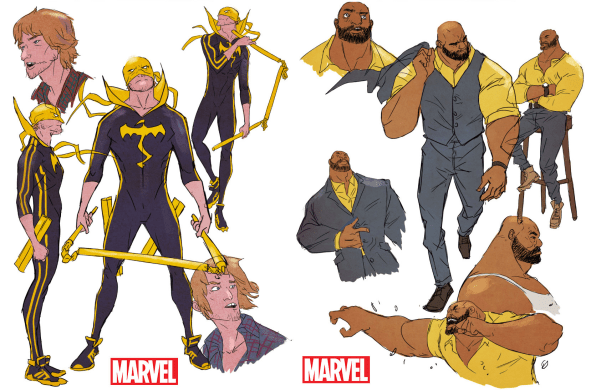 "As much as I'd love to put the tiara in there . . . " chuckles Greene. "But I did want to play off their classic looks. [The original costume] is a very highly regarded look, so I wanted to key in on some of that and make it look current, I wanted to play more into his new role as a husband and a father—more 'business casual.'"
That mix of old and new is what the new series is all about, according to Marvel editor Jacob Thomas. "David and Sanford are both extremely well versed in the background of these characters, the world they're from," Thomas tells Fast Company. "But they're also bringing their own style to this. Expect some solid, old-school Marvel characters–both enemies and allies like, say, Tombstone and Black Mariah–to show up."
Walker and Greene's Power Man and Iron Fist will hit shelves in early 2016.