Sure, the two-year-old game has garnered 75 million users and helped Plain Vanilla raise nearly $30 million to date. But most TV show companion apps launch after the series is established–not the other way around.
But the move makes perfect sense. Plain Vanilla founder and CEO Thor Fridriksson says he was inspired by Trivial Pursuit to create a modern version of the trivia game, and it's a natural fit for TV. Plus, game shows are relatively cheap to produce, and they give QuizUp a chance to become part of a broader vernacular in pop culture.
"The notion of doing a game show, it wasn't like someone thought of it in a eureka moment. It's something that we've always thought about. If you have a popular trivia game, to take it to the big screen or take it to the TV is something that you think about," Fridriksson told Fast Company.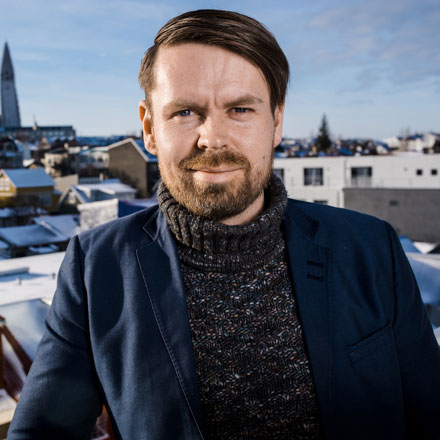 There's a long history of game-to-screen productions. The board game Clue became a 1985 film by the same name starring Tim Curry. Trivial Pursuit, Monopoly, and Scrabble were among the board games to become TV shows in the early '90s. The popular game app HeadsUp–based on charades–originally debuted on The Ellen DeGeneres Show and will soon become its own TV game show on HLN hosted by Loni Love.
Fridriksson says producers have been contacting him since the launch of the game in late 2013 to create a game show, but he was focused on growing the company. But a year ago, NBC came knocking, and instead of borrowing aspects of the game app, the network wanted to use the app in the show.
The TV version will keep its name and will feature in-studio contestants "battling" at-home users of the app in various categories for cash prizes.
"Everyone knows this feeling of watching a game show and knowing some of the answers and thinking to themselves, 'I wish I was in that hot seat. I would win all the money,'" Fridriksson says. "I always thought that if someone manages to make this a reality so that anyone watching the show has actually a chance of winning real money from the comfort of their living room, that would be kind of revolutionary in this genre. And it turns out, that's exactly what NBC wanted to do, as well."
It may be closing the gap of interactivity from what game shows have traditionally done (think voting for your favorite singer or dancer by text or mobile app), but the show won't be completely live. Fridriksson says the showrunners are still working out how the preselection process for at-home and in-studio contestants will work.
While NBC ups QuizUp's mainstream cred with a broadcast deal, QuizUp is giving NBC something it needs: young users. Most of QuizUp's 75 million users fall into the age range of 18 and 25. Together, that user base has played more than 5 billion games, according to Fridriksson. And the app's quiz topics give QuizUp the flexibility to deliver users in other age brackets, too. Quizzes about 1960s music bring in older users, and quizzes about MTV's Teen Wolf deliver users younger than 18.
QuizUp isn't the first Scandinavian game app company to explore other avenues for its content. Rovio's Angry Birds had a two-year stint on Finnish TV as Angry Birds Toons and has been working on a feature film since 2012 that has yet to premiere. The company has failed to grow its revenue since 2013, and in August, the company announced it would be laying off one-third of its employees to focus on The Angry Birds Movie.
To avoid becoming a casualty of the app-to-screen transition, Fridriksson says NBC–which ordered 10 episodes of the QuizUp game show–isn't licensing it. Instead, QuizUp is a partnership between Plain Vanilla and the network, allowing the company to maintain editorial control and provide support on the app's tech side, which NBC will need. "We are not hands-off. We're not just giving them QuizUp and saying, you go run around with this. The whole app side is a very integral part of the whole experience. So it's a partnership we're doing with NBC," Fridriksson says. "There is no insurance in this world with anything. We don't have a detailed plan B for if this happens or it doesn't happen. We are a startup at heart, and we're going for it."
Whether the show takes off, Plain Vanilla will continue to focus on QuizUp's future platform improvements. Earlier this year, the company introduced social features to the app, and last week it announced users can now submit their own quizzes. Within the first five days, there were 16,000 new user-generated topics with thousands of questions.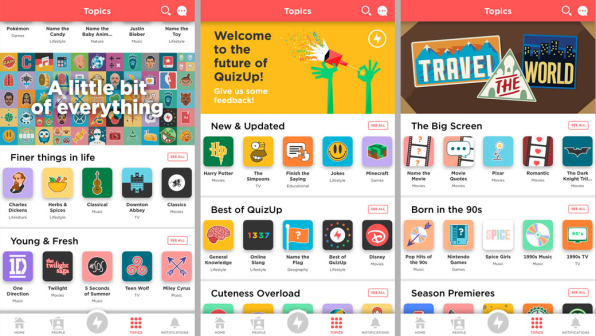 Even though QuizUp has been successful as a mobile gaming platform, Fridriksson says TV is different. While shooting the pilot in L.A. a few months ago, he recalled seeing the QuizUp logo in big lights and letters for the first time.
"That felt incredibly surreal to me."